5 Local Holiday Markets To Shop
Get local goods at these markets popping up all the way until Christmas.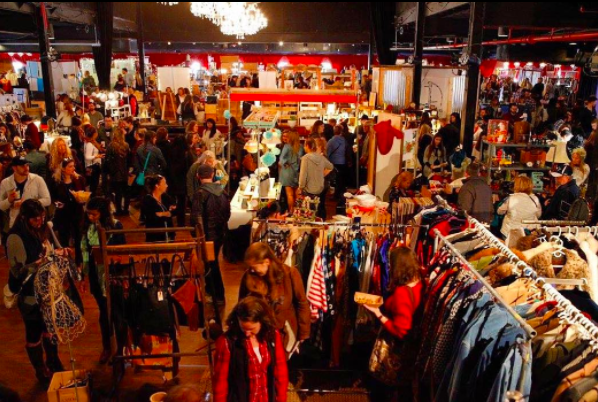 Now that Halloween's over, we can focus on the holidays that really matter. Just kidding… kind of. Halloween is fine, but Thanksgiving and the December holidays are just a lot better; that's all. And if you're anything like me, chances are you want to squander your reputation as the Procrastinating Gift Shopper and actually get a head start on your annual present hunting.
It may sound stressful to start so soon, but if I've learned anything lately, it's that you can actually control your stress over the holidays. Who knew? Plus, there are so many holiday markets popping up around Charlotte that it would be hard not to start holiday gift shopping. To help you get a leg up on gifting this season, here are the holiday markets in Charlotte where you can find unique, crafted gifts from local makers while supporting small businesses.
These markets are listed in the order they are occurring.
2017 Holiday Markets in Charlotte
Wednesday, November 8 to Sunday, November 19
The Park Expo and Conference Center near Plaza Midwood (800 Briar Creek Road)
5 p.m. to 9 p.m. on Preview Night (Nov. 8); 10 a.m. to 6 p.m. on Sunday through Tuesday; 10 a.m. to 9 p.m. on Wednesday through Saturday
Adult Preview Night tickets are $24, Adult General Admission is $12; special prices for children ages 6-12 apply. Tickets are available here.
What you need to know: This annual explosion of Christmas decor galore is not for the faint of heart. Featuring more exhibitors than most would care to count (there are over 450 this year), this event is great for Christmas-obsessed homeowners who want more than just a completed shopping list. This place is an experience. The preview night on November 8 will include pre-access to the entire show, hors d'oeuvres, and the opportunity to hang with your favorite WBTV personalities. All preview night proceeds will go to Toys for Tots. On the other days, show features include a holiday entertainment stage with performers and dancers, a "village" of enchanting shops, and of course, the chance to meet and take a picture with the king of Christmas himself: Santa Claus.
Holiday Sip & Shop at Bold Missy Brewery
Friday, November 10
Bold Missy Brewery in NoDa (610 Anderson Street)
7 to 9 p.m.
Free Entry
What you need to know: According to the event's Facebook page, "This event is designed for women supporting other women and their businesses," so if you're a lady looking to help other females reach their selling potential this season, head out to the shopping event this Friday. It's hosted by both Bold Missy Brewery and Worthy, a clothing shop for women sizes 12 and up. A few vendors include Worthy (of course), Home Grown Cotton Co. (specialty-made Panthers clothing for women and children), Usborne Books (educational children's books), The Antiquarian (custom-designed and antique jewelry), and plenty more.
Saturday, November 18
The Fillmore at the AvidXchange Music Factory (820 Hamilton Street)
10 a.m. (Early Bird) or 11 a.m. to 5 p.m. (General)
Early Bird Entry is $7, General Admission is $2
What you need to know: Vintage Charlotte, aptly abbreviated VTG CLT, is hosting its sixth annual Winter Market at The Fillmore Charlotte on November 18. Transforming the music venue into a winter wonderland of thoughtfully curated goods from more than 60 local and regional vendors, this market is sure to have a hold on vintage and handmade goods.
Girl Tribe Pop-Up Holiday Edition at Sugar Creek Brewing Company
Friday, December 8, and Saturday, December 9

Sugar Creek Brewing in South End (215 Southside Drive)

6 to 9 p.m. on Friday (

Preview Night), 9 a.m. to Noon on Saturday (VIP Hours), and Noon to 5 p.m. on Saturday (General)

Preview Night Entry on Friday is $25, VIP Hours Entry on Saturday is $10, and General Admission on Saturday is free
What you need to know: The pop-up shopping girl-group is back with another holiday market for you to peruse. Girl Tribe is run by local entrepreneurs Sarah Baucom and Carrie Baker, and while their company sells trendy t-shirts and Charlotte-centric merchandise, it also hosts buzzy pop-up shopping events featuring a slew of women-owned businesses based in the Queen City. These pop-up markets tend to get crowded, so don't be too quick to scoff at the preview night fee. Plus, there are usually freebies that make the entry fee worth it.
Sunday, December 17
Charlotte Art League in South End (1517 Camden Road)
10 a.m to 4 p.m.
Free Entry
What you need to know: "Last-minute shoppers, this market is for YOU," Charlotte Art League's Facebook says. And it sounds about right, considering this one-day market is the Sunday before The Big Day. It's kid-friendly, too, and it's a fantastic way to support Charlotte's large collective of talented artists. The Holiday Market will feature about 40 area vendors such as Southern Fragrances (candles), JHenryStudio (paintings and ceramics), HooknChain (crocheted items), as well as vendors offering woodwork, stationery, home decor, and more. If you can't make this market, there are also regular Starving Artist Markets you can shop on Saturdays at the Art League, Lenny Boy and other locations.