5 Money-Saving Spring Cleaning Hacks
Freshen your home without cleaning out your wallet.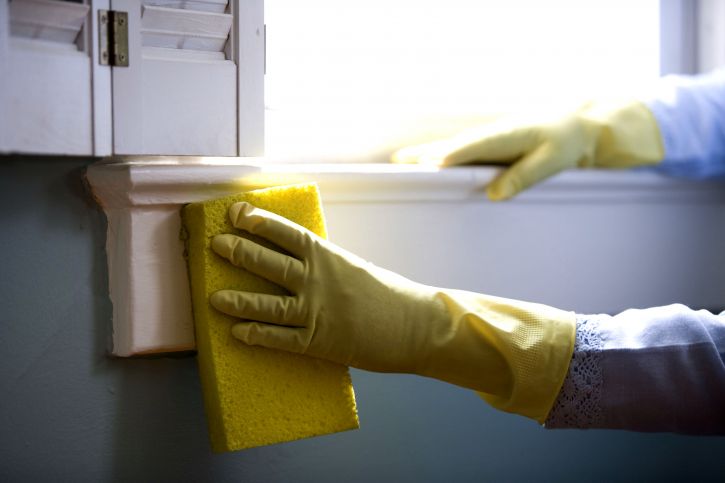 Springtime is synonymous with renewal, and doing a deep clean around the house is a popular must-do for homeowners trying to keep up with the seasons. While you're detoxing, de-cluttering, and re-organizing (our 10 spring cleaning tips are clutch), there's no better time to utilize some sneaky cleaning hacks that will make your home shine and your wallet smile. Because a clean house shouldn't cost a fortune.
We've rounded up some of the best money-savvy spring cleaning hacks that make a big difference for minimal cost.
Use shaving cream on bathroom mirrors. If a man lives in the house, there's a good chance he has some shaving cream laying around. This fragrant substance not only helps razors glide smoothly over skin, but it's also an ideal cleaning solution for smudged and splattered bathroom mirrors. Use shaving cream instead of glass cleaner for your mirrors, and it will clean it while helping to prevent further fogging during shower time. The simple soap in the cream applies a film over the mirror, which helps keep your mirror from fogging.
Give your furniture the rubber glove treatment. Our furry friends are fun to have around the house, but they tend to leave their mark just about everywhere they go. To remedy the issue of dog or cat fur sticking to your couch cushions, simply throw on a pair of rubber cleaning gloves and "pet" your couch. When you rub the gloves over the furniture, the pet fur will easily stick to the gloves. Then, to remove the hair from the gloves, run your gloved hands under water and scoop up the floating hair with a disposable towel. Easy.
Clean sponges in the microwave. Instead of disposing of dingy dish and cleaning sponges when they reach their last moments, save money by giving them new life. You can clean and reuse your sponges simply by soaking them in a bowl of water and lemon juice, then microwaving them on high for about one minute. Doing so helps clean the bacteria out of the sponge and gears them up for a whole new life of scrubbing.
Add baking soda to your mattress. Our mattresses stay with us for quite some time—including sweaty summer nights. Give your sleeping spot a fresh start this spring with the help of baking soda. All you need to do is sprinkle baking soda all over the mattress, let it sit anywhere from one to eight hours, then vacuum it up. Your mattress will be delightfully deodorized.
Clean items in the dishwasher. It's not lazy; it's just plain smart. Plenty of items such as children's toys (those without batteries), garden tools (those without wooden handles), and even rubber rain boots can benefit from a squeaky clean wash from the dishwasher. And the best part of all? No elbow grease required.