5 Must-See Charlotte Kitchens
Who knew we had so much style?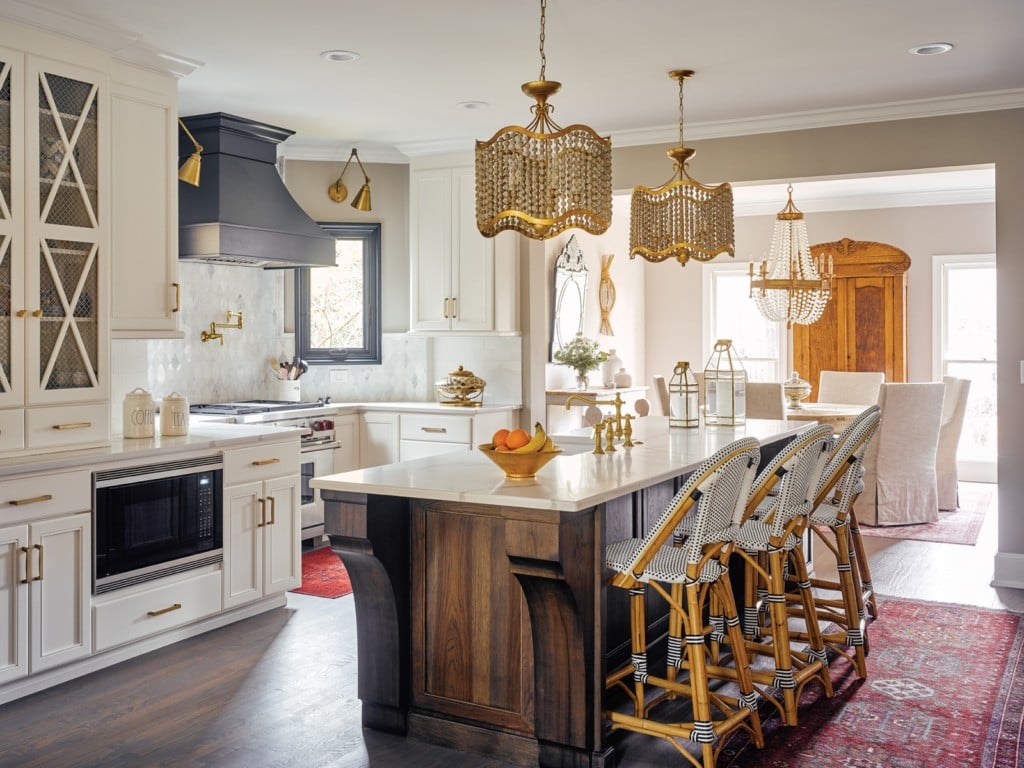 Sometimes it's Southern, sometimes it's modern, and sometimes it's straight-up eclectic. Charlotte interior style can range the gamut of looks, with no one design reigning superior. For proof, we give you these five Charlotte kitchens that inspire all kinds of fun updates—whether you want a more chef-approved kitchen or something to satiate your artsy side.
5 Charlotte Kitchens You Must See
1. Chef-Approved
The Barclay Downs home of one of Charlotte's best chefs should be fit for a foodie family. Unsurprisingly, the countertop in Bruce Moffett's kitchen is anchored by a custom-made John Boos butcher block that weighs almost 200 pounds. Other cheffy additions? A large gas stove and knives suspended on the wall with magnets are two telltale details. You may know Moffett's name from his restaurants: Barrington's, Good Food on Montford, Stagioni, and another to open in Plaza Midwood hopefully within this year. Learn about how Moffett's New England background played into the design of his home.
2. Steel Style
With a creamy, white palette and a stately focal light fixture jutting from the ceiling, the kitchen in this 8,500-square-foot home in The Club at Longview is elegantly minimalist. In fact, the light fixture is truly the main statement in the room, which was the exact purpose—the stainless steel pendant was five feet long and required three people to hang it. It's a sleek way to add shine to an otherwise non-flashy room. Take a tour of the whole home here.
3. Creative with History
Existing wood floors with a Rubio Monocoat gray wash complement the gray walls and white cabinets in TV anchor Morgan Fogarty's south Charlotte home. The beaded pendants and the Serena and Lily black-and-white bistro chairs give the space a warm and polished vibe while remaining modern. Additionally, the red runner rug adds texture and liveability to the island bar area. See the other unique finishes in the remainder of the home here.
4. No Rules
Brenda Ische, the designer behind the whimsical French style of Amelie's Bakery, doesn't tone it back for her own home. In fact, she turns up the color and texture tenfold. Her south Charlotte home exudes eclectic risks, and somehow, all the details and hues work together in an organized chaos-type of way. See a peek of her style in this kitchen shot, complete with a desk that doubles as a diorama. See Ische's creative refrigerator door handles and a full house tour here.
5. A Modern Classic
Clean lines, updated features, and a navy oversized island counter make this Cherry kitchen a welcoming place to gather. The modern white cabinets and marble countertop are juxtaposed by the traditional brass pulls and other natural details bringing warmth to the space. See the rest of the home here.