5 Reasons Why Dan Clodfelter Was the Right Choice For Charlotte Mayor
He brings experience, smarts, gift for policy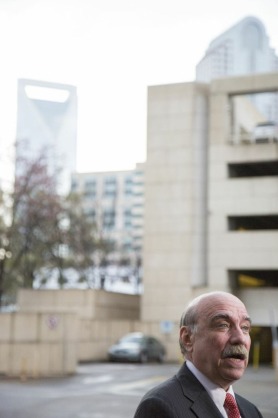 He was the logical, predictable choice, thank goodness. If ever there was a time when the Charlotte City Council needed to forgo the "bold move," this was surely it—less than two weeks after Patrick Cannon's arrest on federal corruption charges.
So the council went with Dan Clodfelter, a man who looks like a kindly grandpa who'll hand you a lollipop, wipe away your tears, and tell you everything's going to be OK. (What a 'stache. Really. That thing's magnificent. Not Sam Elliott magnificent, but that's a very, very high bar.)
Clodfelter served six years on the council—a long time ago, admittedly—and has served 15 in the state Senate. Experience is not necessarily a virtue for a public official, but in this case it is.
Five reasons why Clodfelter was the right choice:
1. He says he doesn't plan to run for mayor next year, which cancels out the possibility of any more Cannonesque political gamesmanship from the dais.
2. He's intelligent, willing to work and keeps his ego in check—a remarkable combination, the kind of thing we used to be able to expect from many, if not most, elected officials. "Smart" these days means savvy: a chess master who puts his or her brainpower toward electoral strategy. Clodfelter, by all accounts, is one of those old-school types who actually gives a damn about policy. We need more of those in office, not just in Charlotte but everywhere.
3. He knows Raleigh. I don't think his selection as mayor will "improve relations" between the city and General Assembly—I think this legislature will take every opportunity to screw North Carolina's cities regardless—but it'll surely help to have someone in the mayor's office who knows the committees, the power structure, the procedure, the politics, and the weaknesses of those august bodies. His experience will serve as a hedge, too, against backhanded legislative maneuvering against Charlotte. Speaking of which …
4. The airport. The city is still stuck in litigation over who will end up controlling Charlotte Douglas International. One of the most telling quotes in Jim Morrill's Observer profile was from former Councilman Stan Campbell, one of the leaders of the airport authority crowd: "If he had been in charge over the last five years, there would not have been any issue at all managing the airport." Who knows if that's true? But if there's a chance Clodfelter can defuse problems before they even have a chance to arm, all the better.
5. He's familiar with budget issues from his time on the City Council and as co-chair of the N.C. Senate Finance Committee, perhaps the legislature's most powerful.
We'll see how next year's mayoral race shakes out, as well as the inevitable swarm for Clodfelter's Senate seat. For now, though, in the worst episode in the history of Charlotte's municipal government, we can at least be thankful that at least this went right.