5 Things to Know About Nebel's Alley, South End's New, Romantic Night Market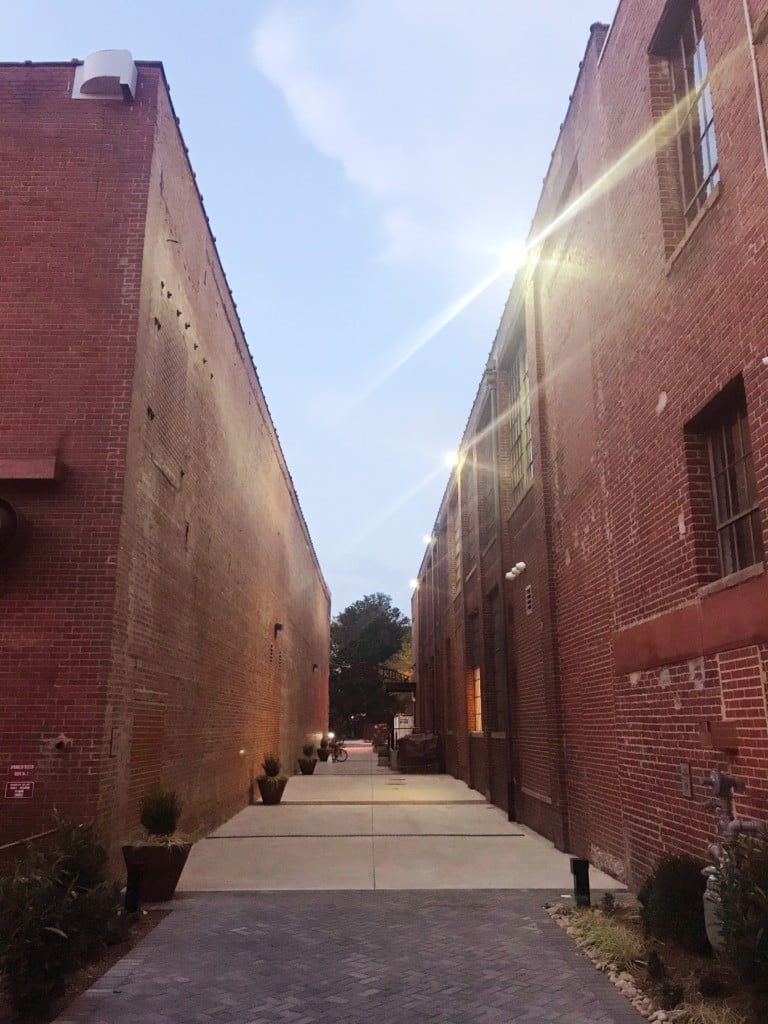 Stop right there. Before you contrive a picture in your head, you should know: Nebel's Alley Night Market is not the type of market Charlotte has come to know.
Everything you've come to expect from Charlotte markets—high energy, large venues, and daytime hours, especially—are the exact opposite tune of what Nebel's Alley promises to be.
Quite literally, in fact. This alleyway night market will turn up the romance and intimacy with jazz music setting the scene, silent black-and-white movies illuminating the brick walls, and paper lanterns lining the alley.
Esther & Elsa Retail, Asana Partners, and Charlotte Center City Partners are behind the project, and there are many ways to enjoy it. Below, find everything you need to know to attend the first Nebel's Alley Night Market on October 5.
5 Things to Know About Nebel's Alley Night Market Coming to South End
1. The Vitals
The first market will be held on Friday, October 5, from 5 p.m. to 9 p.m in South End's bourgeoning Design District. You may notice that October 5 is also the same day as South End's monthly gallery crawl—combine these two events for an extra dose of culture. Wondering where, exactly, you can find Nebel's Alley? If you're looking at a smartphone map, punch in 101 W. Worthington Avenue (Superica's address). You'll find it from there—just look for the dreamy paper lanterns.
Subsequently, the market will return on Friday, November 2, and Friday, December 7 (the first Friday of the month, if you're paying attention).
2. The Vendors
There will be 26 to 30 vendors in the space, ranging from vintage items to accessories to jewelry. There will also be tastings and "better food products" than you're used to with markets, Jordan Dollard, owner of Esther & Elsa says. That's because this intimate night market is being picky.
"Everyone in Charlotte is doing 'go big or go home,'" Dollard says. "We want to do the opposite. Our micro-retailers at Nebel's Alley are the best of the best, in my opinion."
Dollard singles out the unique Marty's Jerky & Pickles, who "pickles the most random stuff," noting its popularity at past markets.
3. The New Kid on the Block
A new doughnut shop is opening soon, and you can be one of the first to try the goods. Stop at Pepperbox Doughnuts while strolling the street—they will be set up just outside their soon-to-be brick-and-mortar shop.
4. The Itinerary
There are many ways to incorporate Nebel's Alley into your Friday night fun. Because this a romantic and intimate market, you might want to plan your arrival to avoid crowds. Dollard suggests coming a little early or visiting towards the end of the event to miss the bulk of attendees.
As for working the event into your plans, you can attend the market in conjunction with the nearby South End art gallery crawl, happening all around the Design District at the same time as the market. Or, you can turn the event into a foodie crawl, starting with appetizers at Pike's Soda Shop, enjoying dinner at Superica, and capping off with dessert at the market.
Another option is to plan a sustainable night. Ride over on the Light Rail, a scooter or a bike, and bring a tote bag for your goodies. Shopping local becomes even more impactful for Charlotte when you add sustainability to the mix.
5. The Freebies
Nebel's Alley Night Market is free to attend, and your food samples from vendors will be complimentary as well. Plus, indulge in nostalgia: Get your caricature created by Sarah Pollock Art, who will be on-site drawing the goofy portraits. Esther & Elsa is footing the bill, so all you have to sacrifice is your ego.