5 Things to Know: Charlotte Squawks: 12 Angry Hens at Booth Playhouse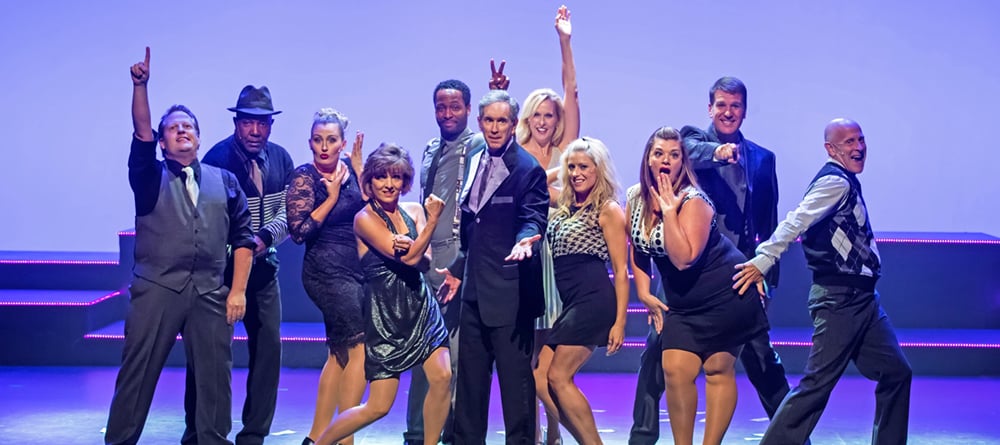 IT WASN'T a boring year in Charlotte. The CityLYNX Gold Line streetcar had a rocky start. HB2 happened (and is still happening). And, oh yeah, that sports stuff. It's all fodder for the crew behind Charlotte Squawks, the annual musical send-up of the city. This year's edition, marking the 12th year with the subtitle "12 Angry Hens," returns with more Saturday Night Live-style hijinks. Below, find five things to know about the show, which runs through June 26 at Booth Playhouse. (Grab tickets here.)
1. The Creators. Mike Collins, the host of WFAE's Charlotte Talks, and lawyer Brian Kahn serve as the principal architects of Squawks. Collins directs the show, as he's done for the past seven years, while Kahn is responsible for the book, lyrics, and PowerPoint design of the program. Both also appear in the show, with Collins the figurehead of the program. Collins dons bizarre enough outfits to make you never listen to Charlotte Talks the same way again. Kahn's slides, when not plagued by tech problems, effectively add more punchlines to gags as they run throughout the show. (Though, it's not always earned, considering how many are simply pulled from anonymous Internet sources.)
2. The Songs. The song parodies range between spins on modern hits, classic Broadway, and your grandfather's favorite radio hits. It's difficult to figure out the rubric for what made a song worthy of lampooning for the show. What other musical comedy uses the Proclaimers' "500 Miles," Dolly Parton's "9 to 5," and "Hotline Bling" as its templates? The program shines with its more contemporary takes (as in, past 2014), like the Adele-style parody "Hello from 485." And I don't think I'm just saying that because I'm a millennial. Though millennials, beware: You'll be told your birth year is the primary reason you're a Bernie Sanders fan. But that's just part of the fun.
3. The Performers. The actors of Charlotte Squawks, with several national and local theater vets among the crew, each get a moment to shine. Patrick Ratchford's likeness to Gov. Pat McCrory is a major coup for the show, which parodies the embattled governor several times throughout both acts. Versatile thespians like Lucia Stetson move seamlessly between background roles and solos, sometimes saving a lesser gag by selling it in committed SNL fashion. Carmen Shultz's performance in the aforementioned Adele role shows what happens when the stars align in Squawks, and the quality of the material matches the actor.
4. The Topics. We mentioned a few of the topics above, but as one may predict, HB2 is the main victim of Squawks. Otherwise, tolls, Panthers, Hornets, "Glaciergate" at SouthPark Mall, a few presidential candidates, and the streetcar are memorable topics tackled. Though the show can be biting, there was room for more in tunes such as "A Whole Brew World," which poked fun at Charlotte's adoration for its burgeoning brewery scene. Maybe a future parody can tackle the contentious inclusion of babies and dogs—or even the lack of diversity in the establishments.
5. Mr. Jenkins. To many, Squawks earns your money through Robbie Jaeger's impression of Mr. Jenkins in Morris-Jenkins commercials. Before he even opens his mouth to speak, Jaeger's wide-eyed take on the elder star of the spots gets huge laughs. To say more about the fake commercial would ruin one of the show's best bits. But it's a highlight of Squawks.