5 Things To Know: N.C. Red in Plaza Midwood
How to properly experience Rhode Island shore food in Charlotte this summer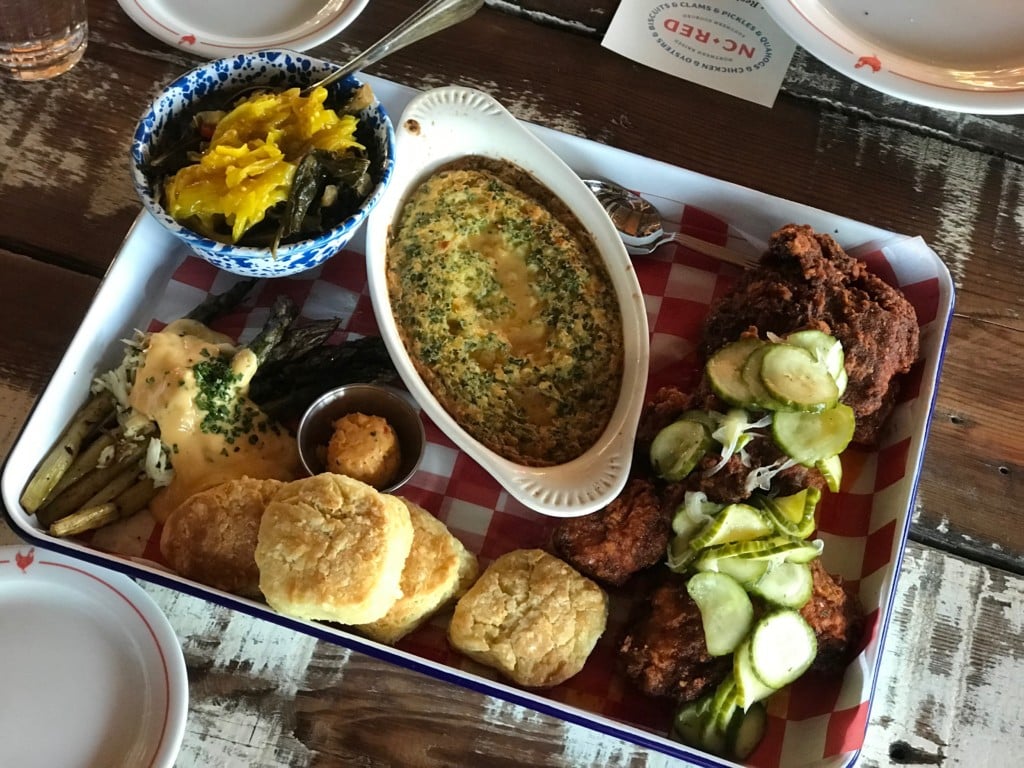 LAST NIGHT, I was treated to a special media tasting at Bruce Moffett's newest restaurant, N.C. Red. It opened in April, and if you're not yet familiar, it's the fourth concept from the O.G. of Charlotte's culinary scene. (The Moffett Group of restaurants also includes Good Food on Montford, Barrington's, Stagioni, and the upcoming spot in Optimist Food Hall, Bao + Broth.) The menu is inspired by Moffett's upbringing along the New England seashore, as well as some of his favorite southern dishes. The name NC Red combines his love for his adopted home of North Carolina with Rhode Island's state bird, the red rooster.
Now that patio weather has arrived in Charlotte, I wanted to experience Rhode Island shore food the way Moffett intended—simply prepared, wrapped in checkered paper, and served family-style around a big outdoor table. Executive chef Drew Dodd, formerly of Stagioni, runs the kitchen at NC Red, and has as much command over seafood and southern fare as he does with Italian food. Here are five more things to know about NC Red:
Parking can be a challenge. The restaurant is located in the space formerly occupied by the Penguin Drive-In in Plaza Midwood, which is notoriously short on parking after 5:30 p.m., when NC Red opens. If the few spots in front of the restaurant are occupied, grab the first street parking you can find, and enjoy the walk up Thomas Avenue amongst the joggers and strollers out for their evening jaunt. You'll know you've arrived then you see the octopus mural by local artist Randall Kane on the covered patio.
Narragansett Lager pairs well with everything on the menu. You won't find typical beers like Bud Light or Michelob Ultra here, but there is a nice selection of local brews from Resident Culture, Legion Brewing, and Triple C, as well as craft cocktails and wine. For the true New England experience, order a cold 16-ounce can of Narragansett Lager—it tastes as good with raw oysters as it does with fried chicken.
Bring some friends and order a few small plates to share. Oysters and clams come four ways: grilled, Rockefeller, casino, or broiled. "Stuffies," a.k.a. clams stuffed with peppers, breadcrumbs, and chorizo, are a childhood favorite of Moffett—and a new favorite of mine. Other northern-inspired dishes include baked seafood casserole, seafood cakes, and a classic lobster roll. And if comfort food is more your jam, there's an entire section of the menu devoted to southern fried favorites like Nashville fried chicken, smoked mac and cheese, braised collard greens, and corn pudding.
Save room for dessert. There's a daily selection of pies, a Cheerwine float, and a seasonal soft serve cone. Last night's flavor was homemade blueberry, so hurry up and get some before the summer's over.
Grab a seat and stay awhile. NC Red is open Tuesday through Friday for dinner only and does not accept reservations, so be prepared to wait if you arrive after 7 p.m. The inside dining area seats about 60 people, and the bar seats eight. But if you're lucky enough to snag a table on the patio on an early summer evening, sit a spell and relax as the day winds down.
NC Red is located at 1205 Thomas Avenue in Plaza Midwood. Hours are 5:30 to 10 p.m. Monday through Friday, and 5:30 to 11 p.m. Friday and Saturday. Beginning this weekend, the restaurant will offer Sunday brunch service from 1 p.m. to 7 p.m.