5 Things to Know: OnQ's Day of Absence/Kiss My Black Angst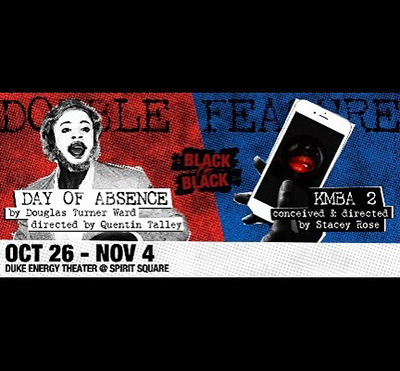 THROUGH NOV. 4, OnQ Performing Arts hosts a self-described "Blackbuster Doubleheader" to kick off its 10th season of shows with two performances back-to-back: Day of Absence and Kiss My Black Angst. The theater group states its mission as being "dedicated to educating and producing classic, contemporary, and original performance works that reflect the Black experience." The bill of this current run reflects that charge, with both a 51-year-old story and a new tale in tow. Read more below, and grab tickets for the production here.
1. It starts with a classic. The first piece in the double-header is Day of Absence, a satirical narrative written by Douglas Turner Ward and first performed in 1965. The story centers on a nameless Southern town in the 1960s that finds horror in the disappearance of all of its non-white residents. In the hysteria that ensues, the populace realizes its holistic dependence on its African-American residents—and how utterly helpless and hopeless they feel without them.
The comedic commitment of the cast, consisting of mostly African-American actors in "white face," carries the performance to an unpredictably satisfying and sobering conclusion, the crescendo ending in a mayoral address (or plea). OnQ founder Quentin Talley directs.
2. The second performance of the night is an original. While Day Of Absence has a straightforward, chronological structure, Kiss My Black Angst has more of a variety show-esque format. Written by Dani Brockington, Iesha Hoffman, Carlos Robson, Boris Rogers, Stacey Rose, and Korde Tuttle, the show is a diverse line-up of sketches and video parodies. It's anchored by the concept of a fictional app called "KMBA," which offers programming for African-Americans with mixed results. The send-ups of reality television shows, in particular, keep the show moving.
As is the nature of sketch-style theater, the quality and big laughs of this show ebb and flow. Yet, there are enough bold and rollicking moments to absorb for its longer duration than Day of Absence. Stacey Rose directs. (Unfortunately, the performance attended by this writer had its "Panthers" sketch, listed in the program, cut for time. Still wanting to know more about that send-up.)
3. Though the two-in-one show doesn't share writers and directors, it does share cast members. Stand-out performances include Nick Johnson as The Mayor in Day of Absence and and the entire ensemble present in KMBA's "The Real Hoteps of The Queen City."
4. The show is just the beginning of this OnQ season. The returning holiday show, Soulful Noel, arrives Dec. 9. OnQ's signature production, while Miles & Coltrane: Blue (.), is reenvisioned when it returns on March 21 (and lasts through April 1). It should also be noted that Talley hosts a monthly residency at The Tavern on every third Monday of the month. Mo' Betta is a cabaret-style show, with poetry, dance, music, and film.
5. The details for the rest of the run of Day of Absence/Kiss My Black Angst:
Shows on Tuesday through Thursday, 7:30 p.m. and Friday, 8 p.m.
Duke Energy Theater at Spirit Square
$28