5 Things to Know: Snooze, an A.M. Eatery in Plaza Midwood
The Denver-based breakfast spot opens in Charlotte this week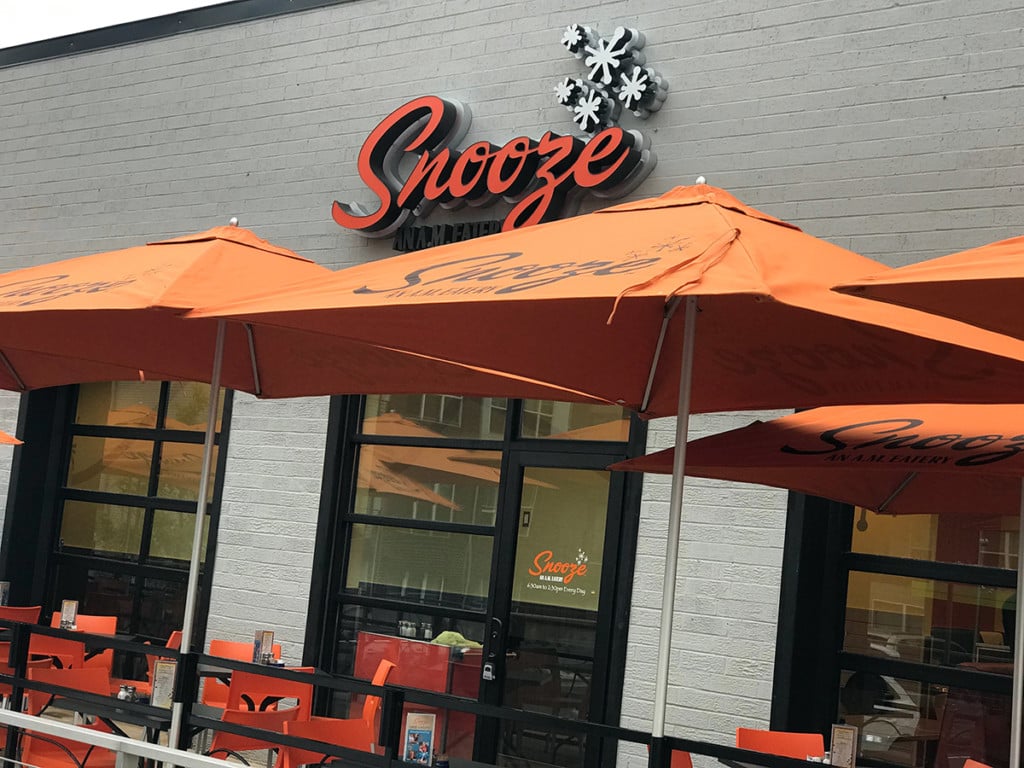 Snooze, the popular breakfast and brunch spot that started in Denver, has more than 30 locations nationwide. Charlotte will be its first East coast location, and it's about to step up the city's brunch scene. Here are five more things to know about the A.M. eatery.
It's like a party for breakfast. Starting at 6:30 a.m., the restaurant is buzzing with pop music and a wait staff that often dresses in theme. The retro-inspired interior has bar seating, booths, and tables, and there's additional seating on the pet-friendly patio. There's a kids menu that doubles as a coloring placemat, and—fun fact—Snooze recycles all of their used crayons. You can also purchase Snooze swag like T-shirts, hats, onesies, and even dog collars.
You don't have to commit to one order. The menu is lengthy—there's shrimp and grits, breakfast tacos, sammies, and a "Like a Feather" section with lighter fare like an egg white omelet, grain bowl, or sweet potato hash—but it's easy to mix and match if you can't decide. The Benny Duo lets you choose any two benedict offerings, so you can order one smashed avocado and one chile verde benny with a side of hash browns…or swap it out for toast or a pancake. And if the "Sweet Utopia" section speaks to you, go for the Pancake Flight and choose any three flavors. (Spoiler alert: each one is really just a dessert dressed up as breakfast, but the sweet potato pancake topped with caramel drizzle and candied pecans is their best seller for good reason.)
You can make it a boozy brunch. In addition to the full espresso bar, they've got a morning cocktail menu with mimosas, Bloody Marys, morning mojitos, and a dirty drunken chai. But if you go for Sunday brunch, you'll have to wait until 10 a.m. to order one of these adult beverages. Read more about their drinks selections here.
Your food allergies are no problem. The staff is super educated on food allergies and will always ask if you have any they need to be aware of. The menu already includes gluten-free options, but let them know if you're allergic to wheat, soy, tree nuts, or anything else—chances are pretty good they can make it work. There's an eight-step process they take to ensure your meal is allergen-free.
Hardly anything goes to waste. Snooze has a compost program and recycles about 90 percent of their kitchen waste. They use paper straws and reusable kids cups in place of disposable ones, and you'll find efficient hand dryers and recycled paper towels in the restrooms. They also give one percent of all sales back to the community for projects like community gardens, nutrition education, and local food banks. For Charlotte's soft opening on June 22, 23, and 24, Snooze offered free breakfast to select neighbors and friends in lieu of donations to Hospitality House of Charlotte, Arts for Life, and Sustain Charlotte.
Snooze opens to the public June 26 at 1331 Central Avenue in Plaza Midwood. Hours are 6:30 a.m. to 2:30 p.m., and they only accept reservations Monday through Thursday for parties of eight or more.