5 Things to Know: Tony DiTerlizzi's New Exhibition at the Mint Museum
Renowned illustrator keeps his inner 8-year-old alive and drawing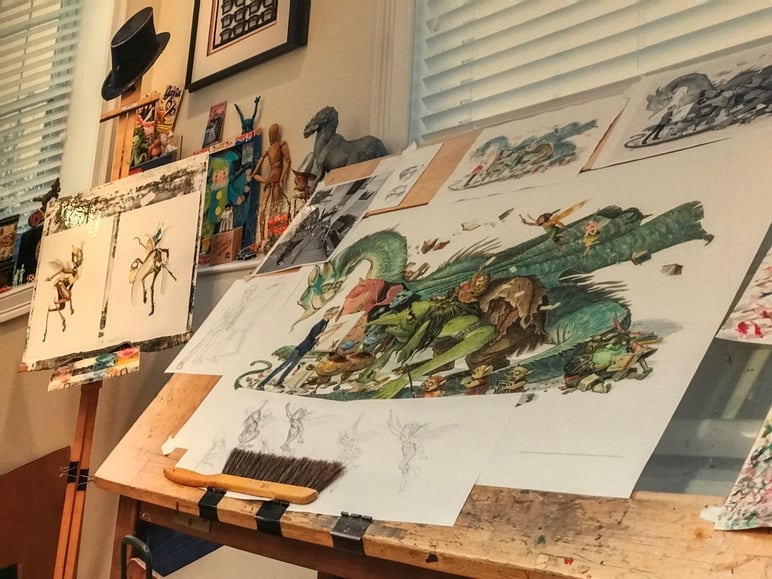 Tony DiTerlizzi is the author and illustrator behind works like The Spiderwick Chronicles, The Spider & The Fly, the WondLa Trilogy, and more. He got his start designing for Dungeons & Dragons and has built a career drawing fairies, dragons, robots, and other fantastical creatures. Never Abandon Imagination features drawings, illustrations, and mementos from the artist's life, plus sketching areas for visitors to create their own characters.
Dr. Jonathan Stuhlman, curator of the show, calls it "a magical, special exhibition, a show that surveys his entire career, with childhood sketches, an interactive environment, and areas to sit down and open book." Charlotte magazine caught up with the artist to preview the exhibit ahead of its June 22 opening at the Mint Museum Randolph. Here are five more things to know about Never Abandon Imagination: The Fantastical Art of Tony DiTerlizzi.
Norman Rockwell is Tony's spirit animal. The exhibition debuted at the Norman Rockwell Museum in Stockbridge, Massachusetts, in 2017, a fitting venue for Tony, who calls himself a "diehard fan" of Rockwell's work. Never Abandon Imagination, which includes interactive screens with artists who inspire him, aims to get a younger generation excited about going to an art museum, he says, and "demystify how my illustrations are created."
Kids will love it. The show is designed with kids in mind. Many pieces hang at kid level, and the exhibit includes sketching areas and a wall to create your own masterpiece. You'll also spot toys from Tony's personal collection, and a number of his books that anyone is free to pick up and read. "If a 10-year-old comes in who likes to draw, maybe they can see themselves in my journey," he says.
He's a big kid at heart. "I have so many toys because I have to constantly tap into that 8-year-old version of myself," Tony says. "My studio is a mutation of my bedroom as a kid." Today he lives in Amherst, Massachusetts, with his wife, Angela, and he says he bounces all of his ideas off his 12-year-old daughter, Sophia.
You can see work by local illustrators in an adjacent gallery. The Mint held an open call to Charlotte illustrators as a companion show to Never Abandon Imagination, so be sure to check out their work, too.
Admission is free on opening day. Never Abandon Imagination opens to the public Saturday, June 22, with a free public talk with the artist at 1 p.m. The exhibition runs through November 3 at the Mint Museum Randolph, 2730 Randolph Road. Admission is free for members, $15 for adults, $10 for seniors and college students, $6 for children 5-17, and free for kids under 5. Beginning Tuesday, July 2, the Mint Museum will have expanded hours; they will be open Tuesdays from 11 a.m. to 6 p.m. at both locations.