5 Tips for a Festive & Southern Front Porch
See if yours hits the mark.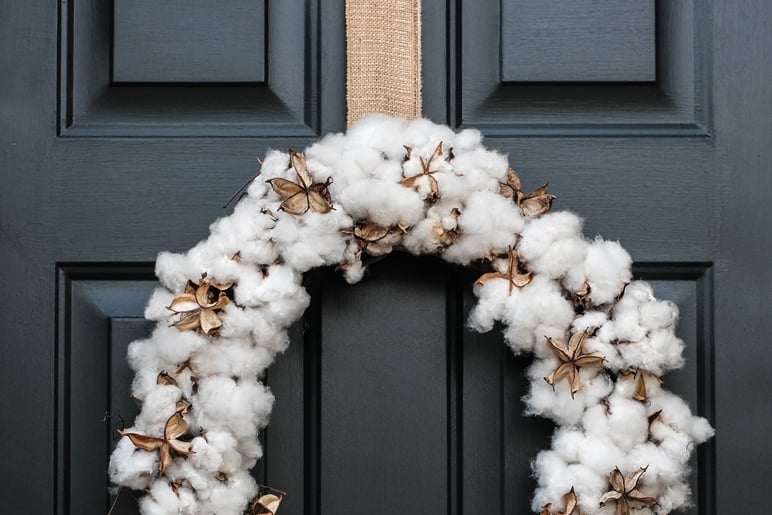 I remember when I first moved to Charlotte a little over three years ago. My 20-plus years spent in Florida seemed like enough—humid Christmases and sweaty Thanksgivings were getting old. Like most native Floridians, I craved what it would be like to experience all four seasons, especially this mystical time of year known as "fall." Crisp temperatures, colorful leaves, and wearing clothes for utility instead of solely fashion—it sounded like a dream.
Now, as I ride out my third fall season, I finally understand all the anticipation for autumn. Charlotte wears autumn well—with mild temperatures, farms dotting the outskirts, and all the pumpkin beer you could want. But my most favorite part about fall in Charlotte is all the festive front porches. Front porch living is a Southern essential, and it's something I've come to appreciate since moving up here from Florida, where back porches remain king.
Thus, I've become enamored with the ways you can extend home styling to the threshold. If you've got company coming into town for the holidays, ensure they feel welcome from the moment they catch sight of your front porch. Here some tips to keep in mind when decorating your front porch this season.
5 Front Porch Styling Tips
1. Use seasonal foliage
As harvest season sets in, nod to the fall crops that make us feel so warm and cozy inside. Pumpkins, gourds, corn stalks, hay bales, mumkins, and unique squashes all belong on a front stoop, especially if you've got multiple steps leading up to the door. Then, supplement with greenery of the season—whether that's a homemade harvest wreath or potted poinsettias lining the steps in December—it's up to you how you accent with living things. As long as you stick with seasonal plants, you can't go wrong.
2. Leveled Lighting
The charm is in the details, and if you're someone who likes to wow visitors at every turn, you would be remiss not to add levels of lighting to your fall front porch. Lanterns, twinkling lights, or other means of luminance around the area can make the atmosphere feel extra special. If you're worried about candles burning in lanterns unsupervised, you can look for battery-powered lanterns that give off a similar, safer glow.
3. Don't forget the doormat
Again, detail is everything. Fall-ifying your front porch means adding autumnal touches everywhere you look. Luckily, there are local and regional Etsy sellers that can do custom or themed doormats. This way, you can shop local while building your seasonal decorating arsenal. For frugal shoppers: Try picking an abstract or vague seasonal doormat design if you want it to last until spring.
4. Mix up the objects
Just like your lighting, you want your decor pieces to be leveled too. This will create more dimension and interest. Consider adding different types of textured items, such as wire and wooden crates. You can even change out throw pillows on furniture. A pretty way to juxtapose weathered materials and earthy tones? Hang seasonal blooms between columns or posts. Head to your neighborhood nursery and look for vibrant fall perennials that will do well in the area you'll be hanging them. Many homes already come equipped with hooks from which to attach your hanging container plants, so there's hardly any work on your end.
5. Add your own touch
What's your style? When picking out lanterns or accompanying plants to dress up your doorstep, think about the vibe inside the house. Make your threshold more rustic with weathered materials and corn stalks, or go trendy with gold touches and painted pumpkins. Whatever your decorating style is, be sure to add your own personal touch, because that's what makes your front porch stand out from the rest.