5 Tips for Spring Cleaning Your Cluttered Closet
How to organize the pieces you want to keep and get rid of the items that have been neglected.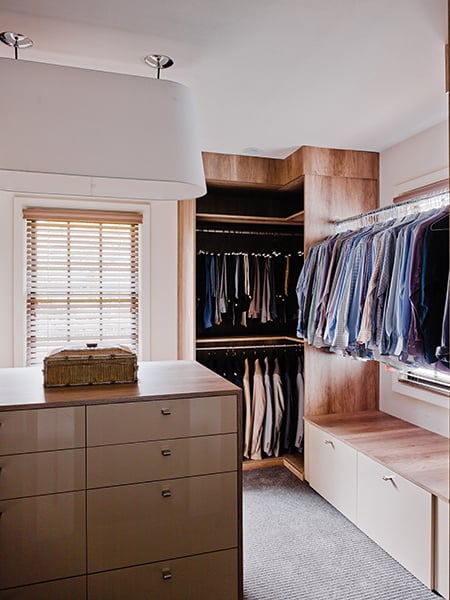 Though it may not feel like it, spring is here, and warmer days are hopefully on their way. But before you can start planning outdoor fun, don't forget about all the clutter you let build up inside your home this winter.
Clearing out clutter—in the spring and other seasons—is a therapeutic process that can improve your mood when you're in your home. Seeing order and organization will make you a much happier human than someone who has to stare at disarray all day.
Usually, our closets are where clutter goes to hide. Clothes pile up, and shoe collections explode into areas they should never see.
It's time to get rid of a few things. To help you make your closet a happy place once again, we spoke with retail consultant and owner of Elsa Fine, Jordan Dollard.
Dollard says minimizing your wardrobe every now and then can have some nice benefits.
"I think having fewer clothes keeps you thoughtful of each piece's worth and how much you value it," she says, noting that valuing what you own is what truly matters.
"The clothing industry is a wasteful one, so we should all do our best to be thoughtful of what we have and what we're buying," Dollard continues. "No more buying a new white tee every month when you have five you can't find."
Below, the retail expert tells us more about how to clear out your closet for a fresh and renewed outlook on life (and your wardrobe).
Un-Cluttering Your Closet
Tip 1: Use the "hanger trick"
"I think this system is low-maintenance enough for anyone," Dollard says. The hanger trick means you place all your hanging clothes the opposite way on the rack so that the hanger hooks are facing towards you. As you wear pieces from these hangers, flip the hangers to the right way again. This trick shows you how often you actually wear certain items and which ones are gathering dust. Dollard suggests you "set a deadline," like three months or a season, and, once time is up, sell or donate any items that remain hanging the wrong way and were not worn.
Tip 2: Take note when packing away seasonal styles
Charlotte's summer is very different from the winter, so chances are, you don't have room in your closet for all of the summer, winter, spring, and fall clothes. Instead of letting all the seasons clutter your closet, pack away seasonal styles as the weather changes. But that's only the first step, according to Dollard. She says, "If you're packing things up for the season, check for holes, proper sizing, et cetera. Anything that isn't in good shape should go. As you unpack a season, check to see what still fits, what didn't store well, and what's out-of-trend."
Tip 3: Learn to let go
It's more of a mindset shift than a closet cleaning hack, but learning to let go of things is an integral part of the de-cluttering process. About this, Dollard says: "Honestly, you just can't keep everything. Life doesn't work that way! If the clothes you've held onto no longer match the chapter of your life, it's time for them to go. If they no longer fit or are rarely worn, they're not worth keeping. Let someone else love them."
And to that, we say, amen!
Tip 4: Implement some organization
To keep your closet from undergoing the same messy demise after you clean it out, make the space more functional with savvy organization. Having some sort of organization system in place is a great long-term solution that will make future-you very pleased when spring cleaning time rolls around again. Though preference differs by person, Dollard says there are some wonderful organization systems out there. "I highly suggest organizing by category, then length or sleeve," she says. "Nothing is worse than that silk camisole being dwarfed by that oversized sweater in your closet, just to forget it's in there."
An example of using this method of organization would be as such: for dresses, the order would be maxi dresses, midi dresses, then short mini dresses. Similarly, for tops, start with sleeveless, then go to short sleeve, then long sleeve. Keeping them all categorized as so will show you exactly what you have to work with when you're deciding on an outfit.
Tip 5: Say your goodbyes
That turtleneck treated your upper body well five years ago, but it's time to let it make someone else happy. When weighing your options for getting rid of your unworn clothing, Dollard reminds us that consignment shops usually have specific styles they are geared toward, so it could be helpful to check out the places that sell your style of clothing. "I'm a big fan of Summerbird Boutique in NoDa as my first stop," she says, "but know you get paid as they sell in-store." You can learn more about Summerbird's consignment program here. There are more options, too.
"Everything else I generally take to Clothes Mentor," Dollard explains. "This is where I've found I get the most money back. When it comes to Clothes Mentor, Buffalo Exchange, Uptown Cheapskate… Go in with the understanding that you're only going to get a few bucks per style. That's just how it is and how their businesses are built. If you really want to make more money per piece, you'll have to do your own footwork on the Facebook marketplace, private resale groups, or on apps like thredUP and Poshmark."
She suggests using the resale apps for your higher-end pieces since the payout would be better worth the time it takes to sell on the apps. As for everything else, Dollard says consignment is the way to go: "Just take the $60 and know you don't have to worry about anything else like taking photos, writing descriptions, and shipping."
And, lastly, if you want to donate, Dollard suggests good ol' Goodwill. "I like that they provide jobs and training to those who need it," she says, plus the convenience of their locations. Though, if you'd like to donate somewhere that's more Charlotte-centric, Dollard says, "There are some great local shelters who would happily take your old clothes."