5 Unconventional Home Designs Worth Trying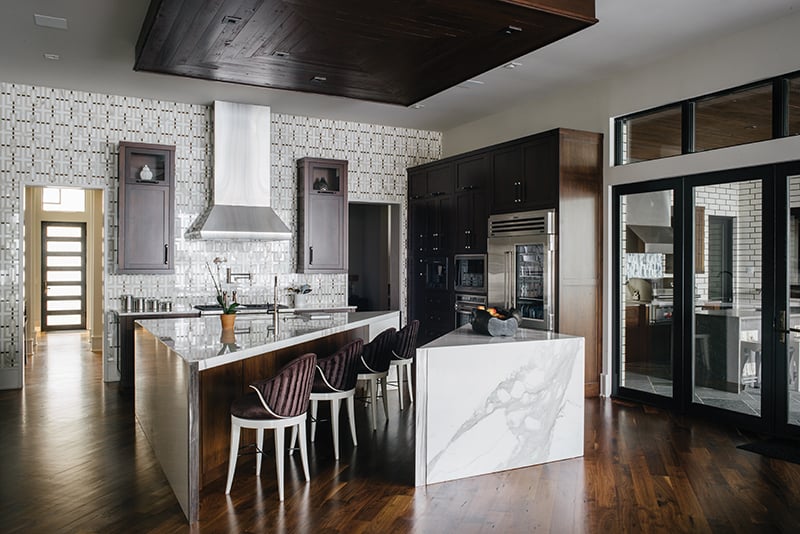 The wonderful part about owning a home is the ability to customize it however you'd like. Especially if you choose to build a house, you can opt to implement ideas and changes throughout the entire process, ensuring the finished product truly is a dream come true. If you're in the market to build a home or you're seeking out some major renovation ideas, we've got just the thing: unconventional home designs that will blow your mind.
Sometimes fitting into a box isn't the dream, and for those dreamers hoping to create a home as unique as their interests, we have some inspiration for you to peruse. The below designs are some of the coolest, most original looks we've happened upon in real homes throughout the Charlotte area. So, yes: They're realistic. Whether it's a split kitchen island or a spirited ceiling, these interiors will make you think outside the box next time you entertain new home design ideas for your own abode.

Kitchen islands are pretty ubiquitous in present homes. Islands are great for extra food preparation space, and they invite visitors to congregate. Many kitchen islands also feature a few bar stools, suggesting guests should belly up and stay a while. And while this kitchen island still accomplishes all those things, one can't help but notice the differences between it and the average kitchen island. This triangular set of two islands sits in NASCAR driver Denny Hamlin's Lake Norman mansion. The modern, angular design was implemented by designer Scott Carpenter, who opted for this split look in lieu of one giant island. Now, the space promotes two places for traffic to flow and an interesting focal point for an otherwise familiar room.

If you're one of those people that can't stand the sight of utilitarian cables and bulky electronics, have you ever considered masking them? Instead of the traditional TV console that puts the brigade of electronics on display, this Ballantyne living room uses smart design to hide the television. The owners, with the help of designer Wanda Horton, took down the massive, existing entertainment center and opted for something sneakier. The mirrored cabinet pictured now holds the TV, where it can hide out of sight while not being used.

Too often, people bury their keepsakes in dust-covered boxes that rarely get opened. Family photos, old awards, and newspaper clippings fill the memorabilia box as if the person saving them doesn't even care about them. Instead of letting prized possessions gather dust, put them on display as your own kind of custom art. Take a hint from this gorgeous gallery wall that sits in a Ballantyne townhome, which proudly displays the family's history in Virginia while also serving as an elegant focal point in the room. Using your prized belongings as decoration doesn't have to be distasteful—just buy some frames and shadow boxes and play around with placement. You can also learn how to create your own gallery wall using these tips from two local designers.

Ceiling Style
Some people may think doing anything "crazy" to your ceiling is taboo, but that probably just means they haven't seen it done right. For those people, we say, look here! Designer Traci Zeller gave her son's room an unexpected but genius facelift simply by adding a patterned wallpaper to the ceiling. The ceiling is sometimes referred to as "the fifth wall," suggesting that it be treated as so. Plus, Zeller's choice to wallpaper the ceiling might resonate with other parents: She told us in this article that it didn't make sense to wallpaper the walls with an 11-year-old boy inhabiting the space (smudgy fingers are not friends to pretty paper), so giving personality to the ceiling was the smart solution.

Another interesting take on the kitchen island, this spacious home overlooking Ballantyne Country Club adds a whole other level of seating to the mix. Not only are there stools tucked into the sides of the rectangular island, but there is also a built-in bench on the side facing a dining table. Benches as seating options are not a new concept, however, we can't say we've seen this take on the built-in before. Combining the table and seating area with the kitchen island creates a feeling that the kitchen should bring people together, where friends and family can eat and enjoy one another's company. No longer does the dining room or breakfast nook need to feel worlds away from the place where the food is prepared.