5 Views of the Panthers' Dream Season
From the locker room. From the tailgate lots. From the best seats in the house. From Singapore. And from, yes, Atlanta.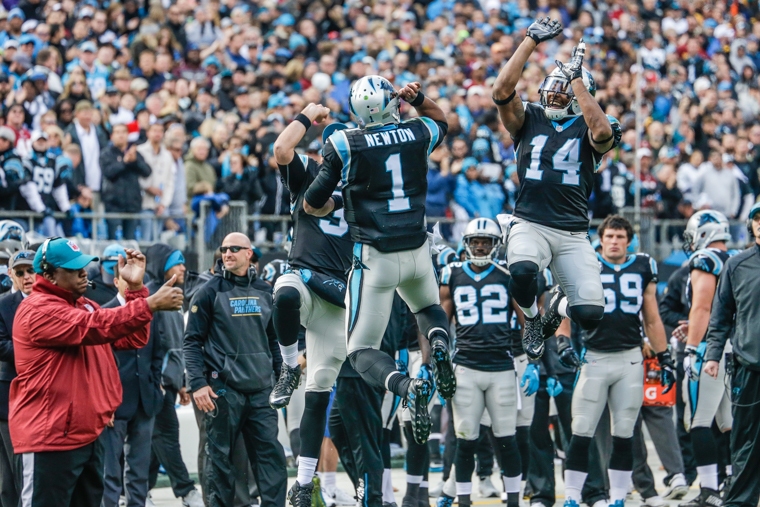 WE ARE THE "CITY OF CHURCHES."
We earned the nickname in the 19th century, and even today, after all the changing we've done, still more than 700 houses of worship stand. You can't miss them. Some are old, some are new. Some are small, others are mega. It's a point of pride here that no matter where you're from, on Sundays, there's a place for you.
This season, though, we've had a football team interrupt our Sundays, in such a good way. At first, only the most loyal had faith. Then it started happening. One win rolled into another, and then another, and then another, and more people jumped aboard, until we looked up and we'd won 6, 8, 10, 12, 14 games in a row, and suddenly we'd arrived here, at this point in the city's history when we are living in the home of the best professional football team in America. It feels good. It feels good to be the top seed in the playoffs, with a date against the Seahawks on Sunday. It feels good to win more games than all but six other teams in history. It feels good to believe.
These five essays come at you from everywhere, from Plaza Midwood to Atlanta, from Singapore to Spartanburg, from the tailgate lots to the best seats in the stadium, and together they tell the story of how a football team helped a city become one. At least on Sundays.
---
A beat writer reflects on a season that keeps getting better
By Bill Voth
​
---
They've been in these seats since the franchise was formed two decades ago. This is everything they've been waiting for
By Adam Rhew
​
---
What if all you did was tailgate? How would 15-1 look then?
By Michael Graff
---
Sorry to rain on your premature victory parade, Charlotte. But Atlanta's been through this too many times before.
By Tony Rehagen
​
---
How following the Panthers' amazing ride in Singapore helped me gain a new appreciation for Charlotte
By Emily Seibel