5 Wedding Food Trends That Challenge Tradition
Modern times call for modern munchies.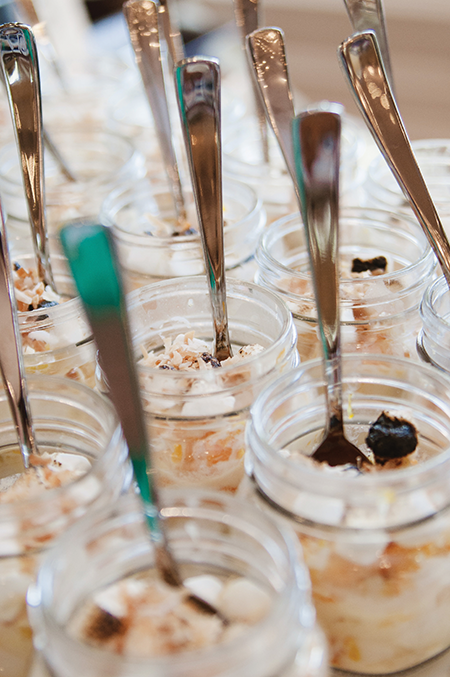 If the way to someone's heart is through the stomach, what does that mean when you want to win over your guests? For starters, forget what you've been told about playing with your food. Modern times call for modern munchies.
Chef Rob Masone, Founder of Kre8 Xperiences and Owner of the Twisted Eats food truck, says gone are the days of traditional event fare. Three-course meals at weddings are no longer appealing to the bride who wants to "wow" her guests. Mainstay hors d'oeuvres are being tossed aside for more exciting, interactive finger foods.
In the words of Chef Rob, "No rules is just right these days," which means the menu for event eats is open to interpretation. Caterers like Kre8 are getting innovative when it comes to finagling foods for special events and weddings alike. Hankering for something a little more hip? Try one of these fresh ideas.
---
1. Off-the-wall eats
Feast your eyes on food jutting from the wall — only, this food is not for show. With this technique, guests can swoop by the wall to snag a sprinkled donut resting on a peg or select a spoon holding the macaron of their choice.
---
2. Live action
Along with the open-kitchen sensation at trendy restaurants comes the live chef concept at events. Give guests an immersive experience as your skilled chefs whip up the food right before their eyes. It's entertainment and eats all-in-one.
---
3. Bites bar
Food stations are popping up in every style of satiation: biscuit bars with an array of sweet jams, build-your-own burrito bars, charcuterie and cheese stations, and even potato-themed bars touting tots and other spud-tastic grub.
---
4. Family style
Bid adieu to the old-fashioned formalities of sit-down dinners. Make the moment more memorable with a family style meal, where guests can chit-chat as they pass around dishes and serve up personalized portions.
---
5. Truck treats
The food truck frenzy doesn't stop at Friday roundups or brewery bites. In fact, wheeling a food truck or four up to your outdoor reception is a great way to give guests options. You'll also benefit from the cooks having their own kitchens at their fingertips—fresh food all night long.