50 Best Restaurants in Charlotte: 2018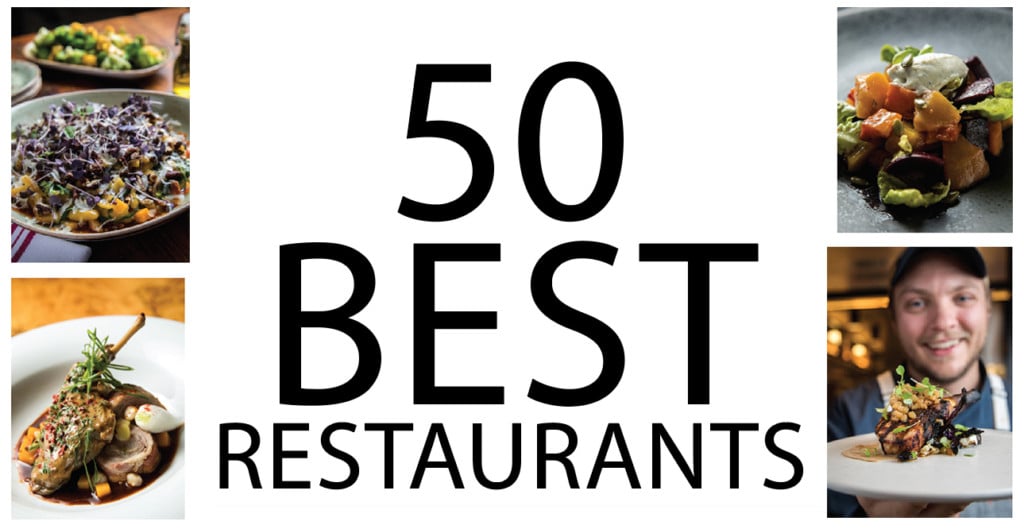 Read the 2020 50 Best Restaurants list here.
Check out our 2019 25 Best New Restaurants list here.
THIS LIST IS BASED on hours of eating, hundreds of restaurant visits, and thousands of dollars in research. It isn't paid for or persuaded by which places have public relations companies. Visits are anonymous, and each restaurant on this list has been judged on multiple visits over the past year. To be included, establishments must be primarily a restaurant, and a local chef must have full control over the menu. Each place included in the rankings has a rating on three important aspects of dining: the food, the ambiance, and the quality of service. These ratings helped determine the restaurant's ranking along with several other factors, such as the consistency of quality, innovation in the kitchen, and value. Also considered in the final decision were restaurants' beverage programs. Semifinalists included nearly 100 restaurants; several of the city's favorites narrowly missed the cut. The resulting list is our definitive ranking of the best restaurants in and around the city.
For a printable checklist version of the 2018 50 Best Restaurants list, click here.
---
131 N. Main St., Davidson, 980-231-5000
FOOD: ★★★★★
SERVICE: ★★★★★
AMBIANCE: ★★★★1/2
One evening not long after Kindred opened nearly three years ago, Katy Kindred had a thought as she passed through the dining room. Between its exposed brick walls and bright white-and-tiled bar, the Davidson restaurant she owns with her husband, chef Joe Kindred, were full tables. Yet the thought was still there.
READ MORE …
"Oh my God," she thought to herself as she looked around. "There's a chance this could not work."
"It just kind of finally struck me," she recalls today, "what if all the sudden people stop coming?"
That, of course, hasn't happened. Kindred and the Kindreds have earned recognition from the James Beard Foundation and Bon Appétit, to name a few. Reservations fill up quickly, and bar seats are coveted on weekend nights. Still, that thought hasn't left them.
"I like to second-guess myself a lot, and, you know, I'll have these moments where I think I suck," Joe admits. "I have this huge fear of failure. And I take that as a motivating factor."
It's motivation to continue to learn, to always get better. Joe, Katy, and members of their staff, often including Kindred General Manager Blake Pope, travel to some of the best restaurants in the country, spending time in the dining rooms and the kitchens to learn new trends and techniques. That fear has helped push the menu at Kindred, and propelled the restaurant to the No. 1 spot on this list from its top five position in 2016, during the restaurant's opening year. A hamachi crudo (crudo is a raw fish dish) has the citrusy sweetness of kishu mandarin, spice of serrano peppers, and an added layer of texture with black sesame breadcrumbs. The squid ink conchiglie is a stunning black pasta dish that's served with shrimp and an umami-rich sea urchin butter.
You wouldn't have found these dishes on Kindred's first menu. What Joe and his staff serve today is much different from the day the restaurant opened, in both structure and sustenance. As a first-time restaurant owner, Joe stayed within the comfort of a more traditional menu; there were sections for small plates and entrées, complete with a chicken dish and a pork chop. And as diners began to trust in him, he began to trust himself more.
"Creatively, I was inspired by people coming in and really enjoying the food," Joe says. "It was like, alright, well, they're doing this, so I felt like it was my duty to the city and to the restaurant and the team and our kitchen staff to keep getting better. Learn new techniques. Find fun new ingredients."
Nowadays, it's not surprising to see a Kindred menu with only one or two red meat options. The recent Kindred menus help define Joe's cooking style, one that has become evident as he whittled away the dishes he felt bound to when he first opened. What's remained is a menu of bright, fresh flavors in the crudos, pastas, and shared plates.
"I would say you found your voice as a chef over the past two years," Katy says, looking at her husband as he explains the path between the menus.
Both Kindreds have found their place as business owners, too. They've recently started taking leadership classes through their church, Mecklenburg Community Church. Joe is a damn good chef; Katy can charm even the toughest table. Yet they don't believe that's what makes their restaurant great. They believe their leadership is what defines Kindred.
"If it's just about food and booze, that's pretty lame," Katy says. "That's a lame legacy to leave. We really want to genuinely make a difference and the best place for that would be the people that work for us."
As soon as the restaurant began turning a profit, everyone on the staff got a raise. The Kindreds started providing health insurance to their full-time employees last year. They hire not based on resume, but character, and want to make sure everyone at Kindred has a work-life balance that's uncommon in the restaurant industry. One of the interview questions they ask is what a person enjoys outside of work; they want their staff to have something that drives them outside of Kindred.
"If you get into the restaurant business because you love food, you're going to be really disappointed, because it has to be about people," Katy says. "You have to care about people, because as a business owner, that's what you're going to be doing, frankly. Joe's not cooking. I'm not waiting on your table. We're managing the people who are doing that. And we love that part of the job."
The staff loves them, too. Dine at Kindred any time and you'll feel a sense of ownership and pride from each person who attends to your table or greets you on your way out. Dishes from the kitchen are nearly flawless, helping Kindred earn the trust of diners and enabling the small-town restaurant to serve one of the most innovative menus in the Charlotte area.
In December, the Kindreds opened Hello, Sailor, their second restaurant, in the Cornelius space formerly occupied by the Rusty Rudder. Surely, acclaim and recognition will follow for the lakeside restaurant. And the Kindreds will do their best to pass off the praise and remind us how they're so successful and what's really important to them: their Kindred staff.
"What I want to do is focus on how people remember me and the legacy that I helped them create for their lives," Joe says. "I guess it's just like I woke up one day and I learned it's not about me."
---
1601 E. Seventh St., 704-332-3322
FOOD: ★★★★1/2
SERVICE: ★★★★★
AMBIANCE: ★★★★
This is a restaurant where you know what to expect. The menu is traditional, with appetizers and entrées served with a salad, but that doesn't mean the dishes are basic. Chef (and co-owner with wife Sara) Greg Zanitsch takes approachable dishes and pushes just far enough to please both the adventurous and unsure. The filet mignon, for example, comes served with a polenta cake and Stilton cheese, the meat's juices soaking into the corn-based cake and balancing the shock of the Stilton. The menu here is French in style, which means you'll experience decadence throughout, from the always-delicious foie gras to the desserts, some of the best in town thanks to pastry chef Samantha Allen. Service has the right amount of attentiveness, and the staff's knowledge of the hefty wine list means you can ask for pairings that will bring out the best in your meal.
---
545 Providence Rd., Ste. B, 704-332-1886
FOOD: ★★★★1/2
SERVICE: ★★★★★
AMBIANCE: ★★★1/2
The No. 1 restaurant on our most recent Best New Restaurants list, Aix en Provence has continued to impress. The size of the restaurant—it seats about 40 guests—allows a level of control that you won't find in bigger dining rooms. At least one of the restaurant's owners, Patrick Garrivier or Bryan St. Clair, interacts with diners each night, keeping a close eye on the tables. In the kitchen, chef Nicholas Tarnate serves French countryside classics, meaning the menu also draws inspiration from nearby Italy and Spain, as well. Expect classics such as cassoulet, rich pastas, and paella, each equally delicious, making this menu a tough one to choose from. Each dish during menu development has to pass the palate of Garrivier, who grew up in France and worked for renowned French-born New York chef Daniel Boulud. The owners announced the opening of a second restaurant, Le Cochon D'Or, in Waxhaw this winter, taking over the former Heritage Food & Drink space.
---
7822 Fairview Rd., 704-364-5755
FOOD: ★★★★1/2
SERVICE: ★★★★1/2
AMBIANCE: ★★★★1/2
You'll often spot Charlotte's old money at Barrington's, and not because the restaurant is old-fashioned. Here, you'll find the familiarity of a corner pub with a menu that shows serious sophistication, something regulars have discovered and returned for since the restaurant opened in 2000. Chef and owner Bruce Moffett's first concept, Barrington's has a New England-inspired interior, with sea-evoking blues and photographs from Barrington, Rhode Island, snapped by Moffett's wife, Katrina. The dishes here generally get everything right, from textures and tastes to the plating. The menu is high-end yet still comforting, with humbling touches such as fried onions on the scallops or trout served with sweet potato chips. It's a place you'll want to come back to, and if you can afford to make this your regular spot, the familiar faces of the staff will make it feel like home.
---
235 N. Tryon St., 704-342-1193
FOOD: ★★★★1/2
SERVICE: ★★★★
AMBIANCE: ★★★
Chef Matthew Krenz's intentions in his kitchen are as pure as anyone's. His family owns a cattle ranch, instilling in him a deep respect for his ingredients and the effort that goes into producing them. Located in the Dunhill Hotel, this place is open for all meals, but really shines during dinner. It's not unusual to find lesser-utilized ingredients, such as beef tongue or heart, on the menu, prepared in a way that makes them as approachable as possible. Such dishes help minimize waste, but if you'd rather stick to the traditional cuts, The Asbury excels in that as well. There's depth in this kitchen with Chef de Cuisine Mike Long working alongside Krenz, allowing for consistency no matter who is on the line.
---
715 Providence Rd., 704-372-8110
FOOD: ★★★★
SERVICE: ★★★★
AMBIANCE: ★★★★
Under the leadership of Chef Drew Dodd, this Bruce Moffett restaurant has become a favorite among foodies and food industry folks alike. The interior is warm, with red accents that mimic the heart of the wood-fired grill in the open kitchen. The menu can seem overwhelming with three- or four-syllable words in Italian, but they most often translate to some shape of pasta, and the staff is quick to explain them. The pizzas are crisped next to the fire and topped with things such as house-made sausage. Staff used to joke that you'd never find chicken parmigiana, a stereotyped Italian staple, on the menu here. Dodd decided to add his own interpretation, stuffed with mozzarella and fontina cheese, to the menu. It's a delicious and popular dish, showing that Dodd isn't above serving the expected—he just does it on his own level.
> Read about Moffett's recent cookbook deal here.
---
2000 South Blvd., Ste. 510, 704-594-1922
FOOD: ★★★★
SERVICE: ★★★★
AMBIANCE: ★★★★
Sushi is all about the sourcing, and you can taste it's done well at South End's O-Ku. Michael Chanthavong is the executive chef at this Charleston import, and his enthusiasm radiates from the people behind the sushi bar to the front-of-house staff, who will help you navigate the sushi and sake selections. Don't think that this spot is simply raw seafood, however—for the ocean-averse, dishes made with duck, pork belly, and wagyu beef are equally thoughtful.
---
1701 Montford Dr., 704-525-0881
FOOD: ★★★★
SERVICE: ★★★★1/2
AMBIANCE: ★★★★
Bruce Moffett's second restaurant doesn't take reservations, but the near-constant wait doesn't deter diners looking for, well, good food. Some classics remain through menu changes—and remain must-orders, such as the Prince Edward Island mussels, served with a mild green curry broth, and the steamed bun—but the specials show the kitchen's range. Named a James Beard Award semi-finalist for Best New Restaurant in 2010, Good Food helped convince outsiders that this is a food town—and still does.
---
500 S. Tryon St., 704-910-0865 
FOOD: ★★★★
SERVICE: ★★★1/2
AMBIANCE: ★★★★1/2
Uptown hasn't always been friendly to fine dining restaurants, but Halcyon's ingredient-focused menu continues to draw in locals and business travelers.
Its location overlooking the southwestern entrance to uptown makes it an enchanting date night, and its treatment of expected and exotic ingredients—simply, yet with textbook technique and flavor combinations, such as its rabbit saddle or Spanish turbot, a white fish—make it a Charlotte classic.
> See where Halcyon ranked in 2016 here.
---
No. 10: Lumiere (Now Closed)
1039 Providence Rd., 704-372-3335
FOOD: ★★★★
SERVICE: ★★★1/2
AMBIANCE: ★★★1/2
Everything is traditional French here, from the white tablecloths to the foie gras preparation of the day. Such a classic restaurant tends to draw a crowd looking for classics, but that doesn't mean this place isn't for the foodies, too—understanding the foundation of cooking is an important piece of culinary education.
---
100 W. Trade St., 704-353-6005
FOOD: ★★★★
SERVICE: ★★★1/2
AMBIANCE: ★★★1/2
This restaurant in the revamped Marriott City Center set out to show that hotels could be a destination for Charlotteans, too. They hired chef Chris Coleman to craft a menu that has a local vibe but can be scaled up. The menu has slowly grown to push guests' culinary comfort, with dishes that include mostardas, consommes, and agrodolces. Snuck into most dishes, though, is a nod to the South—whether it's ingredients such as Lusty Monk mustard or a touch of sorghum in a glaze.
---
20517 N. Main St., Cornelius, 704-655-7465
FOOD: ★★★★
SERVICE: ★★★1/2
AMBIANCE: ★★★
This Cornelius restaurant is often overshadowed by Kindred when Charlotteans make the drive up north for dinner, but Lake Norman-area locals know how good this place is. Chef Tim Groody, who runs the restaurant with his wife, Melanie, focuses on sourcing, choosing organic and sustainable whenever possible. The menu changes daily, and the list of farms that supply it are nearly as long as the menu itself. The appetizers often have an Asian influence, but the daily list of what purveyors have in season is where you can really taste what Fork! is all about.
---
Multiple locations
FOOD: ★★★1/2
SERVICE: ★★★1/2
AMBIANCE: ★★★★
Owner Chef Jim Noble is both a Francophile and a Southerner, and that comes through at both Rooster's locations. You'll find fine wines and some of the best cheese and charcuterie plates in town, as well the North Carolina ingredients Noble grew up eating, such as butter beans and greens, in a convivial environment where you can watch the kitchen at work.
---
1523 Elizabeth Ave., 704-910-3161
FOOD: ★★★★
SERVICE: ★★★1/2
AMBIANCE: ★★★
Rethinking Passion8 into a place that serves dishes from chef and co-owner Luca Annunziata's home of Italy has given the restaurant a more cohesive sense of identity. The house-made pastas are the restaurant's biggest draw.
---
555 S. McDowell St., 980-237-5354
FOOD: ★★★★
SERVICE: ★★★
AMBIANCE: ★★★1/2
This restaurant inside Le Meridien has a modern interior, and its menu is modern steak house. It's hard to hide your mistakes when you're cooking something as simple as steaks, and Evoke's kitchen is nearly always on point. The tray of salts served with each steak lets you garnish the meat, giving you a new flavor each visit. Former executive chef Oscar la Fuente recently departed to start his own catering business, but he leaves behind a capable kitchen.
---
720 Governor Morrison St., Ste. 120, 704-365-7130
FOOD: ★★★★
SERVICE: ★★★
AMBIANCE: ★★★
Restaurateur Frank Scibelli has proven again with this latest spot that he has an eye for what diners want. His fast-casual concept focuses on healthy, flavorful dishes inspired by the Middle East. Israel-born chef Shai Fargian brings a connection to the cuisine that takes the restaurant beyond good business sense and in line with the culinary elite. A Plaza Midwood location is expected to open in mid-2018.
> Yafo was also one of our 25 Best New Restaurants in 2017.
---
129 E. 5th St., 704-412-2616
FOOD: ★★★1/2
SERVICE: ★★★★
AMBIANCE: ★★★1/2
Happy hour—when oysters from Sea Level, North Carolina, are $1 apiece—draws in an after-work contingent, and that crowd doesn't thin until the dinner rush passes. The name is inspired by the name of a seaside town, but is fitting for Charlotte's most consistent seafood restaurant. The cocktail menu run by Colleen Hughes is worth noticing, as well. Top that all with a beautiful interior punctuated with Edison bulbs, and Sea Level is a dependable uptown favorite.
> See our most recent feature on this restaurant here.
---
222 E. Bland St., 704-376-8400
FOOD: ★★★★
SERVICE: ★★★1/2
AMBIANCE: ★★★1/2
Chef and owner Michael Shortino's ramen restaurant caused a buzz when it first opened in 2015, with a constant wait for no-reservations tables. His noodle soups are both traditional and interpreted, while dishes such as the Crispy Rice are memorable and craveable.
The ramen rush hasn't slowed down since Futo Buta's customers slurped up their first bowls, and neither has Shortino—he plans to open Lincoln's Haberdashery, a grab-and-go market in South End, soon.
> See a recipe Shortino shared with us here.
---
1829 Cleveland Ave., 704-333-9463
FOOD: ★★★1/2
SERVICE: ★★★★
AMBIANCE: ★★★
Going to this restaurant, housed in a former church, has long been a pilgrimage for Charlotte epicureans. The wine list is one of the best in town, and chef Blake Hartwick's menu celebrates Southern ingredients.
---
8470 Bellhaven Blvd., 704-595-7710
FOOD: ★★★1/2
SERVICE: ★★★★
AMBIANCE: ★★1/2
Chef and partner Clark Barlowe overhauled his menu this year, doing away with the tasting-menu-only approach in favor of an a la carte menu with a chef's selection offering. The menu is more approachable, with appearances from delectable family recipes such as Aunt Nancy's onion pie. The menu may have changed, but the mission is still the same: show the versatility of North Carolina ingredients, and the staff here continues to show they believe in that mission.
---
4905 Ashley Park Ln., Ste. H, 704-910-4919
FOOD: ★★★1/2
SERVICE: ★★★★
AMBIANCE: ★★★1/2
Each staff member here seems to have their own set of regulars, giving this SouthPark restaurant a friendliness and familiarity that's hard to find. Part of Jon Dressler's Rare Roots Hospitality Group (Dressler's, The Porter's House), Dogwood's focus is on modernized Southern fare, such as duck and dumplings, trout, and pimento cheese served bubbling hot in cast iron. Whether you prefer to sit at a table or barside with ultra-talented mixologist Brian Lorusso, you'll find a warm welcome.
---
305 W. 4th St., 704-817-9057
FOOD: ★★★★1/2
SERVICE: ★★1/2
AMBIANCE: ★★★1/2
With its international menu, Loft & Cellar stands out in Charlotte. Globetrotter and chef/co-owner Nicolas Daniels uses his travels to inspire a menu full of fusion, with dishes combining flavors from separate continents on a single plate. Construction and permitting delays caused this place to open far behind schedule, but gave Daniels extra time to finesse the menu. Judged on food alone, this uptown spot would be higher on the list—the marriage of international flavors is innovative and delicious—but the service side needs a bit more attention before Loft & Cellar cracks the top 15.
---
1601 Elizabeth Ave., 704-333-3396
FOOD: ★★★1/2
SERVICE: ★★★1/2
AMBIANCE: ★★★
It's difficult to categorize the cuisine at this Elizabeth Avenue fixture.
With bright and fresh crudos, fan favorites such as the barbecue octopus, and season-appropriate pastas, Customshop draws much inspiration from the Mediterranean, but Southern ingredients help give the restaurant a sense of place.
---
512 Brandywine Rd., Ste. 500, 704-503-9945
FOOD: ★★★
SERVICE: ★★★1/2
AMBIANCE: ★★★1/2
Chef Shane Graybeal came to RockSalt in October, after former executive chef Jim Diecchio left to open a new restaurant by renowned chef Vivian Howard. Graybeal says he wants to add some "craveable" dishes to the menu; we'll soon see if he succeeds.
> Read more about the spot's new executive chef here.
---
129 W. Trade St., 704-375-1990
FOOD: ★★★1/2
SERVICE: ★★★
AMBIANCE: ★★★1/2
This uptown spot, popular for businesspeople to grab a bite for lunch or dinner, is also a nonprofit. Owned by Jim Noble (Rooster's), King's Kitchen employs adults transitioning from incarceration in hopes that experience in the restaurant industry will set them on a path to employment. The menu is Southern classic, with meat-and-three options and crunchy, delectable fried chicken.
---
1500-B Central Ave., 704-348-1848
FOOD: ★★★1/2
SERVICE: ★★★
AMBIANCE: ★★★1/2
The servers are hip, the sound system is bumping, and the menu is all over the place, with sushi rolls, daily hummus features, and shared plates. You can't find this vibe anywhere else, and the food is just as good as it ever was, while the cocktails may be even better.
---
1322 Central Ave., 704-333-4646
FOOD: ★★★1/2
SERVICE: ★★★
AMBIANCE: ★★★1/2
Beloved chef and owner Majid Amoorpour left Bistro la Bon this spring, but several of his recipes remain on the menu. You can still find the lavender chicken and the Swedish meatballs, but some new items might begin to change your regular order.
> See our story about this year's changes at the Plaza Midwood spot here.
---
4515 Sharon Rd.,  704-817-7173
FOOD: ★★★★
SERVICE: ★★★1/2
AMBIANCE: ★★★1/2
Chef Michael Shortino, now owner of Futo Buta, helped guide Baku to become one of the best Japanese restaurants in town when it opened back in 2013. Birdie Yang, of Yama and Yama Izakaya, purchased the restaurant in 2017. Yang gave the restaurant the refresh it needed to stay relevant in the city's rapidly growing culinary scene by amping up the sake program and switching up the source of its seafood to the vendors from his existing locations.
---
.
4905 Ashley Park Ln., Ste. J, 704-625-1328
FOOD: ★★★1/2
SERVICE: ★★★1/2
AMBIANCE: ★★★1/2
In a city obsessed with craft beer, it's refreshing to visit a place like this, where the menu is crafted with wine in mind. Master sommelier Laura Maniec opened this concept, sister to two New York City locations, because she has family in town, and her well-crafted wine list and education programs are fit for all levels of wine knowledge. The food only enhances that experience.
---
4219 Providence Rd., 704-364-4445
FOOD: ★★★★
SERVICE: ★★★★
AMBIANCE: ★★★
This Italian restaurant has one of the smallest dining rooms in town, which means it can be hard to nab a reservation without planning. It also means chef Gabriele Grigolon can serve each dish, from pastas to composed plates, with textbook precision.
---
3106 N. Davidson St., 704-817-1084
FOOD: ★★★
SERVICE: ★★★★
AMBIANCE: ★★★★
The menu at this space may be simple—fried chicken and Southern sides—but it's inspired by NoDa's mill history, something that could easily be forgotten as progress changes the neighborhood. The cocktail program, on the other hand, is more cutting-edge than any other in town.
---
Fifth and Church streets, 704-919-1322
FOOD: ★★★
SERVICE: ★★★1/2
AMBIANCE: ★★★1/2
Guests go to 5Church to be seen, but that doesn't mean they're not getting great food from Top Chef contestant Jamie Lynch's kitchen.
---
3150 US-21, Fort Mill, SC, 803-802-1711
FOOD: ★★★1/2
SERVICE: ★★★
AMBIANCE: ★★★
Jon and Amy Fortes' first restaurant got a facelift since our last list, earning it a spot on this one. Renovations made the dining room bigger and spaced out the tables, but the menu of comfort classics didn't need any tweaks.
---
7417 Waverly Walk Ave., 704-930-7878
FOOD: ★★★1/2
SERVICE: ★★★★
AMBIANCE: ★★★1/2
Rare Roots Hospitality's latest restaurant serves up steaks with modernized sides, as well as craft cocktails.
> Read our May story on the restaurant here.
---
1535 Elizabeth Ave., 704-377-7976
FOOD: ★★★
SERVICE: ★★★★
AMBIANCE: ★★★★
One of the most beautiful dining rooms in town, Carpe Diem continues to be a dependable destination for an eclectic menu of shared plates and traditional entrées.
> This spot was on our 2017 Best of the Best list. 
---
4331 Barclay Downs Dr., 704-377-7686
FOOD: ★★★1/2
SERVICE: ★★★1/2
AMBIANCE: ★★★
The larger dining room at the SouthPark location of Charlotte's favorite upscale market translates to an expanded menu. Chef Lewis Donald brings Southern touches to unexpected classics, such as the fun and filling pork belly Wellington.
---
1912 Mt Gallant Rd., Ste. 108, Rock Hill, SC, 803-792-4449
FOOD: ★★★1/2
SERVICE: ★★★1/2
AMBIANCE: ★★★
Owners Subrina and Chef Greg Collier serve up the best breakfast in the city. Enjoy items from classic eggs and grits cooked just right to some of Greg's more whimsical creations, such as crème brûlée French toast. Sister restaurant @Dawn closed in 2017, but the Colliers hope to expand The Yolk to Charlotte this year.
---
311 East Blvd., 704-333-0063
FOOD: ★★★1/2
SERVICE: ★★★1/2
AMBIANCE: ★★★1/2
Classic Indian dishes and creative specials are served in a homey dining room, with service that's nearly always on point.
---
1427 E. 10th St., 704-347-2626
FOOD: ★★★
SERVICE: ★★★1/2
AMBIANCE: ★★★
The No. 1 restaurant on any gray day list, this restaurant with exposed brick and small dining areas has a menu that ranges from pizza to cabbage rolls.
---
511 N. Church St., 704-332-6159
FOOD: ★★★1/2
SERVICE: ★★★★
AMBIANCE: ★★★★
It's still a Charlotte institution in a beautiful setting—an expertly restored, late-1800s Victorian home. Yet as more restaurants open up, it's getting harder to justify the price of the tasting menus here, which begin at five courses. If you have the money, the wine pairings are impressive.
---
101 W Franklin St., Monroe, 704-225-7675
FOOD: ★★★★
SERVICE: ★★★
AMBIANCE: ★★1/2
Creative breakfasts and lunches created with local ingredients make this small spot in Monroe feel like it's in a big city. The butter coffee alone will make you want to come back.
> Read our June story on the restaurant here.
---
Multiple locations
FOOD: ★★★
SERVICE: ★★★★
AMBIANCE: ★★★1/2
Lots of folks argue that Charlotte isn't a barbecue town, but the crowds at Midwood Smokehouse with platters of smoked pork and traditional sides say otherwise.
> Here's some backstory on the coveted Burnt Ends at Midwood Smokehouse.
---
2820 Selwyn Ave., 704-496-9908 
FOOD: ★★★1/2
SERVICE: ★★★1/2
AMBIANCE: ★★★1/2
This spot serves brunch all day, accompanied by a bumpin' playlist of '90s favorites. It will be closed in January for renovations, as owner Alesha Stegemeyer announced she's combining littleSpoon with her upscale Latin restaurant, Comida. The two concepts will share one space but operate with different staffs and different hours.
> More on the news above here.
---
1520 South Blvd., Ste. 130, 980-207-0991
FOOD: ★★★1/2
SERVICE: ★★★1/2
AMBIANCE: ★★★1/2
This small South End spot serves delicious Thai noodle dishes in a warm environment, as well as sushi and Asian comfort food classics. Friendly service only adds to the homey experience.
> Rai Lay was on our 2017 25 Best New Restaurants list. See where it ranked here.
---
4777 Sharon Rd., Ste. 125, 704-954-8900
FOOD: ★★★★
SERVICE: ★★1/2
AMBIANCE: ★★★1/2
Since opening, this restaurant has turned out delicious steaks and appetizers, but the service needs work, especially with such a high price tag.
> Here's what a date night here looks like.
---
300 East Blvd., 704-332-6507
FOOD: ★★★
SERVICE: ★★★
AMBIANCE: ★★★1/2
There's always a lively crowd in this old home-turned-restaurant, enjoying hearty American fare or a salad to save room for some of the city's best desserts.
---
3116 N. Davidson St., 704-910-6543
FOOD: ★★★1/2
SERVICE: ★★★1/2
AMBIANCE: ★★★1/2
Its namesake crêpes are delicious, but the menu in this comfortable NoDa spot also lists impressive salads, sandwiches, and entrées. Sit in a window seat and you'll feel as though you're in a European café.
---
4620 Piedmont Row Dr., Ste. 110, 980-219-7409 
FOOD: ★★★1/2
SERVICE: ★★★1/2
AMBIANCE: ★★★1/2
A SouthPark mainstay with a French focus, George's is consistent both in the kitchen and in its friendly service.
---
4538 South Blvd., 704-523-9977
FOOD: ★★★
SERVICE: ★★★1/2
AMBIANCE: ★★★
You can't fake history, and this steakhouse, with its creaky floors and regulars who have been coming for decades, helps connect diners to a past Charlotte.
> Beef 'N Bottle is also one of the Charlotte restaurants that has a corkage fee. See that list here.
---
1100 Metropolitan Ave., Ste. 100, 704-370-7755
FOOD: ★★★
SERVICE: ★★★1/2
AMBIANCE: ★★★1/2
Known for a killer brunch special, hearty pastas, and a convenient lunch, Vivace suits just about any occasion, even when it's too cold to sit out on the restaurant's BOB award-winning patio.