50 Best Restaurants in Charlotte: 2023
Our annual list of the best restaurants in and around the city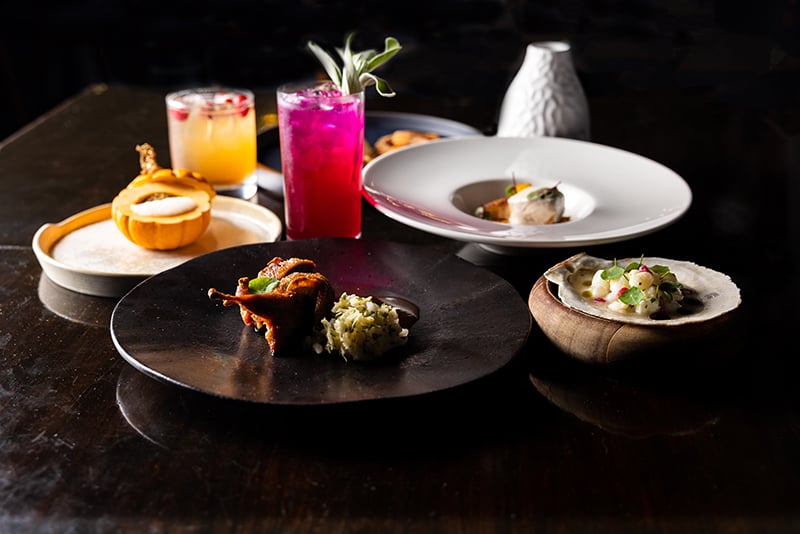 Eating out isn't a choice you make casually these days. More than ever, it's a luxury you save for special occasions. Depending on where you plan to dine, you're going to reserve a table, book a babysitter, schedule a ride-share, and get dressed to go out. The experience—food, service, atmosphere—had better be worth the price tag.
These are. Here are 50 restaurants, in neighborhoods throughout the city, that reward your investment in Going Somewhere to Eat. The list is in no particular order. Each establishment has been judged after anonymous visits from our staff. Some serve small plates on white tablecloths; others sell empanadas from walk-up windows. But collectively, they demonstrate the city's culinary range and diversity. We hope this package encourages you to go somewhere new, support the talented restaurateurs behind the dishes, and savor every bite. —Taylor Bowler
Click here for a printable checklist version of this list.
---
UPTOWN
The Asbury
235 N. Tryon St.
704-342-1193, theasbury.com
This menu mixes modern Southern cuisine and dishes he grew up making with his grandmother in his native Maryland. His sticky biscuits and deviled eggs are enough to bring anyone back for a repeat visit.
La Belle Helene
300 S. Tryon St., Ste. 100
980-209-0941, labellehelenerestaurant.com
When 5th Street Group reopened La Belle Helene in 2021, they resuscitated one of Charlotte's most gorgeous dining rooms. Top Chef alum Jamie Lynch put his spin on French classics like Ratatouille, Crispy Duck Confit, and Boeuf Bourguignon, and this uptown brasserie continues to be the place to take out-of-towners you want to impress.
McNinch House
511 N. Church St.
704-332-6159, mcninchhouserestaurant.com
The restaurant has a long-standing reputation because of its five-course tasting menu and award-winning wine pairings. But the antique silver and fine china in this restored Victorian-era house make it an experience to remember.
Fin & Fino
135 Levine Avenue of the Arts, Ste. 100
704-800-5680, finandfino.com
The raw bar serves a variety of oysters, but as a "social seafood house," its sweet spot is shareable plates like Faroe Island Salmon and Confit Octopus. Start your meal with one of bartender Brittany Kellum's drinks—and end with a slice of cheesecake.
Church & Union Charlotte
127 N. Tryon St.
704-919-1322, churchandunioncharlotte.com
The team at 5th Street Group retired the name 5Church and reopened as Church & Union Charlotte last year. It's still one of the city's sexiest restaurants. Chef Jamie Lynch's menu features small plates like Braised Bacon & Melon and steakhouse classics like Dry Aged New York Strip, and pastry chef Michaela Moehring's desserts are always worth a splurge.
Haymaker
225 S. Poplar St.
704-626-6116, haymakerclt.com
Enjoy seasonally inspired dishes from chef William Dissen in this bright, stylish space next to Romare Bearden Park. With an Instagram-worthy bar and centralized location, it's an ideal spot for date nights and, for the initiated, worth a revisit.
Sea Level NC
129 E. Fifth St.
704-412-2616, sealevelnc.com
Feast on classics like Maine Lobster Rolls or East Coast Shrimp & Grits, or try an unexpected dish like the Catfish Reuben. Azure Cassidy, the "Barmacist," runs the beverage program, and happy hour—when oysters are $1.50 apiece—draws the after-work crowd.
Alexander Michael's
401 W. Ninth St.
704-332-6789, almikestavern.com
It doesn't take reservations, and it's nothing fancy. But this beloved Fourth Ward tavern, which opened in 1983, is a Charlotte institution for a reason. The Blackened Catfish is cooked just right, the Cajun Pasta is piping hot, and locals' chatter fills the dining room. It's as close to a homey, venerable New England tavern as you'll find in this town.
Mariposa
500 S. Tryon St.
704-910-0865, mariposaclt.com
Executive Chef Jonathan Moore serves "world-to-table dishes like Street Corn Fritters and Gullah Paella. For dessert, pastry chef Sam Carrasquero-Chappelle makes a Manjari Torte that's so beautiful, you'll still be thinking about it days later.
Angeline's
303 S. Church St.
704-445-2540, angelinescharlotte.com
The Pappardelle Bolognese and Margherita Pizza are exquisite, but if you come in famished, start with the Whipped Ricotta with sourdough, lavender honey, and pistachio. After dinner, ride the elevator to the 19th floor of the Kimpton Tryon Park Hotel for a nightcap at its sister cocktail bar, Merchant & Trade.
---
DILWORTH
Dilworth Tasting Room
300 E. Tremont Ave.
704-595-3337, dilworthtr.com
Owner and sommelier Jaffer Kovic, who opened the second DTR in SouthPark in 2021, crafted a menu of appetizers and entrées inspired by his Croatian heritage. Dishes like Truffle Gnocchi, Hanger Steak, and Skillet Brussels Sprouts pair especially well with a glass of wine on the patio beside the koi pond.
---
SOUTH END
Bardo
1508 S. Mint St.
980-585-2433, bardorestaurant.com
No two meals at this industrial, speakeasy-style restaurant are alike. The menu changes based on what's fresh and available, but expect a range of influences, from Spanish to Japanese, alongside signature cocktails.
El Toro Bruto
332 W. Bland St.
704-728-8822, eltorobruto.com
Los Angeles native Hector González-Mora consistently sold out of 500-plus breakfast tacos in less than an hour at his former pop-up, Chilito. Now you can get your fix at El Toro Bruto, his counter-service booth, inside Resident Culture South End, which serves all-day tacos, quesadillas, and platters of loaded nachos.
VANA
1440 S. Tryon St., Ste. 100
980-819-5913, vanarestaurant.com
Chef Mike Noll's menu is confident and bold, with a mix of tapas and shareable plates with a wood-fired theme. The portions aren't huge, but the flavors are. At press time, VANA LKN was on track for a late December opening in Cornelius.
Yunta
2201 South Blvd., Ste. 130
980-495-2253, yuntanikkei.com
The team behind Viva Chicken merges Peruvian and Japanese cuisines in a sleek, upscale atmosphere. Don't leave without trying the Parmesano Maki, a sushi roll with Japanese fried shrimp, scallops, avocado, lime, and Nikkei butter, topped with shaved Parmesan.
Beef 'N Bottle Steakhouse
4538 South Blvd.
704-523-9977, beefandbottle.net
This vintage steak joint, with its dark wood walls covered in black-and-white celebrity portraits, feels like a '60s cigar club. Start with a martini or an old fashioned, then feast on thick and juicy cuts topped with shrimp, scallops, or oysters.
---
WEST CHARLOTTE
Noble Smoke
2216 Freedom Drive
704-703-5252, noblesmokebarbecue.com
Longtime restaurateur Jim Noble and his crew smoke meats in an 1,800-square-foot smokehouse, using eight wood-fired smokers: six made of steel (Texas-style) and two traditional North Carolina masonry barbecue pits. The result is authentic Carolina-style pork and Texas-style brisket served alongside Southern sides like mac and cheese, collards, and hush puppies.
Cuzzo's Cuisine
3418 Tuckaseegee Road
980-298-6811, cuzzoscuisine.com
This no-frills eatery, owned by cousins Andarrio Johnson and Anglee Brown, serves seafood, wings, and supersized combination plates. If it's your first time, go for what's plastered all over the signs: "World Famous Lobster Mac-n-Cheese."
---
BELMONT*
Heirloom
33 Glenway St.
704-829-8232, heirloomrestaurantnc.com
It's a relocated version of the original Heirloom in Mountain Island Lake, one of Charlotte's most celebrated farm-to-fork restaurants, which founder Clark Barlowe sold in 2019. The new Heirloom opened in December 2021 in a renovated railroad depot, and it's a rejoinder to the recent flood of influencer-friendly, style-over-substance South End and NoDa boîtes. The interior is elegant and understated, and chef Seth Wilson's seasonal menus use as many ingredients from small regional farms as possible.
---
NODA

Ever Andalo
3116 N. Davidson St.
704-910-6543, everandalo.com
Ever Andalo feels like a neighborhood trattoria and moves at the pace of one. The Focaccia comes with a flight of three olive oils and a tasting guide that describes each one—but the pasta, made in-house, steals the show.
Salud Cerveceria
3306 N. Davidson St., Ste. C
980-495-6612, saludcerveceria.com
Customers come back to this neighborhood hangout for more than the board games and craft beer selection. The sandwiches and 12-inch wood-fired pizzas include the SpottieOttieDopaliscious (one of several OutKast references), and the Crunch Wrap on the daily breakfast menu is worth getting out of bed for.
The Artisan's Palate
1218 E. 36th St., Ste. A
980-209-9168, theartisanpalate.com
It's become known for art shows and drag brunches, but this restaurant-cocktail bar-art gallery hybrid still excels with its food. Grab a seat on the patio beneath the string lights and order some Bacon-Wrapped Dates or Grilled Spanish Octopus, and feel free to linger over another glass of wine.
Haberdish
3106 N. Davidson St.
704-817-1084, haberdish.com
Apothecary cocktails and weekend brunch draw a hip crowd to this milltown kitchen. The Fried Chicken is stellar any time of day, and the Mac & Cheese topped with fried chicken skins is a culinary masterpiece.
The Goodyear House
3032 N. Davidson St.
704-910-0132, thegoodyearhouse.com
This historic mill house has multiple dining rooms and a botanical room that opens to a patio with string lights and an outdoor bar. The menu demonstrates Executive Chef Chris Coleman's talent for taking simple, straightforward ingredients and creating complex yet familiar dishes like Shrimp & Grits and his signature Goopy Burger.
---
LAKE NORMAN
Aliño Pizzeria
500 S. Main St., Ste. 401
704-663-0010, alinopizzeria.com
The wood-fired pies at this spacious Mooresville spot are all 16 inches, so it's best to share with friends—the long, family-style tables practically beg for it. But no shame if you devour one on your own. If you believe in yourself, every pizza is a personal pizza.
Kindred
131 N. Main St.
980-231-5000, kindreddavidson.com
Davidson sweethearts Joe and Katy Kindred turned this old pharmacy into a famed restaurant that's gained national recognition from Bon Appétit and the James Beard Foundation. The menu includes homemade pasta, creative small plates, and milk bread rolls that inspired an all-day café with locations in Davidson and Plaza Midwood.
Hello, Sailor
20210 Henderson Road
704-997-5365, hellosailornc.com
The Kindreds' lakefront spot serves Carolina classics like Blue Crab Claws and seafood platters. Enjoy your meal in the midcentury-modern dining room or savor a tiki drink on the patio with sweeping views of Lake Norman.
---
NORTH END
Leah & Louise
301 Camp Road
980-309-0690, leahandlouise.com
Husband-and-wife team Greg and Subrina Collier modeled this restaurant after juke joints, where Black people would go for "booze and blues" in the Jim Crow-era Deep South. Greg, the James Beard-nominated chef and Soul Food Sessions co-founder, serves dishes inspired by the lower Mississippi River valley soul food he grew up with in Memphis. Think fried turkey wings, smoked catfish stew, and blackened catfish.
---
OPTIMIST PARK
Botiwalla
1115 N. Brevard St., Ste. 203
980-296-3993, botiwalla.com
Among the 19 food vendors at Optimist Hall, chef Meherwan Irani's menu is the most adventurous. The "Street" menu has snacks like savory kale fritters and spicy potato dumplings, and the lineup of entrées includes the Chicken Tikka Roll and Lamb Burgers.
---
PLAZA MIDWOOD
Calle Sol Latin Café & Cevicheria
1205 Thomas Ave.
704-565-8291, callesolcafe.com
Charlotte's first cevicheria has the warmth and decor you'd find at a neighborhood joint in Miami, and Executive Chef Paul Cruz serves Cuban and Peruvian fare like Ham Croquetas, Vaca Frita, and Shrimp Mojo.
The Good Wurst Co.
3001 Central Ave.
980-613-8226, thegoodwurst.com
This New York deli-style eatery, which opened a second location in South End in 2022, makes pastrami, smoked meats, and sausages in-house daily. Order bratwursts, sandwiches, or Currywurst Frites at the counter, or take home one of their house-made charcuterie boards.
Supperland
1212 The Plaza
704-817-7514, supper.land
Jamie Brown and Jeff Tonidandel, the spouses and business partners who also own Haberdish, Growler's Pourhouse, and Reigning Doughnuts, transformed a 69-year-old former church in Plaza Midwood into a restaurant and cocktail bar. Chef Chris Rogienski serves Prime Beef Ribs and Wagyu Pot Roast family style, and custom dinner plates are embellished with birds, butterflies, and flowers.
Dish
1220 Thomas Ave.
704-344-0343, eatatdish.com
A plate of Grilled Chicken Livers or Biscuits and Gravy at this cozy neighborhood spot tastes like it came from your grandmother's kitchen. Since Amanda Cranford purchased the restaurant last summer, they've added late-night bites and offer all-day breakfast on weekdays.
---
ELIZABETH
The Fig Tree Restaurant
1601 E. Seventh St.
704-332-3322, charlottefigtree.com
The menu here is full of French influences, which means you'll taste decadence throughout, from Elk Chops and Lobster Tail to some of the best desserts in town. Service is stellar, and the staff's knowledge of the extensive wine list means you can ask them to direct you if you want to try something new.
Customshop
1601 Elizabeth Ave.
704-333-3396, customshopfood.com
With bright and fresh crudos, fan favorites like the NC Swordfish, and seasonal pastas, Customshop draws inspiration from the Mediterranean. But Southern ingredients give the restaurant a taste of home.
---
SOUTHPARK

Little Mama's Italian
4521 Sharon Road
980-209-0323, littlemamasitalian.com
Settle in to one of the dining rooms with a plate of Amma's Ravioli or cozy up at the "Mozz Bar" and watch the chefs at work.
Peppervine
4620 Piedmont Row Drive, Ste. 170B
980-283-2333, peppervine.com
Chef Bill Greene serves a rotation of artistic small plates with unexpected pairings, like lamb belly with kimchi porridge and smoked butternut squash with miso. The menu changes constantly—there's a new one every day—but you can count on their signature Yeast Rolls any time.
Barrington's
7822 Fairview Road
704-364-5755, barringtonsrestaurant.com
Chef and owner Bruce Moffett's first restaurant has a New England-inspired interior with blues that evoke the sea and photographs of Barrington, Rhode Island, snapped by Moffett's wife, Katrina. The menu is high-end yet comforting, with touches like fried onions on the scallops and trout served with sweet potato chips.
Steak 48
4425 Sharon Road
980-580-4848, steak48.com
The 11,500-square-foot restaurant has an in-house butcher shop, 6,000-bottle wine vault, a raw bar, and private dining suites. The steaks are flawless, and family-style sides like the Alaskan King Crab & Rock Shrimp Mac & Cheese and Au Gratin Potatoes are worth the extra time you'll spend on the Peloton tomorrow.
Taqueria Mal Pan
4625 Piedmont Row Drive, Ste. 115D
980-298-6138, eatmalpan.com
Owner Andre Lomeli brings a Mexican and West Coast-inspired menu from his former restaurant in San Diego. His tacos, bowls, and enchiladas have the flavors of his native Yucatán Peninsula, and the California Burrito, packed with skirt steak, queso fresco, salsa, guacamole, and French fries, is the best in Charlotte.
---
MONTFORD
Good Food on Montford
1701 Montford Drive
704-525-0881, goodfoodonmontford.com
The near-constant wait at Bruce Moffett's second restaurant doesn't deter diners looking for, well, good food. The menu changes regularly, but this small-plates bistro unites a variety of influences and flavors from Korea, Italy, and more.
---
COTSWOLD
Volo Ristorante
1039 Providence Road
704-919-1020, voloclt.com
The fresh, handmade pasta comes from Executive Chef Johann Giraldo's Sicilian family recipes, and nearly every item on the menu can be attributed to a member of this predominantly Italian staff. Savor a plate of gnocchi, ravioli, or bucatini with a glass of Chianti, and stay for an After Hours, Volo's twist on an espresso martini.
Omakase Experience
2907 Providence Road, Ste. 101
704-754-4315, omakaseclt.com
Omakase means "trust the chef," so bring an adventurous palate to this 16-course meal. Executive Chef Robin Anthony procures more than 90% of his fish through a market in Tokyo, and the meal starts with lighter fish and gets oilier with each course—similar to a sommelier's progression from whites to full-bodied reds during a wine dinner. The $300-per-person price tag might sound excessive, but when you see the ingredients, knife skills, and precision that go into plating this meal, it all makes sense.
Stagioni
715 Providence Road
704-372-8110, stagioniclt.com
The interior of this cozy Italian eatery has red accents that mimic the glow of the wood-fired oven in the open kitchen. Dine on house-made pasta, slow-roasted meats, and perfectly charred pizzas you get to cut with shears.
---
PINEVILLE
What The Fries
10707 Park Road, Ste. F
980-207-4814, whatthefriesclt.com
Six years after Jamie Barnes and Greg Williams launched their wildly popular food truck, the chefs and co-owners opened their first storefront in south Charlotte. Order favorites like the Shrimp and Steak Hibachi Fries, plus rotating specials like the Cheeseburger Quesadilla, Clam Chowder Fries, and Purple Yam Milkshake.
Musashi Japanese Restaurant
10110 Johnston Road
704-543-5181, musashi-nc.com
It's easy to miss between the Jersey Mike's and Papa John's, but this Japanese restaurant in an unremarkable strip mall has a cozy dining room with traditional shoji screens, an eight-seat sushi bar, and two tatami tables. The sushi, ramen, and bento boxes are all sublime, and you'll want to eat the miso soup every day.
---
MADISON PARK
El Puro Cuban Restaurant
5033 South Blvd.
980-219-8339, elpurocubanrestaurant.com
Come for live music every night and feast on Cuban classics like Queso Frito, Ropa Vieja, and Croquetas. Most entrées are big enough to feed two people, but you might not want to share the Masitas de la Loma, a pile of fried pork chunks slathered in mojo sauce that arrives on a smoking tabletop roasting oven.
---
SOUTH CHARLOTTE
Aqua e Vino
4219 Providence Road
704-364-4445, aquaevino.com
It's one of the smallest dining rooms in town, so a reservation requires planning. It also means chef Gabriele Grigolon serves each dish with textbook precision.
Sanctuary Bistro
6414 Rea Road, Ste. C2
980-335-0908, sanctuarybistro.com
The inventiveness of this all-vegan, gluten-free, and organic menu is only part of the draw. Owners Barry and Jennifer Horton try to make the experience of dining at Sanctuary as pleasant and inclusive—as reflective of the restaurant's name—as they can.
---
FORT MILL
Epic Chophouse
1365 Broadcloth St., Ste. 101
803-548-3742, epicchophouse.com
The first of these "casual upscale" steakhouses opened in a Mooresville building constructed in 1888; the second opened in the more contemporary Kingsley urban village in November 2020. Both serve nine varieties of steak grilled Pittsburgh-style, at temperatures up to 1,800 degrees Fahrenheit, to char the meat's exterior but leave the inside pink and juicy.