50 Best Restaurants in Charlotte
The ultimate list of where to eat now, ranked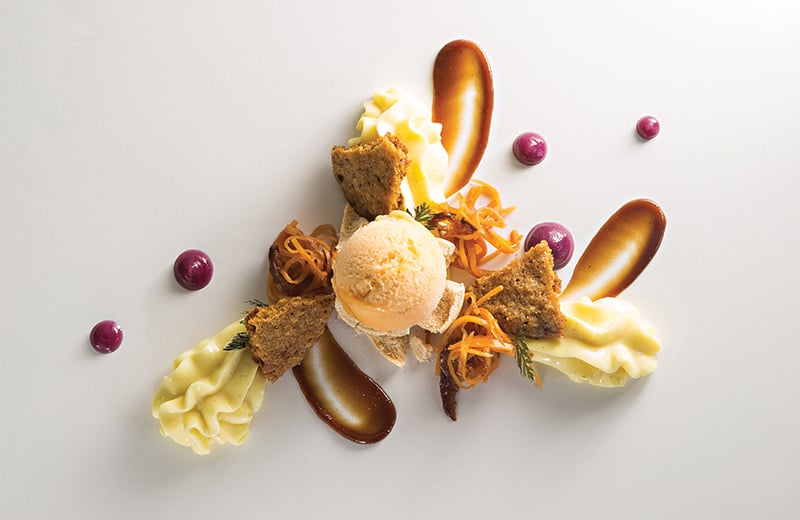 FIND OUR 2018 LIST HERE.
---
WHEN WE DECIDED TO expand our list of best restaurants from 25 to 50 this year, people asked questions. They didn't think there were 50 restaurants in Charlotte that were good enough to be named "Best." They were wrong. To be considered, restaurants had to have table service, couldn't be primarily a bar, and the head chef had to have control of the menu. We judged the menus, beverage programs, interior design, service, and consistency of local establishments. Here, you'll find the result of months of research from a team of experienced food journalists—our guide to the city's best restaurants. Of course, several great places didn't make it, a testament to the growing talent here. So eat up, and see just how far our city has come since our most recent best restaurants ranking in December 2013. —Kristen Wile
Want a checklist? A printable PDF version of this list can be found here.
---
1. Heritage
201 W. South Main St., Waxhaw, 704-843-5236
You might think we'd be conflicted about ranking a restaurant that doesn't have a Charlotte address as the best restaurant in Charlotte. Yet Heritage Food & Drink makes it easy. Chef Paul Verica's restaurant in Waxhaw, which celebrated its two-year anniversary in November, is everything you want a modern restaurant to be, from the menu to its sourcing to its service.
Heritage's farm-driven menu is printed several times a week, with most of the small plates and entrées changing based on what's available locally. The dishes don't feel constrained, though. Instead, they pay homage to local farmers and their work in consistently well-prepared and well-rounded plates. You'll always find simple deviled eggs alongside a creative deviled egg of the day, such as pimento cheese and jalapeño or goat cheese and pesto.
Verica weaves together traditional and innovative flavors throughout the menu. Touches of modern food techniques (Verica hates the term "molecular gastronomy"), such as using olive oil powder to hold the deviled eggs to their plates, add curiosity and heighten the already vivid flavors. Don't be surprised to see a single ingredient make up an entire dish; a recent menu had a plate called "carrots—in textures." The artful heap included carrot sorbet, pickled carrots, carrot panna cotta, carrot top oil and powder, and julienned carrots.
Verica, whose lanky frame, mischievous smile, and laid-back personality belie his delicate touch in the kitchen, has a knack for taking simple delights and turning them into something even more wonderful. Tempura broccoli served with a three-cheese fondue is so lightly breaded you can trace the branches of broccoli, allowing the delicate taste of the vegetable to come through the crispy, fried coating.
Pastry chef Ashley Bivens Boyd began overseeing Heritage's dessert program in September. Her dishes are equally creative and delicious, and Verica's son, 20-year-old Alex, is tasked with preparing them, as Bivens Boyd works at 300 East during dinner service.
The kitchen works seamlessly with the front of the house, delivering small plates fast enough that diners can enjoy the bites without finding time to wonder when the next course will arrive.
Soothing blue walls create a calm feel in the small dining room, and approachable servers add to an atmosphere that's welcoming and relaxing despite the restaurant's mad genius menu. Sit down, order a glass of wine, and let Verica take you on his food journey. —Kristen Wile
---
2. The Fig Tree Restaurant
1601 E. Seventh St., 704-332-3322
This is one of the city's the most popular places to propose marriage, and that's an honor the staff has worked hard to earn. Housed in a 100-year-old bungalow, the dining room is made up of several smaller rooms with just a handful of tables. That intimacy allows for attentive but not overbearing service. French-inspired dishes are served with consistent quality, making The Fig Tree a reliable spot for special occasions. —K.W.
---
3. Barrington's
7822 Fairview Rd., 704-364-5755
With recently refreshed décor that speaks to Chef Bruce Moffett's coastal upbringing, Barrington's continues its remarkable 15-year run as one of Charlotte's best. Reservations are still recommended for Moffett's first restaurant, which serves carefully crafted meals in Charlotte's Foxcroft neighborhood. Seasonal offerings prepared by chef de cuisine Jason Newman, such as the scallops with veal cheek ravioli, share the menu with house favorites such as the seared organic chicken, simply prepared but not easily forgotten. —Cat Carter
---
4. Good Food on Montford
1701 Montford Dr., 704-525-0881
The second restaurant opened by Bruce Moffett doesn't take reservations—a smart decision, because diners can spend a whole night sampling the small-plates menu. Chef Larry Schreiber's dishes draw influences from around the world, with items such as pork belly on a steamed bun with pickled veggies in the same menu section as lamb and pork merguez sausage. It's one of only two Charlotte restaurants to be nominated for a James Beard Award (the other was Barrington's). Good Food's wooden ceilings, paper tablecloths, and warm lighting help create a low-key atmosphere despite the high-class menu. —K.W.
---
5. Kindred Restaurant
131 N. Main St., Davidson, 980-231-5000
The century-old pharmacy on historic Main Street in Davidson sat empty for years before husband-and-wife team Joe and Katy Kindred opened the doors to their longtime dream in February 2015. Since then, their restaurant has garnered regional and national attention, with Bon Appétit magazine calling it one of the 10 best new restaurants in the country.
Diners who visit the restaurant in Chef Joe's hometown can still recognize the bones of White's Pharmacy, dressed up tidily in shades of white and doused with abundant natural light. The visual focal point at Kindred—until your food arrives, anyway—is the handsome bar, where the cocktail menu changes often. The list always includes the Barkeep's Choice, for those willing to answer a few questions about their tastes and leave the decisions to the bartender, as well as the jocular option to buy the hardworking staff a six-pack. Those who prefer wine won't be disappointed by the approachable but thoughtful selections made by Katy, who (along with her many duties as coproprietor) is a certified sommelier.
The menu changes with the seasons, often fusing flavors and ingredients from around the world with those of the chef's Carolina upbringing. Take, for instance, Chef Joe's cassoulet, a hearty French dish made with beans and rich meats. Kindred's comes with a mostarda made from North Carolina's state fruit, the scuppernong. In the bucatini, white miso and black truffles play off each other and complement the calico scallops, Southern cousins to bay scallops, which Joe calls "sweet little treasures."
A popular but unusual riff on crudo this past fall used raw hen of the woods mushrooms and Asian pears, dressed simply with imported olive oil and covered with nutty Parmesan and crunchy pomegranate seeds.
Despite the kitchen's fondness for reinventing classic dishes, the staff is careful not to overdo it. "We really try to keep it minimal," Joe says. The restaurant takes pride in sourcing the best ingredients, many of them locally, and tries to let them shine through in each dish. A visit in the summer might involve a plate of plums, picked that day and served with cultured cream. A visit in the winter could start with a butternut squash soup adorned with only a drizzle of olive oil and toasted pumpkin seeds.
However you start your meal at Kindred, be sure to finish with a dessert made by pastry chef Stephanie Detweiler, who is also responsible for the already-famous milk bread. In a departure from other upscale restaurants, Kindred's desserts focus less on artistry and more on giving people something comforting and familiar. The playful birthday cake is a thick slice of chocolate cake topped with sprinkles that is available year-round because, as Joe says jokingly, "If you're not craving chocolate cake, there's something wrong with you."
That's not to say there is no wow factor. Detweiler's extra flourishes and clean execution show she, too, can take a traditional dish and make it a standout. The apple galette, found on the menu this fall, borrowed a savory note from candied thyme and came topped with tangy buttermilk ice cream. Each dessert serves as a finale to a great meal—a sturdy hook on which to hang all the fond memories from your dining experience at Kindred. —C.C.
---
6. The Asbury
235 N. Tryon St., 704-342-1193
Eat a dish here and you'll feel a connection to the chefs who made it. Chris Coleman's menu is full of stories of his past, such as Maw Maw's Cast Iron Biscuits, made with his grandmother's recipe. Each plate is layered with textures and flavors, presented beautifully. With the addition of chef de cuisine Matthew Krenz to the team, dishes such as the butter-poached scallops with pork cracklin' have only become more intricate. Pastry chef Jossie Perlmutter's ornate creations are equal in creativity and flavor. —K.W.
---
7. Evoke
555 S. McDowell St., 980-237-5354
Welcome to the new steakhouse. The restaurant is set back from the lobby of Le Méridien hotel, and its modern interior befits the breakfast, lunch, and dinner menus here. Executive Chef Oscar LaFuente curates a collection of exquisite tastes, from his seafood crudos to the tray of salts served alongside flavorful cuts of meat. Both foodies and strictly steakhouse eaters will believe items such as the truffle potato puree and sautéed heirloom carrots were cooked with them in mind. —K.W.
---
8. Rooster's Wood-Fired Kitchen
6601 Morrison Blvd., 704-366-8688
Owner Jim Noble brought upscale comfort food to SouthPark when the chef opened his first Rooster's here 12 years ago. The restaurant builds its menu around a wood-fired grill and items that local farms, fishermen, and purveyors can supply each season. A busy open kitchen is the heartbeat of this restaurant, with a warm, inviting atmosphere that instantly excuses you from the day's worries and serves up dishes such as spitfire-roasted chicken, short ribs, fire-roasted beets, and a mac-and-cheese that grown-ups unabashedly steal from their kids. —C.C
---
9. Lumiere
1039 Providence Rd., 704-372-3335
Sitting alongside Myers Park's busiest intersection of Queens, Queens, Providence, and Providence is Lumiere, a two-year-old restaurant that nonetheless exhibits the comfortable poise of a veteran. Chef and co-owner Tom Condron's intimate dining room is modern and sophisticated, and so is his food. Expect the decadence of traditional French cooking with lighter, Mediterranean flavors, as well as local influences. The experienced wait staff does everything from making wise recommendations to preparing your cocktails. —C.C.
---
10. Carpe Diem
1535 Elizabeth Ave., 704-377-7976
When Carpe Diem first opened in September 1989, owners and sisters Bonnie Warford and Tricia Maddrey had an idea for a new concept. Instead of a classic menu broken up with appetizers, entrées, and desserts, they would serve mostly appetizers and salads. In other words, they hoped to serve small plates, before small plates were cool.
"That's what we really wanted to do," Warford says. "We felt like, 'Oh yeah, they can order all kinds of appetizers, it would be plenty for a meal.'"
Charlotte wasn't ready for the concept, though, and Carpe Diem's New American menu became more traditional, and more entrées were added. Many Charlotte restaurants have come and gone in the 26 years since, and although its location has changed three times, Carpe Diem remains a reliable favorite.
The restaurant has been in its Elizabeth Avenue location for more than 12 years, the longest it's been anywhere. Here, the art nouveau-inspired interior is elegant, with marble floors and mahogany and copper accents that add warmth to the dining room. The rounded bar and lounge area welcomes guests, hiding behind the dreamy doors with whimsical arches that line the street.
Inside, service is always friendly and prompt, formal but not stuffy. Staff members know the menu just as well as they know the wine list, and recommendations for Chef Paul Ketterhagen's dishes come easily. The New American menu borrows flavors from a variety of cultures, and still has a selection of shareable plates. The grilled octopus is tender, prepared with fresh herbs, romesco, onions, asparagus, and smoked eggplant. Among the entrées are Southern classics, such as the mainstay buttermilk fried chicken, as well as dishes for the more experimental eater, such as the duck confit.
To celebrate more than a quarter-century in Charlotte, Carpe Diem now offers a nostalgic section on its menu, a nod to customers who have been dining here since the beginning. "Old School Carpe" brings back customer favorites from the restaurant's early days, back when the space was on Tryon Street near what is now the Mint Museum. Warford says to expect often-requested dishes such as the pistachio-crusted trout, champagne chicken, and Peking pancakes. Longtime customers can reminisce, while new customers have the chance to realize just how ahead of its time this restaurant has been.
"What we've always been really good at is delivering consistency and delivering something really solid," Warford says. "When we first opened we really did do a lot of ethnic food and different things. And we still do that. But now everybody does that." —K.W
---
---
11. Heirloom
8470 Bellhaven Blvd., 704-595-7710
Chef Clark Barlowe opened his first restaurant in the Coulwood neighborhood (a place some deemed no-man's-land) with a platform of serving ingredients primarily sourced from North Carolina. The chef/forager, ever curious, seeks out the unusual (kidney fruit, anyone?) and oft-overlooked foodstuffs, both wild and cultivated, to craft a dinner menu that changes every day. Get a true taste of North Carolina with the chef's tasting menu, which can be customized to between three and 12 courses. —Keia Mastrianni
---
12. Halcyon, Flavors From the Earth
500 S. Tryon St., 704-910-0865
There are no high-tech machines inside the kitchen at Halcyon. That's because Chef James Stouffer is a classicist at heart, and the seasonal menu at Halcyon reflects his roots. He is steeped in European cooking techniques, and his expertly prepared menu of local ingredients is paired with an eclectic wine list and pastoral finds, such as Scottish hare and squab. The dining room, adjacent to the Mint Museum Uptown, has a metropolitan perch overlooking Tryon Street. —K.M.
---
13. Passion8
1523 Elizabeth Ave., 704-910-3161
What was once a tiny bistro in Fort Mill, South Carolina, is all grown up. Husband-and-wife team Luca and Jessica Annunziata orchestrate a fine farm-to-fork experience with their monthly changing menu that dances around the globe, from the fresh catch swimming in an egg drop dashi to dry-aged steak topped with a sauternes foie emulsion. Passion8 also hosts monthly wine tastings, cooking classes, and brunch every Sunday. —K.M.
---
14. Gallery Restaurant
10000 Ballantyne Commons Pkwy., 704-248-4100
You may think an eatery attached to The Ballantyne Hotel & Lodge would be snooty, stuffy, and overpriced. Yet juicy, farm-fresh burgers, creamy seasonal soups, and attentive, friendly staff members make you feel at home. If you're interested in more than just dinner, Gallery hosts everything from high tea to seasonal workshops to The Whiskey Club. —Sarah Nowicki
---
15. Customshop
1601 Elizabeth Ave., 704-333-3396
Some of the best restaurants in town are lined up on Elizabeth Avenue, and Customshop has been part of that club since 2007. With moody lighting, industrial fixtures, and exposed brick walls, the restaurant provides everything from bar bites to full entrées with a locally sourced, old-world-meets-new-world menu. The dishes change with the seasons; you'll often find headliners such as octopus, rare beef, and rabbit. —S.N.
---
16. Bistro La Bon
1322 Central Ave., 704-333-4646
Located in a strip mall in Plaza Midwood, Bistro La Bon serves a menu of international flavors in a romantic and cozy space. Highlights include saffron rice, crispy asparagus and avocado, and Swedish meatballs. Don't miss Sunday brunch here—there's a spread with everything from waffles to house cured salmon. —S.N.
---
17. Flipside Restaurant
129 Caldwell St., Rock Hill, S.C., 803-324-3547
Chefs Jon and Amy Fortes opened this Southern-tinged Rock Hill, South Carolina, restaurant last April. It's the big sister to Flipside Cafe in Fort Mill, with a more sophisticated interior, deeper beverage program, and larger dining room. You'll find fine dining dishes disguised as comfort food, such as the fried green tomatoes with bacon—a delightful play on the Southern classic that could double as a deconstructed BLT. It may be a drive from Charlotte, but the suburban pricing more than covers the gas money. —K.W.
---
18. Stagioni
715 Providence Rd., 704-372-8110
Stagioni continues to refine its comfortable yet upscale Italian concept, with encouraging results. Situated in the historic Reynolds-Gourmajenko house, it's one of the few Charlotte restaurants with a distinct sense of place and time. Here, diners can enjoy everything from wood-fired pizzas and meatball sandwiches to entrées such as chicken cacciatore, a clean-cut take on a rustic tradition that captures what this Bruce Moffett restaurant is all about. —C.C.
---
19. RockSalt
512 Brandywine Rd., Ste. 500, 704-503-9945
Some people may question the integrity of an oystercentered restaurant opening four hours from the ocean, but RockSalt—helmed by new executive chef Tobias Padovano, who replaced Jay Pierce this fall—is serving up sustainable and delicious seafood. From the chilled oysters and clams on ice near the chef's bar to the casual dining area with stylish wood tables and chairs, you'll be transported from Park Road to the Atlantic Ocean. —S.N.
---
20. Soul Gastrolounge
1500-B Central Ave., 704-348-1848
The outdoor seating here is an urban balcony with a view of the city. Inside, Soul feels like a small, hip gathering place where only the coolest Charlotteans come to grab craft cocktails and small bites. Expect a wait any night of the week—no reservations here. The allure of "nachos" made from fried chicken skin and pimento cheese, rich pork belly tacos sweetened with watermelon, impossibly fresh sushi, and clever cocktails that change with the seasons make the wait worthwhile. —S.N.
---
21. Nolen Kitchen
2839 Selwyn Ave., 704-372-1424
Food preserves memory just as well as any photo or journal. This quality gains new meaning at the bottom of Nolen Kitchen's menu. A note explains that Libby's Spinach Pie is named after 3-year-old Libby Jones, who lost her battle against leukemia in May 2014. The cheesy spinach filling is served inside a twisted tunnel of flaky phyllo dough. It was Libby's favorite, and now it carries her name. If you haven't visited this Selwyn Avenue spot, this one dish is reason enough. —Leah Hughes
---
22. Block & Grinder
2935 Providence Rd., 704-364-2100
Meat is king here—from hand-cut steaks to lamb, pork, and game. That's not to say that Chef Ben Philpott disavows any vegetable. Quite the contrary. Philpott brings the finest local produce to pair with his Southern-kissed creations. A visit to B&G wouldn't be complete without dipping into a jar of his famous chicken liver mousse. —K.M.
---
23. The Summit Room
1531 East Blvd., 980-237-2227
Inspired by an epic mountain climb, The Summit Room on East Boulevard straddles the line between Southern and global—and it does it well. There's sweet, sour, spicy, and savory encompassed in everything here, from appetizers to cocktails. Grab a spot on the porch in one of the rocking chairs for a relaxed, down-home feel, or snag a table inside near the mounted ceramic animal heads. —S.N.
---
24. The King's Kitchen
129 W. Trade St., 704-375-1990
At the corner of Trade and Church streets, two walls of windows look into The King's Kitchen. But more importantly for this nonprofit restaurant, those windows look out onto the streets of uptown Charlotte. Opened in 2010, The King's Kitchen donates every penny of profit from the sale of Southern comfort food to feed the poor. The restaurant won the 2015 national Restaurant Neighbor Award from the National Restaurant Association. Executive Chef Cody Suddreth joined the kitchen staff in August, promising a farm-centric menu—which sounds just right for this "Southern kitchen on a local mission." —L.H.
---
25. Dogwood Southern Table & Bar
4905 Ashley Park Ln., Ste. H, 704-910- 4919
Whether you're searching for out-of-the-ordinary drinks (such as the Alla-Tini with honeysuckle vodka and burnt orange syrup) or a slew of small plates ranging from barbecued pork ribs to steamed littleneck clams to baked pimento cheese, Dogwood serves them all. The vibe here is captured in the restaurant's exposed wood beams hanging above crisp, white tablecloths. —S.N.
---
26. Bonterra
1829 Cleveland Ave., 704-333-9463
Cuisines: New American, new Southern
Price level: $$$$
Thing we love: An extensive wine list
---
27. The Blue Taj
14815 Ballantyne Village Way, 704-369-5777
Cuisine: Indian
Price level: $$
Thing we love: Lamb Vin d'alho
---
28. Zebra Restaurant
4521 Sharon Rd., 704-442-9525
Cuisine: French
Price level: $$$$
Thing we love: The recently updated interior
---
29. Fork!
20517 N. Main St., Cornelius, 704-655-7465
Cuisine: Farm-driven
Price level: $$$
Thing we love: Small-town restaurant, big-city dishes
---
30. Intermezzo
1427 E. 10th St., 704-347-2626
Cuisines: Serbian, pizza
Price level: $-$$
Thing we love: Eating pizza in the exposed brick dining room on a rainy night
---
31. 5Church
127 N. Tryon St., Ste. 8, at Fifth and Church streets, 704-919-1322
Cuisine: New American
Price level: $$-$$$
Thing we love: 60-second NY strip steak
---
32. Midwood Smokehouse
1401 Central Ave., 704-295-4227,
Cuisine: Barbecue
Price level: $$
Thing we love: Burnt ends
---
33. Alexander Michael's
401 W. Ninth St., 704-332-6789
HERE IT IS, THE WHAT IT IS. Savor it, because the waitress is almost certain to ask how it was.
Where it is, is where it's always been—Alexander Michael's, or Al Mike's, a 33-year-old restaurant in Fourth Ward that occupies a building that's been here since 1897. That's right, this is one we didn't tear down. This is a place where a dish called What It Is can make a name for itself, year after year.
It's the most popular item on the menu in a restaurant that's almost always full, and truth be told, it's just blackened chicken over Cajun cream sauce, with one simple twist the owner will never share. Really, never. Diners, Drive-Ins and Dives called a couple of years ago to say they wanted to feature Al Mike's in an upcoming episode. The owner said, "No, thanks."
Who the owner is, is Steve Casner, a Charlotte native with a Van Dyke beard. Steve was the manager of the place the day it opened, April 27, 1983. There were 77 customers that night; Steve still has the ledger. His bosses then were owners Alexander Copeland III and A. Michael Troiano, Jr. Everybody knew them as Zan and Mike, but Al Mike's sounded better than Zan Mike's. Mike bought Zan's share in the early 1990s, then sold the restaurant to Steve in 2004.
Mike now lives at the beach in Hilton Head. Zan's story is a sad one.
He died in an early-morning fire at his home on Runnymede Lane in 2010. More than a restaurateur, he was best known as a youth baseball coach, having spent 41 years coaching Little League. A Louisville Slugger somehow survived the fire. Steve hung it on the wall at Al Mike's, right above the corner of the bar.
Just under that is a sign for Atlantic Ale and Beer. A friend of Steve's found it in an old barn near Greensboro and gave it to him. Steve kept it on the back of his truck for a few days, and one day a man noticed it and said, "My dad used to go there with his buddies after work." Turns out, Atlantic Ale and Beer's Charlotte office was less than a mile away from Al Mike's, and when it opened in 1936, it was the only brewery in North Carolina that produced beer for sale and distribution.
Of course, that's changed. When Steve upgraded the bar a few years ago, he restored the old cooler, original to the building. John Marrino, owner of The Olde Mecklenburg Brewery, helped Steve upfit the draft beer lines. Olde Meck always has at least two beers on tap here, in case you were wondering.
The floors are made of tongue and groove planks from the building's original walls. The mirrored back bar and the front of the main bar are made from the oak doors of the old Independence Building, Charlotte's first skyscraper, torn down in the early 1980s. Steve registered for the draft lottery in that old skyscraper when he was a teenager.
Before this place was called Al Mike's, it was a general store, a paint store, a Laundromat, a gym. Tinker Todd, an old British wrestler, worked out here in the 1950s and 1960s. Funny story about Tinker: He was actually on his way to Texas when he got sick coming through Charlotte. He checked in to Presbyterian Hospital. That's where he met a woman named Barbara. They got married, and he stayed.
That story fits in these old, wood-paneled walls, just like all the others.
Here's one more, about the What It Is. Al Mike's always has an off -the-menu special, in the hopes that it might become a permanent menu item. In 1989, a cook named Donald Campbell created the blackened chicken over Cajun cream sauce. The dish was popular, so Steve decided to add it to a redesigned menu in 1991. He figured a dish that simple needed a good name, but he couldn't come up with one. In frustration, he scribbled down "What It Is." He waited several days for inspiration for something better, but it never came.
"So I said, 'What the hell. I'll keep it.' "
And there it is. —Michael Graff
---
34. Upstream
6902 Philips Pl., 704-556- 7730
Cuisine: Seafood
Price level: $$$$
Thing we love: Super Crunchy Roll
---
35. Baku
4515 Sharon Rd., 704-817- 7173
Cuisine: Japanese
Price level: $$$
Thing we love: Small plates at the bar
---
36. Luce
214 N. Tryon St., Ste. J, 704-344-9222
Cuisine: Italian Price level: $$$
Thing we love: The romantic interior
---
37. Blue
206 N. College St., in Hearst Tower, 704-927-2583
Cuisine: Mediterranean
Price level: $$$
Thing we love: Duo of Wild Boar
---
38. Basil Thai Cuisine
210 N. Church St., 704-332-7212
Cuisine: Thai
Price level: $$-$$$
Thing we love: Thai classics in a formal dining room
---
39. Yama Asian Fusion
720 Governor Morrison St., Ste. 130, 704-295-0905
Cuisines: Japanese, Asian fusion
Price level: $$
Thing we love: Fresh sushi
---
40. Vivace
1100 Metropolitan Ave., Ste. 100-E, 704-370-7755
Cuisine: Italian
Price level: $$-$$$
Thing we love: Note-perfect pastas
---
41. Beef 'N Bottle
4538 South Blvd., 704-523- 9977
Cuisine: Steakhouse
Price level: $$$
Thing we love: Nearly 60 years of Charlotte history served with every steak
---
42. Cajun Queen
1800 E. Seventh St., 704-377- 9017
Cuisine: Cajun
Price level: $$-$$$
Thing we love: Nightly live jazz
---
43. 300 East
300 East Blvd., 704-332-6507
Cuisine: American
Price level: $$
Thing we love: Cozy lunches
---
44. Futo Buta
222 E. Bland St., 704-376- 8400
Cuisine: Japanese
Price level: $$
Thing we love: Ramen
---
45. littleSpoon Eatery
2820 Selwyn Ave., 704-496-9908
Cuisine: Breakfast
Price level: $-$$
Thing we love: The laid-back vibe
---
46. McNinch House
511 N. Church St., 704-332-6159
Cuisine: Southern, American
Price level: $$$$
Thing we love: Power dining in a historic building
---
47. Copper
311 East Blvd., 704-333-0063
Cuisine: Indian
Price level: $$$
Thing we love: A contemporary take on Indian flavors
---
48. BLT Steak
110 N. College St., 704-972-4380
Cuisine: Steakhouse
Price level: $$$$
Thing we love: Steaks
---
49. Tapas 51
3415 Hwy. 51, Fort Mill, S.C., 803-548-1612
Cuisine: Latin fusion
Price level: $$
Thing we love: Fresh, hard-to-find flavors fill the menu
---
50. Dish
1220 Thomas Ave., 704-344-0343
The hash brown casserole at Dish saved my life.
OK, that's a bit of an exaggeration.
But I've probably used that statement on a couple of dozen occasions, and each time I genuinely meant it. The scoop of shredded potatoes is dense and creamy, oozing with cheese. I've eaten the casserole at a table full of friends and alone, after long nights out and after finishing a triathlon.
People love Dish, on Thomas Avenue in Plaza Midwood, for its comfort food. Think pot roast, macaroni and cheese, collard greens—all simply prepared and presented. Meals arrive on plain, beige diner dishes set onto gingham tablecloths. Vintage plates in a dizzying array of patterns dot the walls. The concrete floor is unadorned; fluorescent lights give the dining room something of a jaundiced hue.
What Dish lacks in frills, though, it makes up for in character. It fits the essence of what we expect from a good Southern diner. The hash brown casserole reminds me of the one my mom makes for holidays, including on Christmas morning.
Comfort food, including pretty much everything on the menu at Dish, makes us feel better in one way or another. It reminds us of someone or someplace. It fills our stomachs, sure, but it does more than that. It may not always be chicken soup for the soul, but some days all we need is chicken and dumplings for the hangover.
Indeed, Dish's chicken and dumplings is the most popular item on the menu. It's rich and hearty, with a thick gravy and delightfully chewy dumplings. The place serves other regional classics, too, such as deviled eggs and fried green tomatoes. Like any respectable Southern restaurant, it offers a vegetable plate.
Although dinner at Dish is delicious, I'm partial to those few hours on Saturdays when I can order those lifesaving potatoes.
One Saturday morning last summer, during a difficult period in my life, I went for a run through Plaza Midwood. Without really thinking about it, I wound up sitting at the counter at Dish, alone, dripping in sweat. I ordered scrambled eggs, bacon, and two servings of hash brown casserole.
Except for a couple of sentences exchanged with my server, I ate in silence, listening to the buzz from the kitchen and watching my neighbors straggle in, desperately searching the menu for the words "Bloody Mary."
I savored every bite of my hash browns. Both orders. And then, with a full belly and a goofy smile, I walked home. —Adam Rhew
​PRICE LEVELS
$ Most entrées under $10
$$ Most entrées $10-$17
$$$ Most entrées $18-$25
$$$$ Most entrées $26 & up
---
Places to Watch
Zebra
Kim and Pascale Salahie bought this SouthPark mainstay in May and relaunched the contemporary French menu this fall. They've also renovated the dining room, bringing more energy to the fine dining spot.
RockSalt
When Chef Jay Pierce left RockSalt, owner Travis Croxton brought in chef Tobias Padovano to lead the kitchen, shifting him from Brine in Virginia. Expect the food to be lighter, with a daily menu of fresh fish. Executive chef of Brine, John Critchley, will keep an eye on RockSalt from a distance.
Kindred
With all the national attention its been getting, expect your out-of-town friends to continue mentioning this Davidson spot. We wouldn't be surprised to see it on the elusive James Beard nomination list next year.
Stagioni
Chef Andrew Dodd took over the kitchen at Stagioni when the previous chef, Ashley Quick, left town. Bruce Moffett was on hand to help Dodd figure out the menu, and former chef at The Punch Room, Matt Carnivale, joined the team. Expect good things from these two.
Corkbuzz
New to town, Corkbuzz brings a menu that matches its wine list to SouthPark. We'll see if the New York City concept can stick in Charlotte.