50 Most Powerful People in Charlotte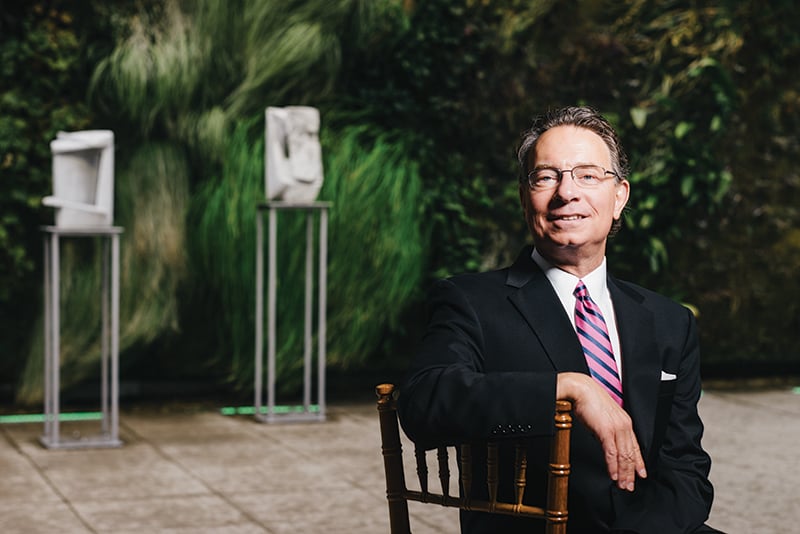 OUR CITY is in transition. It's a place of fractured allegiances and varied priorities. When we set out to rank the 50 most influential people in Charlotte right now, we found a white-collar establishment and ascendant newcomers. The people on this list may not be the ones you want to be in power, but there's no doubt their actions shape the way we live.
---
1. The Visionary
Michael Marsicano
CEO, Foundation For The Carolinas
During his 17-year stewardship, Foundation For The Carolinas has grown from the 35th largest community foundation in America to the eighth largest. The soft-spoken, disarmingly congenial Marsicano is the city's most trusted civic and philanthropic leader. Read Rachel Jones' profile of Marsicano here.
---
2. The Brunch Bunch
Millennials
The average age of a person moving to Mecklenburg County from another place in North Carolina is 25. As Michael Graff writes, millennials are Charlotte's most influential population—just ask the companies pursuing their time and money.
---
3. The GOAT
Michael Jordan
Majority Owner, Charlotte Hornets
The Greatest Of All Time is the highest-ranking person on this list who chooses not to wield his brand of power in Charlotte's civic and political circles. But can you imagine the scramble in uptown's corner offices if MJ wanted to get something done and picked up the phone? —Adam Rhew​
---
4. The Unflappable
Lynn Good
CEO, Duke Energy
The most powerful woman in Charlotte eschews the spotlight and especially the media. Inside Duke Energy, Good has built a reputation of reassuring calm, a trait that served her well as she clawed through a male-dominated field, emerged from a nasty post-merger leadership fight in 2013, and juggled recent coal ash crises. —A.R.
---
5. The Evangelist
Steven Furtick
Pastor, Elevation Church
He isn't without controversy, but there's no denying Furtick's ability to influence people. More than 20,000 attend Elevation Church services each week. Tens of thousands more read Furtick's books, and listen to or watch his sermons online. —A.R.
> Read our 2014 profile of Elevation Church here.
---
6. The Quiet Force
Anna Spangler Nelson
Chairman, Spangler Companies; Cochair, Project LIFT
Combine Nelson's service on the UNC Board of Governors, her stewardship of her family's philanthropic foundation that invests heavily in nonprofits that serve children, and her role as cochair of the Project LIFT board, and you get the city's most influential person in public education. Nelson is notoriously private and quick to say that her work is "more about 'we' than 'me.'" Previous versions of this list ranked Nelson alongside her husband, Tom, who's the CEO of National Gypsum—but she's far more than just half of a power couple. —A.R.
---
7. The Legend
Hugh McColl
Retired CEO, Bank of America
Nobody's done more for Charlotte, period. And even now, at 81 years old, the man who built the bank that built the modern-day Southern city remains one of the most prominent voices in town. He delivered biting and straightforward words about most of the major news events of 2016, leaving politicians and businessmen looking to him not just to understand the historical context around the moments, but also for answers on how to go forward. —M.G.
> Read our 2014 Charlotteans of the Year profile of McColl here.
---
8. The Conductor
Marcus Jones
Charlotte City Manager
Hired in October, Charlotte's first black city manager assumes command of a city administration fresh off post-Keith Scott unrest and still squaring off against a hostile state legislature—not to mention his basic responsibility, overseeing 7,561 employees and a $2.45 billion budget. —Greg Lacour
---
9. The Host
Johnny Harris
CEO, Lincoln Harris; President, Quail Hollow Club
The 69-year-old developer plays a central role in real estate, sports, and civic issues. In August, Quail Hollow Club will hold the PGA Championship, and as Harris tells Ron Green Jr., he's happy to play host.

---
10. The Trusted One
Ophelia Garmon-Brown
Cochair, Charlotte Mecklenburg Opportunity Task Force
Charlotte likes task forces. But given the community's false starts on addressing economic inequality and the mistrust of leaders who've established panel after panel, the one Garmon-Brown co-leads with banker Dee O'Dell needs to be better than all the rest. Garmon-Brown's longevity here and the deep respect she's earned over the years is an asset for the group. —A.R.
---
11. The Money
Charles Bowman
North Carolina Market President, Bank of America
Nonprofit and government leaders look to Bowman for counsel before starting new ventures. Bowman is The Bank's guy here, cutting the corporation's checks for philanthropic support and community investments, including picking up part of the tab for the Carolina Panthers' Super Bowl send-off last year. —A.R.
---
12. The Big Cat
Jerry Richardson
Owner, Carolina Panthers
Only 32 cities get to say they're home to a pro football team, and if you didn't live here before the NFL awarded the Panthers franchise to Richardson, it's hard to fully appreciate the team's significance in transforming Charlotte. —A.R.
---
13. The Budget Maker
Dena Diorio
Mecklenburg County Manager
She's kept a lower profile going into her fourth year as Mecklenburg County manager than her controversial predecessor, Harry Jones. But she's still one of the most important local officials. In her hands is funding for the jail, library system, courthouse, parks and recreation, and a sizable chunk of the Charlotte-Mecklenburg Schools budget. —G.L.
---
14. The Enforcer
Kerr Putney
Charlotte-Mecklenburg Police Chief
Never has the role of the American police chief been more vital. Never has the role of Charlotte's police chief been more difficult. In a job that's repeatedly forced him to make the best decision when no good one is available, Putney hasn't been perfect. But given his work to bridge the gap between police and black citizens, we might look back one day and say that this man—who was just 10 when his own father's body was pulled from a river in a case that was never solved—was the right chief at the right time. —M.G.
> Read our 2015 Charlotteans of the Year profile of Putney here.
---
15. The Unknown
Clayton Wilcox
Incoming Charlotte-Mecklenburg Schools Superintendent
This job is so important, we're willing to rank Wilcox before his first day on the job this summer. CMS is the nation's 18th-largest school district and Wilcox will be the district's fifth superintendent in the past decade. With 148,000 futures at stake, he must get it right. —A.R.
---
16. The Bishop
The Rev. Claude Alexander
Pastor, The Park Church
His 27-year stewardship of The Park's century-old congregation makes Alexander one of the most influential faith leaders in this town known as the city of churches. —A.R.
---
17. The Squawker
Mike Collins
Host, Charlotte Talks
Collins' daily program on public radio station WFAE is required listening for members of Charlotte's power set—when they're not begging his producers for time on the show, and when he's not skewering them with his annual (and hilarious) Charlotte Squawks variety show. —A.R.
---
18. String-Puller
Michael Smith
CEO, Charlotte Center City Partners
The brain behind center city's biggest projects, including the successful land swap that yielded BB&T Ballpark, Smith is a master manipulator in the best sense of the word. He's at the center of every major uptown development initiative, even if you can't see him. —A.R.
---
19. The Go-Between
Ned Curran
CEO, Bissell Companies
Curran was the chairman of the state transportation board under Governor McCrory and, depending on your stance, was either a savior or villain in the fight over the I-77 toll lanes, which he supported. Less obvious: Curran was a trusted go-between for defiant state lawmakers and rankled Charlotte business leaders during HB2 negotiations last year, making phone calls to General Assembly leaders and Governor McCrory on the Chamber's behalf. —A.R.
---
20. The Placemaker
Brian Leary
President, Commercial and Mixed Use, Crescent Communities
The scope of Crescent's projects is commanding. Its plans include a 72-acre campus off Providence Road, an office tower and a mixed-use behemoth blocks apart in uptown, and a once-in-a-generation development west of the airport. Leary's charge is to make sure the projects are not just buildings, but places people want to gather. —A.R.
---
21. The Figurehead
Jennifer Roberts
Charlotte Mayor
Has she really been mayor for less than 18 months? Despite little official power and a mixed-bag 2016—she looked like a leader on HB2, not so much on Keith Scott—Roberts remains the face of Charlotte city government to the nation, no small role. —G.L.
---
22. The Landowner
Daniel Levine
CEO, Levine Properties
Levine, nephew of Leon and cousin to Howard, is one of center city's most prolific developers. His plans for First Ward include apartments, an office tower, and retail space. Levine moves at his own pace, but his projects will transform uptown when they finally get finished. —A.R.
---
23. The Cheerleader
Bob Morgan
CEO, Charlotte Chamber
Morgan is cheery yet competitive, two traits that make for a good chamber of commerce chief. The organization is evolving—a diversifying economy means more industries to track and more companies to serve than just the big banks—but Charlotte's still a corporate town, and Morgan always has a seat at the conference table. —A.R.
---
24. The Coalition
Jesse Cureton, Gene Woods, Brett Carter
​Cochairs, ONECharlotte
In some ways, ONECharlotte resembles what we've come to expect from corporate leaders here: Top executives raising a bunch of money to tackle a community challenge. But Cureton, Woods, and Carter hope ONECharlotte—created in the aftermath of the Keith Scott shooting and unrest—will be different.
---
25. The Mayor
Ray Eschert
Founder, Ballantyne Breakfast Club
People in south Charlotte call Eschert "the mayor of Ballantyne," and his breakfast forum has become a must-attend event for politicians and business leaders who needs suburban support. Eschert, though, tells Emily Ethridge he likes to stay neutral.
---
26. The Gatekeeper
Charles Thomas
Charlotte Program Director, John S. and James L. Knight Foundation
Thomas first garnered widespread but unseen influence when he founded Queen City Forward in 2012, creating a hub for entrepreneurs who tackle social needs. In early 2016, he took the helm of the Knight Foundation's investments in Charlotte, which provide millions of dollars for the arts, community engagement, and media. —Andy Smith
---
27. The Salesman
Tom Murray
CEO, Charlotte Regional Visitors Authority
Charlotte's Got A Lot, or had a lot, and may have a lot again. Murray's job—selling the city as a convention and event destination—became infinitely harder last year. —A.R.
---
28. The Inspiration
Harvey Gantt
Former Charlotte Mayor
Charlotte's first black mayor still mentors political hopefuls, and his enduring legacy makes him a permanent fixture on this list. His is a quiet leadership—but plenty of people listen. —A.R.
---
29. The Rising Star
Jeff Jackson
State Senator
He enlisted as a private in the Army after September 11 and served in Afghanistan. He came home, went to law school, joined the JAG Corps in the Army National Guard, launched a career as a prosecutor, and became a Democratic state senator. All this before he was 32 years old. He's quick-witted and wields a strong social media game, and now, at 34, he's the favorite politician of young professionals in the state, who, in tweets and texts and Instagram comments, regularly call on him to run for governor. —M.G.
> Read our 2016 interview with Jackson here.
---
30. The Heir
Marcus Smith
CEO, Speedway Motorsports Inc.
Marcus is far less bombastic than his father, SMI founder Bruton Smith, who handed over the family business two years ago. The younger Smith works hard to avoid the "spoiled rich kid" moniker, and it's common to find him chatting up fans as he walks through Charlotte Motor Speedway on race weekends. —A.R.
---
31. The Bridge
Astrid Chirinos
Chief Development Executive, Latin American Economic Development Corporation
Chirinos is part of the old guard. She connected Charlotte's white business community with Latinos long before it was popular, politically necessary, or economically imperative to do so. —A.R.
---
32. The Tastemaker
Laura Vinroot Poole
Owner, Capitol, Poole Shop, and Tabor
The effortlessly graceful Poole put our city on the style map, and not just by dressing the elite. Her trips to New York, London, and Paris for fashion weeks and appointments with designers make her something of an ambassador for Charlotte. —A.R
---
33. The Future
Sean Garrett
Executive Director, United Way of Central Carolinas
If anyone represents the new wave of nonprofit leaders in town, it's Garrett. Fresh-faced and eager, he did un-United Way things after taking the job a year ago, such as hiring a chief impact officer and investing in mobile technologies. Expect his influence to grow. —A.R.
---
34. The Tower
Brent Cagle
Aviation Director, Charlotte Douglas International Airport
​Cagle came to his post out of the messy fight between the city and the state legislature over control of CLT back in 2013. He's quiet, shuns attention, and doesn't run the airport like his personal fiefdom—all unlike his predecessor, Jerry Orr—but nonetheless is in charge of the world's sixth-busiest airport. —A.R.
---
35. The Palate Pleaser
Frank Scibelli
Restaurateur
In 2015, he sold Bad Daddy's, a burger concept he started here, to a Colorado company for $21 million. His Midwood Smokehouse is growing, as is fast casual concept Yafo Kitchen. People love Scibelli's palate, Kristen Wile writes.
> Scibelli was recent guest on the #discussclt Podcast. Check out that episode here.
---
36. The Republican
Kenny Smith
Charlotte City Councilman
Democrat-heavy Charlotte doesn't have many young, up-and-coming Republicans in public office. Smith, 43, is chief among them, having represented City Council District 6 in south Charlotte since 2013. In a thin GOP field, he'd be a leading candidate in the 2017 mayoral primary if he decided to run. —G.L.
---
37. The Activist
Bree Newsome
Artist and Filmmaker
"She's powerful as a symbol now, in addition to being powerful as an organizer," one source told us. Newsome, who scaled a flagpole to remove a Confederate flag at the South Carolina statehouse in 2015, is a force within the Black Lives Matter movement, here and beyond. —A.R.
---
38. The Driver
John Lewis
CEO, Charlotte Area Transit System
Lewis held similar roles in Richmond, Orlando, and Baltimore before taking his current job in 2015. Lewis says CATS simply has to "get people where they need to go." In the midst of a major light-rail extension this year, the ongoing streetcar project, and Charlotte's exploding population, that charge is imperative. —A.S.
---
39. The Toastmaster
John Marrino
Owner, Olde Mecklenburg Brewery
His German-inspired ales and bierhall, which opened in 2009, led the city's craft beer boom. OMB moved to a bigger location in 2014, and expanded again a year later. Such rapid growth led Marrino to join with NoDa Brewing and Red Oak to fight the state's limit on self-distribution. They're calling it the campaign "craft freedom." We'll see if his efforts pay off when (or if) Raleigh decides on House Bill 278. —K.W.
---
40. The Trailblazer
Pat Rodgers
CEO, Rodgers Builders
Rodgers was one of the first high-profile female business owners in town, and remains a mentor to female executives across a range of industries. —A.R.
---
41. The Elder
Sarah Stevenson
Activist
Ms. Sarah, as she's known on the city's west side, is an institution. Her Tuesday Morning Breakfast Forum is a must-attend meeting for elected officials and nonprofit leaders. Stevenson is in her 90s, but she runs the show—and don't you forget it. —A.R.
---
42. The Producer
Tom Gabbard
CEO, Blumenthal Performing Arts
Blumenthal Performing Arts, with six theaters and more than 1,000 performances each year, is the region's top performing arts organization. Gabbard is a co-producer and invester in Broadway productions in New York—he's even a Tony Awards voter. Those connections help him and Blumenthal score top-tier touring shows in Charlotte. Blumenthal had record-breaking attendance in recent years, but during the 2017-2018 season, the biggest coup for the organization's Broadway Lights series arrives: Hamilton. Subscriptions to the 2016 and 2017 seasons guaranteed a seat for the production. And in light of this, Charlotte magazine doth proclaim: Another record awaits. —A.S.
---
43. The Adviser
Pat Riley
CEO, Allen Tate Companies
The affable Riley has been a fixture on the nonprofit circuit, serving on the board of nearly every major organization in town. The leaders of those groups trust Riley and seek his counsel often. —A.R.
---
44. The Decider
Andrew Murray
Mecklenburg County District Attorney
Murray (and, by extension, his office) has a say in the fate of thousands of people who pass through the criminal justice system each year. —A.R.
---
45. The Crusader
Scott Bishop
Chairman, MeckPAC
The list of LGBT leaders grew last year, as new faces emerged to challenge HB2. But we hear Bishop's name repeated often, thanks to his work leading LGBT advocacy group MeckPAC, which long predates the "bathroom bill" controversy. —A.R.
---
46. The Driver
Rick Hendrick
Chairman, Hendrick Automotive Group; Owner, Hendrick Motorsports
The NASCAR Hall of Fame inductee is an outsized presence in the racing world, and still holds plenty of sway in the northern 'burbs, from a huge car dealership (even the sign is massive) to a racing team that includes to seven-time series champion Jimmie Johnson. —A.R.
---
47. The Rebel
David Furman
Architect
He's the closest thing Charlotte has to a "starchitect," often a hallmark of major American cities. Furman pushes design boundaries and forces his competitors to innovate. His irreverence makes him likeable; his buildings make him powerful. —A.R.
---
48. The Professor
Philip Dubois
Chancellor, UNC Charlotte
The light-rail extension opening this summer will narrow the perceived distance between uptown and UNC Charlotte's campus. That's good news for Dubois, who leads the fourth-largest university in the UNC system. —A.R.
---
49. The Franchise
Cam Newton
Quarterback, Carolina Panthers
Why isn't Cam higher, you ask? The franchise QB has so many restrictions placed on him by the NFL, the Panthers, and his endorsers that it's difficult for him to influence much off the field. But that doesn't stop people from scrambling for his attention. —A.R.
> Check out our 2016 Charlotteans of the Year profile of Newton here.
---
50. The Curators
Amy Bagwell, Amy Herman, Graham Carew
Directors, Goodyear Arts
Separately, they teach, create gallery and public art, and lead other ventures. Together, they crafted a new model for arts venues in Charlotte. Goodyear Arts transforms transitional spaces headed for destruction into temporary artist residencies. That means they're actually paying artists to make art. Because of Goodyear Arts, developers such as Crescent Communities and Levine Properties can be involved in the arts community while giving artists autonomy. Yes, it's really that simple. —A.S.
> Read our 2015 Charlotteans of the Year profile on the Goodyear Arts project here.
---
Five to Watch
Amy Chiou
Executive Director, Queen City Forward
Chiou likes to push people outside their comfort zones, which is what Charlotte needs. She has bounced around Democratic political circles, but is now part of a new wave of millennial nonprofit leaders in town. —A.R.
---
Andrea Smith
Chief Administrative Officer, Bank of America
Though she's unfamiliar to many Charlotteans, Smith's profile will be higher this year as the chairman of the Charlotte Chamber. —A.R.
---
Michael Praeger
CEO, AvidXchange
The tech company made a splash when it bought naming rights at the Music Factory and started building a campus across the street. Praeger is still making a name for himself in Charlotte, but we expect him to be a player. —A.R.
---
Kandi Deitemeyer
President, Central Piedmont Community College
Taking over after Tony Zeiss, who grew CPCC from one campus to six during a nearly 25-year presidency, will be no small task. —A.R.
---
Los Niños
In 1990, Latinos made up about 1 percent of Charlotte's population. Now, they make up about 15 percent. If growth continues at that rate, today's Latino children will be Charlotte's most powerful demographic by the time they reach their 30s. Meet two young people who are the face of the city's future.
---
Seven You Expected to Be on the List
Pat McCrory
Former North Carolina governor
Governor Pat is the only incumbent governor in North Carolina history to lose a reelection bid. He lost Mecklenburg County, which he won in 2012, by 29 points this go-round. And his post-election rhetoric—including false allegations of widespread voter fraud—embarrassed our state, especially those of us who voted for him when he was moderate Mayor Pat. —A.R.
---
Alma Adams, Robert Pittenger
United States representatives
Come talk to us when Congress accomplishes something—anything—besides ceremonial resolutions. —A.R.
---
Tim Belk
Former CEO, Belk
The Belk name is synonymous with Charlotte power; we're eager to see what Tim does after selling the family business. —A.R.
---
Mary McCray
Chair, Charlotte-Mecklenburg Board of Education
The school board provides vital oversight of our public schools, and we wish McCray would show sincere leadership on matters of transparency, especially in the firing and hiring of superintendents. A lack of openness undermines the public trust the board says it wants to foster. —A.R.
---
Ronald Carter
President, Johnson C. Smith University
JCSU is important to the west side's social and economic health, but Carter is stepping down at the end of the school year. —A.R.
---
Howard Levine
Former CEO, Family Dollar
Another longtime fixture on this list, Levine has kept a low profile after his company's merger with Dollar Tree last year. What's next? —A.R.