!@#$%^&*()
David Mamet's "Race," at CAST in NoDa, is sure to be full of intrigue ... and expletives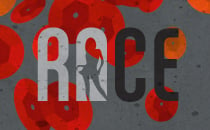 Get ready for some R-rated verbal fireworks. David Mamet's characters use language that would make your mother blush. Unless your mother is a sailor or street hustler. CAST is staging the regional premiere of Mamet's Race, about a wealthy white man charged with raping a black woman and the lawyers who defend him.
I talked to director, Dr. Charles LaBorde, about the play. Surprisingly, neither of us dropped an F-bomb during the interview. That won't be the case during the run of the play. Feb 23-March 24. Details here
Revue: I love David Mamet. Glengarry Glen Ross and The Spanish Prisoner are two of my all-time favorite films. How would you describe his style and his common themes to someone who's not familiar with his work? (If someone asked me, I'd say there is sure to be foul language and characters you can't trust. In Mamet's world, people should always be looking over their shoulders.)
Dr. LaBorde: Mametspeak is a term used in the acting world for the way characters speak in all his plays. It is characterized by a fair to strong lacing of profanity – Race can get pretty far out there, but contains less profanity than many experienced Mamet fans might expect – rapid-fire delivery of lines, overlapping speeches, and – often overlooked – very meaning-laden pauses, all carefully scripted by Mamet. And the world of Mamet is one in which you can take nothing that anyone says at face value. You have to weigh each character's motives as you assess the truth – or lack thereof – of his words.
In Race, two lawyers defend a wealthy white executive charged with raping a black woman. We've seen similar stories in real life before. The wealthy guy who can afford the best defense team is almost guaranteed an acquittal. But with Mamet, there are sure to be surprises. Can you talk about any of them without giving away too much?
Surprises are definitely in store for the audience of Race. Mamet has developed the significant plot points in layers so that details of the case are revealed to the lawyers and even the client piece by piece as we dig deeper into the question of "What happened in that room?" and ultimately, "Who is guilty, and of what?" To say more than that would spoil the fun. Suffice it to say that the last surprise comes only moments before the end of the play and the last line of the play is, shall we say, memorable.
CAST always does something inventive with the stage and the lobby. I can't imagine what you'll do for "Race." Any hints?
I haven't been much involved in the discussions of the lobby for this show, but I think it is safe to say we will see a lot of red and lots of scattered sequins. I wouldn't be surprised if some fall out of your program.
CAST's website says, "If you had issues with the legal system before, wait until you see this one." Can you tell us about what ugly truths are revealed?
That blurb on the website is a prettied up version of what I suggested, which was "If you thought you hated lawyers before …" Let's just say that some people will do anything to make a buck or at least a name for themselves. Climbing up the corporate ladder is nothing on the ruthlessness scale compared to getting ahead in the world of high-stakes lawyering.
In Mamet's plays, the dialogue is usually the star. People cuss, spar, yell, and talk over and at each other. Is that the case here? How hard is that for the actors? Are they doing anything special to prepare for all the verbal fireworks? Is it hard for an audience to keep up?
This play is typical Mamet in that regard. I anticipate more speed-through line rehearsals than normal. To do Mamet, you have to know your lines backwards and forwards. And you have to know where the scripted pauses are. Line rehearsals without regard to movement and "acting" are a must.
Have you seen this play? If so, what will you do differently in your version?
I have not seen the show. I think the difference in our production will be the absolute closeness of audience to actors. The show is being staged in CAST's arena space with the audience surrounding the set. These four people are behaving badly mere inches from us. When the actors exit, they never leave the space. They go up and sit in the audience and watch the fireworks along with the paying customers. This closeness of actors/audience is a specialty of CAST and is very different from the original New York staging.
Who's the audience for this play?
Anyone who likes witty dialogue, challenging issues, and something of a mystery should enjoy this one. If you are uncomfortable with frank discussions of sex and race, you will squirm a lot.
Anything else readers should know?
I want to get back to two points. First, the issue of the profanity, which is less than in a script like American Buffalo. While there is less frequent cursing, what is there is very strong. And added to it is the frank discussion of and use of harsh language related to race relations in this country. So the cumulative effect of the language is potentially overwhelming to more sensitive theatergoers. The show is filled with moments of "I can't believe they just said that."
The second point is the lying, that is so prevalent in Mamet. This show has four characters. One of them is pretty straightforward in everything they say and do, one lies pretty much throughout because of their own agenda, one lies both to others and to himself, and one lies almost exclusively to himself. The fun is in figuring out which is which.