5Church Frenzy
The enigmatic new restaurant shakes up the city's dining scene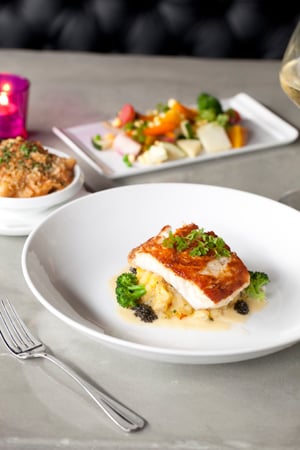 The opening of 5Church in May was arguably the city's most anticipated restaurant debut of the year—and not just for diners. The new restaurant's three managing partners, Mills Howell, Alejandro Torio, and Patrick Whalen, had been working toward the moment for two years. They wanted to create a space that felt welcoming to all kinds of people, says Torio, and refused to settle for anything less than the ideal space, the ideal location, and the ideal chef.
The trio considered their painstaking process so arduous (Howell, who is also co-owner of interior design firm Reaching Quiet Design, describes it as an "uphill battle") that they found themselves constantly quoting Sun Tzu's 2,000-year-old epic The Art of War. It was Howell's idea to paint the ancient classic—all 40,000-plus words of it—on the restaurant's exposed ceilings. To complete the project, local artist Jon Norris spent more than three months on ladders and scaffolding with a brush in one hand and the book in the other, a small paint container tied to his pinky finger with string.
The rest of the interior is just as dramatic—an industrial-chic style in stark grayscale tones with black and white accents, giving it a fantasy-like ambiance. Nearly every detail is handmade, from the bar area's large, eighteen-seat community tables made of Himalayan oak to the molded concrete tables in the dining room shaped to look like tablecloths. "If [the material] looked soft, we made it hard. If it was hard, we made it look soft," says Howell. "Charlotte's so Victorian, so Colonial, and we wanted to show there's a way to keep that traditional architecture but establish it in a modern way."
And then there's the food. Executive Chef Jamie Lynch, formerly of Barrington's, has created a New American menu that manages to fulfill the partners' goal—a little something for everyone—yet still feels fresh. Before taking an order for even a glass of wine, servers ask about allergies or sensitivities. Lynch is careful not to reveal his secrets by listing every ingredient on his menu—further adding to the restaurant's enigmatic atmosphere.
The dishes are inventive without being intimidating. A "Snacks" menu, served in the bar and dining room, offers fusion-inspired dishes, such as quinoa tabouleh ($4) and a Szechuan pork belly with spicy cabbage ($4). Indian Spiced Potato Pierogies ($7) are palm-sized, crispy on the outside and creamy on the inside, stuffed with English peas, and drizzled with a sweet pea emulsion. Grilled flatbread with shrimp, arugula, red onion, and boursin cheese ($10) is delicate and savory, with an airy, crunchy crust.
The large bar area at 5Church overlooks 5th Street.
A "Steaks and Chops" menu offers a selection of beef, bison, and pork, including Lynch's tender signature Sixty-Second Prime New York Strip Steak ($32), served rare, which was one of the first items to land on the restaurant's menu: Lynch served it to the managing partners as the entrée for his audition dinner. But the seafood dishes are also standouts. Sautéed Maine skate ($24) is flaky and tender, topped with local garden vegetables and new potatoes with a lush pickled ramp brown butter sauce. The North Carolina grouper ($23) offers a generous portion of the buttery fish, served atop crushed Yukon potatoes, broccoli, and leeks cooked al dente and swimming in a glorious champagne beurre blanc sauce with dollops of American caviar.
With its precise attention to detail, 5Church holds promise, and not just for the typical dine-and-dash uptown crowd that comes for dinner and then heads to the next hotspot for cocktails. Despite its location, which has proven unfortunate for a string of previous tenants, on a busy night, the vibe at 5Church feels like a bar, restaurant, and nightclub all rolled into one, and the crowd is just as diverse. (Translation: it can get loud.) But what the restaurant lacks in subtlety it balances with quality, and a welcoming atmosphere makes it a draw for foodies and barflies alike.