7 Best Italian Restaurants in Charlotte: 2020
With curbside and delivery options amid the COVID-19 pandemic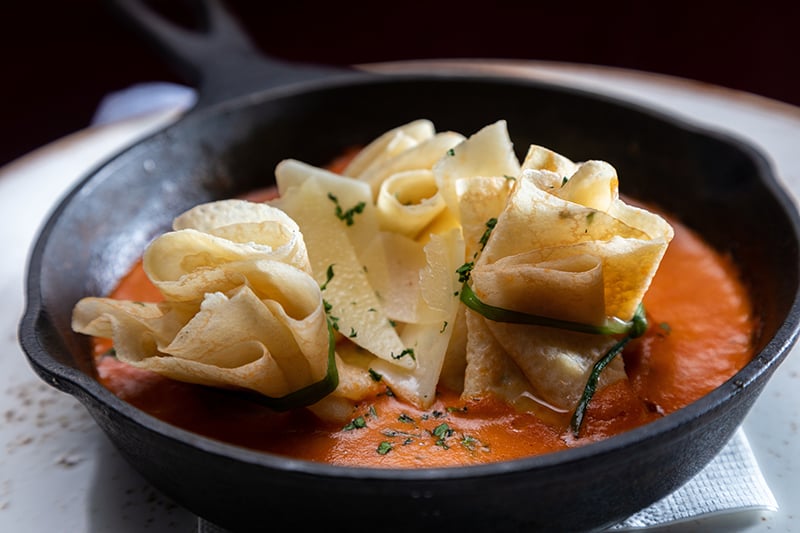 These picks are based on our Best of the Best Awards, the 2019 25 Best New Restaurants and 2020 50 Best Restaurants lists, and rolling editorial decisions.
---
Cicchetti
Options: The spot has a limited takeout menu right now. Items can be ordered at 2 p.m. and picked up between 4 p.m. and 7 p.m. at its sister restaurant, Aria (with address listed below). 

Come for the drinks and stay for the food at this wine bar, restaurant, and retail shop. Cicchetti (pronounced "chee-KEH-tee") means "small dishes" in Italian, i.e., Venice's version of Spanish tapas. The restaurant's design and layout is a nod to a bacaro, a neighborhood gathering spot in Venice where locals enjoy glasses of wine and small bites in the late afternoon. 100 North Tryon St., 704-376-8880.
---
Angeline's
Options: Curbside pickup, Sun-Thur, 11 a.m.-8 p.m., and Fri, 11 a.m.-9 p.m. (Currently, they're offering 20% off on all of these orders.)
The pappardelle Bolognese and cioppino at Angeline's are both excellent, but if you're feeling adventurous, order a few of chef Robert Hoffman's appetizers. The whipped ricotta with sourdough, lavender honey, and pistachio is an unexpected sweet-and-salty combo, and the lamb and pork meatballs are great for sharing. Ride the elevator to the 19th floor of the Kimpton Tryon Park Hotel for a nightcap from its sister cocktail bar, Merchant & Trade. 303 S. Church St., 704-445-2540.
---
Flour Shop
Options: Flour Shop has pickup and curbside service each day between 4 p.m. and 8 p.m. Order by calling the number below.
The smell of fresh bread baking in the wood-fired oven hits you as soon as you walk into Flour Shop. From the counter, you can watch as handmade pasta is prepared in the open kitchen. Chef Trey Wilson's shared plates are great for a larger group, but if you don't want to share, try the lamb Bolognese. 530 Brandywine Rd., 980-299-3754.
---
Stagioni
Options: Takeout, noon-8 p.m. Tues-Sat. Limited menu, including "Stags Night At Home" options for families.
Now under the leadership of Chef Eric Ferguson, this Bruce Moffett restaurant has become a favorite among foodies and food industry folks alike. The interior is warm, with red accents that mimic the heart of the wood-fired grill in the open kitchen. The menu can seem overwhelming with three- or four-syllable words in Italian, but they most often translate to some shape of pasta, and the staff is quick to explain them. The pizzas are crisped next to the fire and topped with things such as house-made sausage. Staff used to joke that you'd never find chicken parmigiana, a stereotyped Italian staple, on the menu here. Dodd decided to add his own interpretation, stuffed with mozzarella and fontina cheese, to the menu. It's a delicious and popular dish, showing that Dodd isn't above serving the expected—he just does it on his own level. 715 Providence Rd., 704-372-8110.
---
Aqua e Vino
Options: Takeout and delivery for select items. On the website, click on the "Take-Away & Delivery" tab for details.
This Italian restaurant has one of the smallest dining rooms in town, which means it can be hard to nab a reservation without planning. It also means chef Gabriele Grigolon can serve each dish, from pastas to composed plates, with textbook precision. 4219 Providence Rd., 704-364-4445.
---
Aria
Options:  Front-door pickup, Monday-Saturday, 4 p.m.-7 PM (entrance on E. Trade Street between N. Tryon and N. College). Call to order.
This restaurant serves up an extensive Italian menu in an elegant, modern space. The spot opened in 2009 in uptown, and current dinner favorites include Caramelized Gnocchi and PEI Mussels al Forno. 100 N. Tryon St. 704-376-8880.

---

Closed, but gift card purchases and donations are open:
Civetta Italian Kitchen + Bar opened in 2019 in Ballantyne's StoneCrest at Piper Glen among a sea of chains. The restaurant is warmer than its sister concept, Vivace, with rustic brick and wood accents like an expansive bar with a sliding wooden ladder and red patent booths. Among the recommended dishes, our recent review points to "Executive Chef Stephen Ollard's version of Italian-American penne alla vodka with Parmesan cream, sun-dried tomato pesto, and chicken. It's near-perfect, with al dente penne and a sweet vodka sauce balanced with pepper and garlic." 7828-E Rea Rd., 980-335-2758.