11 Best Italian Restaurants in Charlotte: 2021
With curbside and delivery options amid the COVID-19 pandemic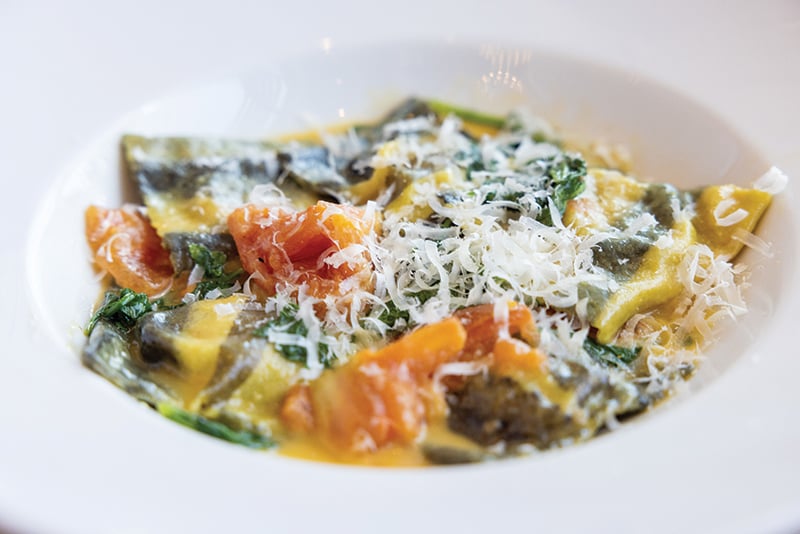 These picks are based on our Best of the Best Awards and 2021 50 Best Restaurants lists, and rolling editorial decisions.
---
Come for the drinks and stay for the food at this wine bar, restaurant, and retail shop. Cicchetti (pronounced "chee-KEH-tee") means "small dishes" in Italian, i.e., Venice's version of Spanish tapas. The restaurant's design and layout is a nod to a bacaro, a neighborhood gathering spot in Venice where locals enjoy glasses of wine and small bites in the late afternoon. 100 North Tryon St., 704-376-8880.
---
The pappardelle Bolognese and cioppino at Angeline's are both excellent, but if you're feeling adventurous, order a few of chef Kevin Atkinson's appetizers. The whipped ricotta with sourdough, lavender honey, and pistachio is an unexpected sweet-and-salty combo, and the lamb and pork meatballs are great for sharing. Ride the elevator to the 19th floor of the Kimpton Tryon Park Hotel for a nightcap from its sister cocktail bar, Merchant & Trade. 303 S. Church St., 704-445-2540.
---
Paul Verica, a two-time James Beard semifinalist, ventured outside the nouveau-Italian trend's bubble in February when he opened Orto in the Novel NoDa project. The menu is a departure from the farm-to-table style he's known for at The Stanley, but his Italian dishes are just as lovingly prepared. The pasta, made in-house daily, includes traditional Spaghetti and Meatballs ($17), Fusilli Bolognese ($17), and Lobster & Shrimp Ravioli ($27). Orto's pizza is a nod to Verica's favorite 'za, from Pica's, a venerable joint in his native Philadelphia. His version is a square counterpart to the rectangular Detroit-style pie, but with a thinner crust. Choose from five varieties, like the traditional Pepperoni ($17) or the White Pizza ($19), with sprouts, onions, pancetta, arugula, ricotta, mozzarella, and Parmesan. 416 E. 36th St., Ste. 600, 980-938-0080.
---
The smell of fresh bread baking in the wood-fired oven hits you as soon as you walk into Flour Shop. From the counter, you can watch as handmade pasta is prepared in the open kitchen. Chef Trey Wilson's shared plates are great for a larger group, but if you don't want to share, try the lamb Bolognese. 530 Brandywine Rd., 980-299-3754.
---
Little Mama's, from Frank Scibelli, touts itself as a callback to the "old home-style Italian restaurants in New England from the '60s and '70s." The spot recently debuted in Charlotte, and its fresh pappardelle has already been touted as one of the best pasta dishes in town. One of the more novel components of the spot is its "mozarella bar," with its varying types and accompaniments. Also a big winner in the entree section: Little Mama's Big Ribeye. 4521 Sharon Rd., Ste. 175.
---
Now under the leadership of Chef Brittany Cochran, this Bruce Moffett restaurant has become a favorite among foodies and food industry folks alike. The interior is warm, with red accents that mimic the heat of the wood-fired grill in the open kitchen. The menu can seem overwhelming with three- or four-syllable words in Italian, but they usually translate to some shape of pasta, and the staff is quick to explain them. The wood-fired pizzas steal the show, with toppings like house-made sausage, caramelized onions, and porcini purée. Staff used to joke that you'd never find chicken parmigiana, a stereotyped Italian staple, on the menu here. Instead they make their own interpretation, stuffed with mozzarella and fontina cheese, showing that Stagioni isn't above serving the expected—they just does it on their own level. 715 Providence Rd., 704-372-8110.
---
This Italian restaurant has one of the smallest dining rooms in town, which means it can be hard to nab a reservation without planning. It also means chef Gabriele Grigolon can serve each dish, from pastas to composed plates, with textbook precision. 4219 Providence Rd., 704-364-4445.
---
This restaurant serves up an extensive Italian menu in an elegant, modern space. The spot opened in 2009 in uptown, and current dinner favorites include Caramelized Gnocchi and PEI Mussels al Forno. 100 N. Tryon St. 704-376-8880.
---
Osteria LuCa's wood-fired pizzas are the main attraction—and rightly so—but if you come with a group, order a few other dishes to get the full experience. Start with a hot appetizer like the TRUE meatballs with marinara sauce, or try the Prosciutto di Parma with arugula, shaved Parmesan, fig spread, and balsamic glaze. Osteria LuCa is casual enough to bring your kids on a weeknight but fancy enough to celebrate a birthday or anniversary. 4127 Park Rd., 704-910-0142.
---
Chef Luca Annunziata serves lasagna just like his mom made it and carbonara as it's served in Rome. His fagottini (which means "purse" in Italian) is a crepe stuffed with mascarpone, parmesan, herbs, and lobster, and topped with vodka sauce. Feast on made-from-scratch breads and a desserts like tiramisu, flourless chocolate cake, and fruit crostata. 230 N. College St., 704-602-2750
---
Civetta Italian Kitchen + Bar opened in 2019 in Ballantyne's StoneCrest at Piper Glen among a sea of chains. The restaurant is warmer than its sister concept, Vivace, with rustic brick and wood accents like an expansive bar with a sliding wooden ladder and red patent booths. Among the recommended dishes, our recent review points to "Executive Chef Stephen Ollard's version of Italian-American penne alla vodka with Parmesan cream, sun-dried tomato pesto, and chicken. It's near-perfect, with al dente penne and a sweet vodka sauce balanced with pepper and garlic." 7828-E Rea Rd., 980-335-2758.