6 Local Barbecue Joints and Their Stories
Plus: 7 more spots worth a visit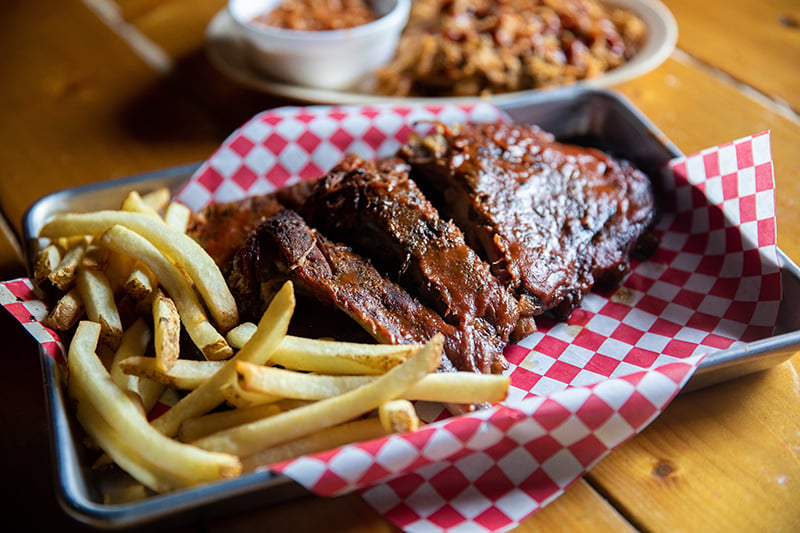 Est. 1963
5524 South Blvd., 704-525-8865
Currently offering curbside pick-up
IN THE EARLY '60S, Bill Spoon and Dewey Jackson moved from Wilmington to Charlotte to open Jackson and Spoon's Barbecue, using recipes from Jackson's father-in-law, who owned Skinner-Daniels Barbecue in Wilmington at the time. The partnership between Spoon and Jackson didn't last, but Spoon bought Dewey's share of the business and turned it into the barbecue joint that's occupied 5524 South Boulevard since 1963.
Today, Bill's grandson, Steve, runs Bill Spoon's Barbecue, but little else has changed. They use the same recipes for their whole-hog barbecue, mustard-based coleslaw, and banana pudding. The same yellow-and-white checkered tablecloths cover the tables, and the same customers come back week after week, year after year. Steve is 36 years old, and he's worked in the kitchen since 2000. One of the cooks, Reggie Stuckey, has been with him for all 19 years. One server, Cynthia Reed, has worked there for 24. Each one has regulars' names and orders committed to memory.
Becoming a pastry chef or an executive chef at a steakhouse, for example, can require years of formal training, a culinary arts degree, or both. But with barbecue, some of the best in the business haven't been to culinary school or had any formal training beyond their grandmother's kitchen or their uncle's barbecue pit. "Barbecue is associated with feelings that are usually tied to a cookout, a loved one, or one food you grew up on. It's one food you never give up," Steve says. "I get customers who are dieting or cutting carbs, and they still come in and cheat with barbecue."
Bill Spoon's barbecue is "whole hog, in true eastern style," Steve explains. "We use apple cider vinegar, salt, and crushed red pepper. That's it. No rubs or fake smoke." He says it's the most labor-intensive way to make barbecue, because, "from start to finish, we only yield 30 percent of the product. We only use the Grade A part of the pig." After he separates the meat from the bone and cartilage, it's pit-smoked for 12 hours over hickory and oak, and it gets seasoned only after it's chopped.
Barbecue plates and platters come two ways (large or small), but you won't find brisket on the menu because, well … They're not here to reinvent barbecue. In a world of culinary trends and fusion restaurants, there's something comforting about this uncompromised approach, to sticking with what works.
The quintessential barbecue experience is the pork sandwich with slaw on a steamed bun, Steve says. "When you see that one coming out of the kitchen, you just know it's good." —Taylor Bowler
* Bill Spoon's is open only for lunch on Monday through Saturday.
---
Est. 1971
2613 E. Main St., Lincolnton
704-735-1112
Currently offering curbside service and takeout.
"YOU'LL SEE a lot of smoke come out of here in a second," Jared Smith warns as he lifts the lid to the stainless steel cooker in BBQ King's smokehouse, across the parking lot from the Lincolnton restaurant.
Sure enough, plumes of smoke gush out and reveal 14 golden pork shoulders. A bucket lined with a plastic trash bag sits below the electric appliance and collects gallons of grease as the pork roasts and holds for about 20 hours. "Once that bone is fully out and loose," Jared says, "that's when it's done."
Well, almost done. A chunk of hickory wood is lodged inside the cooker to give the meat some flavor, but the real flavor intensifies once Jared moves the shoulders into the smoker, where they absorb four more hours of straight hickory-coal smokiness.
Jared, 27, has watched this process his entire life. His dad, Keith Smith, started working at BBQ King at age 15, just five years after Steve and Becky Abernethy opened the restaurant in 1971. Now, Keith is co-owner, and sons Jared and Jordan are assistant managers.
Most of the employees tell me they started working at BBQ King at age 15 or 16, Jared included. Sometimes they'll go off to college or try different jobs, but many come back. "Everybody's like a family here," Jared says. "And there's a lot of good perks."
He's talking about easy access to good food: Sliced or chopped barbecue sandwiches—regular or "king"-sized—and trays with hushpuppies, white or red slaw, vinegar-based sauce, and fries. You can find a hamburger, fried chicken, and a few other sandwiches on the menu, but BBQ King (sometimes spelled Bar-B-Q King) is for the barbecue purist.
The nearly 50-year-old restaurant doesn't bother with much else. Its WiFi password is "12345678." There are no high-def TVs around, no craft beer. BBQ King accepts only cash or check, and after you place your order, the employees behind the counter shout it back to the kitchen: "Sliced king!" "Two chopped trays, hushpuppies!"
Jared tells me the shouting sometimes startles first-timers. "The girls up front, they're all nice and smiling. As soon as you get done ordering, they turn around and yell," he says. "You can tell the people who are new here."
Most customers aren't. Some have eaten at BBQ King since the '70s, when Steve smoked the shoulders at his home farm a few miles away and lugged them to the restaurant every day. "We have our regular people that come in every single day," Jared says, "sometimes twice a day."
Barbecue—pit-smoked and slow-roasted for a full day—isn't something people tire of. It takes time, though. Pitmasters are usually up way before the sun, tending to what'll soon become an order for a chopped pork sandwich, hollered out: "Chopped king!" —Emma Way
* Your credit cards are no good here. Cash and check only.
---
Est. 1986
Multiple locations
Currently doing takeout.
THE SIGN OUT FRONT of Lancaster's BBQ in Mooresville tells visitors and passersby everything that sets it apart: A cartoon pig in a chef's hat with a checkered flag around its neck sits in the middle of the sign, while "Stock Car Capital of the World" stands proudly at the top—an indication that Lancaster's is as much about its patrons and where they live as the food it serves.
Lancaster's is a Lake Norman-area fixture, which Jeff Lancaster, who had recently left the Air Force, and a buddy, Joe Phiffer, opened in a former gas station in June 1986. It was first called Joe's Old Fashion Bar-B-Que, but the next year, Jeff bought out his friend, enlisted his wife, Terry, as a partner, and renamed the place.
As a third-generation restaurateur, he relies on recipes and techniques passed down from his father, Bryant, and grandfather, Tommy, the original owner of another Mooresville landmark, Big Daddy's Restaurant and Oyster Bar. The Lancasters opened a second location in Huntersville in 2006.
"It's kind of a dance," Jeff says. "You've got to make adjustments so it comes out pretty much the same each time."
Reflecting its location, the Mooresville restaurant is a racing fan's playground. It has black-and-white checkered floors, NASCAR car hoods on the walls, and a school bus parked in the middle with tables inside. Bikers on Harleys and families with kids come for the live music, arcade games, and racing memorabilia.
Both locations serve eastern-style barbecue that Jeff prepares himself. He rubs pork butts with salt, pepper, and a secret seasoning, then cooks them for 12 to 13 hours on the wood-burning gas smoker. The menu also includes smoked brisket and baby back ribs. Combo platters come with fixings like Brunswick stew, fresh collard greens, fried okra, eastern slaw, seafood slaw, and hand-cut chips.
For Jeff, eastern-style wasn't just an option, it was inherited. "Back in the day, before refrigeration and the sugar trade was established, everybody felt tomatoes were poisonous … so people back then would use things like vinegar and spices to (preserve and) smoke their meat," he says. He at first thought Charlotte-area patrons wouldn't embrace it. "The opposite happened," he says. "It's not only the food that they embrace, but the hospitality of the South … and it's made them feel welcome." —Rachel Kang
---
Est. 1999
1166 State Hwy. 55 E., Clover, S.C.
803-222-5900
Currently offering curbside pickup.

GENE COURTNEY talks about his 20-year-old barbecue business in terms of two eras: before the recession and after. Before 2008, Courtney's BBQ won just about every regional competition it entered. Business was good: Gene and his wife and co-owner, Janice, had the money to travel from Clover, South Carolina, to Kansas City in 2007 for the American Royal Invitational, where their ribs placed eighth, and keep Courtney's open only three days a week.
After 2008, regulars who would drive 45 minutes south from Charlotte, Gene's hometown, to Clover stopped coming. Courtney's stayed open seven days a week instead of three, but Gene struggled to fill the 160-seat, wood-paneled food hall and its long, community-style tables. Six months after the recession hit, he greeted a smiling customer. He turned to his employees and said, "You see that person smiling? I ain't seen anybody smile in six months."
Gene is old-school in his approach to barbecue. He started making 'cue in the 1990s during downtime from his job as a commercial hardware salesman. He'd cook for friends at St. Paul's Church in Clover, smoking the meat with wood in a 55-gallon drum. He doesn't fuss with the classics—his Lexington-style sauce is a simple vinegar-ketchup-sugar combo. But at 62, he's not reluctant to embrace what's new, and that, in part, is why the recession wasn't the end of Courtney's.
When his grandchildren bought him a Smart TV for Christmas a couple of years ago, replacing his box-and-antenna set-up, Gene discovered YouTube and was sucked in: "I just click on something and just go, go, go, go."
Cooking videos inspired him to revamp his hot sauce and create a "mango bango" sauce (a blend of habanero peppers, mangos, vinegar, carrots, onions, and tomatoes), and improve his decades-old marinades to include more of the rich molasses flavor of Kansas City 'cue. "The ribs we're cooking today are better than what we were doing then," Gene says. "You're always seeing something you can do different, a little better."
Gene makes his own videos now, too. Wearing a red apron that reads "The Big Guy," his nickname with customers, he slices up a smoked pork tenderloin and posts the clip to Facebook. "Y'all come!" he writes; it's a message of welcome and urgency. He needs smiling customers to keep Courtney's BBQ open.
"If we fail, we lose everything," he says. "We were just too hard-headed to go home, so we stayed here and had to work through it."
Business is growing again, Gene tells me. He's able to close on Mondays and Tuesdays now, so he can spend time with his 30 pigs and deep-clean the hall with Janice. He hopes to scale back to three days as he gets older. But he doesn't plan on closing. "We've cooked over two million pounds of barbecue … and we finally got it right a few months ago." He cracks a smile. "Maybe." —E.W.
---
Est. 2011
Multiple locations
Currently offering curbside pickup and takeout.
MIDWOOD SMOKEHOUSE pitmaster Mike Wagner says people often judge a barbecue restaurant by its exterior—if it's worn-down or well-hidden, it must be legit. "Just because it hasn't been around for a hundred years doesn't mean it isn't authentic barbecue," he argues. "Barbecue is an experience that's cemented in a lot of people's minds as kids, so it's a hard thing to beat when people have a memory or a favorite. I think that happens with barbecue more than any other food."
Midwood Smokehouse is Charlotte's big-box barbecue restaurant, the default spot for families with young kids, a safe bet for out-of-towners, and the one most likely to turn up in a Google search of best barbecue restaurants in the city. It's a concept from FS Food Group and longtime restaurateur Frank Scibelli, who operates four of them in the Charlotte area. (He's got another in Columbia, South Carolina, and one planned for Raleigh, too.)
Each location stays true to the original on Central Avenue, with oversized tables and plenty of bar space, flat-screen TVs visible from each seat, and barbecue- and beer-themed art on the walls. Platters come heaped with hickory-smoked pork, beef brisket, pulled barbecue chicken, and all of the essential sides. Its only drawback, perhaps, is that it isn't steeped in history.
It's why Scibelli spent more than two decades researching barbecue before he opened Midwood's first location in Plaza Midwood in 2011. He traveled through Texas with James Beard Award-winning chef and food writer Robb Walsh to meet with the region's best pitmasters and learn the history and flavors of authentic Texas barbecue. And he continues to send his pitmasters to 'cue camp (yes, that's a real thing). It's three days of intensive workshops, demonstrations, and extensive tastings.
Midwood's menu is a fusion of different regions—Texas, the Carolinas, and Kansas City. Executive Pitmaster Matt Barry's Kansas City-style burnt ends remain a fan favorite, and he says it's what he's proudest of. "There's this abstract idea of 'perfect brisket' that I'm always in pursuit of," he says. "I'm never satisfied, always trying to make it better."
For Scibelli, that's the definition of Charlotte 'cue. "We didn't have much of a barbecue culture here when we first opened Midwood; that's why we've worked so hard to put it on the map," he says. "As long as it's delicious, that's Charlotte barbecue." —T.B.
---
Est. 2018
923 Belmont Ave., 980-224-7584
Currently offering curbside pickup and delivery.
YOU COULD CALL SWEET LEW'S, which opened last year in the Belmont neighborhood, a "restaurant," which it technically is. That wouldn't be an unreasonable assumption, considering co-owner Lewis Donald was once the executive chef at upscale Reid's Fine Foods in Myers Park.
He would prefer you not do that. "It's not a restaurant," he says. "It's a barbecue shack."
Sweet Lew's occupies a compact lot in an urban and rapidly gentrifying neighborhood, but Donald and business partner Laura Furman Grice modeled it after back-country roadside barbecue joints on rural highways. "Keep It Simple, Stupid," the website reads. "The core of our menu stays the same every day." Sweet Lew's motto is "Cooked With Wood," which sounds oddly matter-of-fact unless you understand that's what distinguishes genuine Carolina barbecue from its many imitators.
The 450-square-foot smokehouse behind the establishment smells of pecan, peach, and hickory. Diners wedge themselves in at the handful of inside tables or the picnic tables on the cement patio out front. Another characteristic Sweet Lew's deliberately shares with its backroads forebears: It serves meat until it runs out.
"We don't want to serve day-old barbecue," Donald says. "That's the bottom line … I think if you're not running out, you're not serving a quality product."
Sweet Lew's barbecue is Lexington-style, pork shoulder only, seasoned with only salt and pepper, and smoked for 10 to 12 hours. Once it's served, you can add any of an array of sauces—eastern North Carolina vinegar, Lexington-style red dip, South Carolina mustard, even mayonnaise-based Alabama white, one of Donald's few deviations from tradition (and taste).
Sides include slaw, collards, baked beans, boiled peanuts, and on Fridays only, hushpuppies. Aside from its absence of squirrel meat, Sweet Lew's Brunswick stew is about as traditional as it comes, with smoked chicken, pork, lima beans, corn, and tomato.
Donald and Grice understand the perception that greets any newcomer with money who invests in Belmont, which until recently was one of Charlotte's poorest and highest-crime neighborhoods. That's why they're trying especially hard to make Sweet Lew's a part of the neighborhood, not just a business that happens to occupy space in it. He employs Belmont high school kids, who benefit from the stability of an after-school job. "Three out of six of my employees walk to work," Donald says.
His goal, he says, is to establish a "generational" business in Belmont, somewhere that can welcome patrons and families, whether they're tenured or new. Slow-cooking the pork shoulder out back takes time, he knows. So does making your new shack inspired by old ways part of an old community. —Ben Jarrell
* Sweet Lew's hushpuppies are sold only on Fridays.
CLICK >> FOR 7 MORE BARBECUE SPOTS WORTH A VISIT
7 More Barbecue Spots Worth a Visit
Red Bridges Barbecue Lodge
Reason to visit: parquet-style ceilings, vintage booths, and hickory-smoked pork cooked all night long
2000 E. Dixon Blvd., Shelby; 704-482-8567
Currently offering curbside pickup and takeout.
---
Gary's Barbecue
Reason to visit: colossal pulled pork sandwiches, free Cheerwine refills, and restored antique cars on display
620 U.S. 29, China Grove; 704-857-8314
Currently offering curbside pickup and takeout.
---
The Smoke Pit
Reason to visit: hickory-smoked pork served on lunch trays with cornbread or Texas toast
Multiple locations
Currently offering takeout.

---
Sauceman's 
Reason to visit: the "pitmaster experience" platter that's enough for two people, with your choice of four meats, four sides, and four hushpuppies​
228 West Blvd., 704-333-7070
Closed until move to 215 Southside Dr. in South End this fall.

---
Mac's Speed Shop
Reason to visit: beer, bikes, and barbecue (duh)
Multiple locations
Currently offering takeout.
---
Queen City Q
Reason to visit: sauces in whatever style you like and hushpuppies with a side of honey butter
225 E. 6th St., 980-272-6341
Currently closed.
---
The Improper Pig
Reason to visit: eastern-style pulled pork, St. Louis-style ribs, Korean BBQ salmon, Chaobao tacos, and a "no pig" sandwich for vegetarians
Multiple locations
Currently offering curbside pickup.