8 Must-Try Cheesesteaks in Charlotte
Some delight purists. Others proudly subvert the standard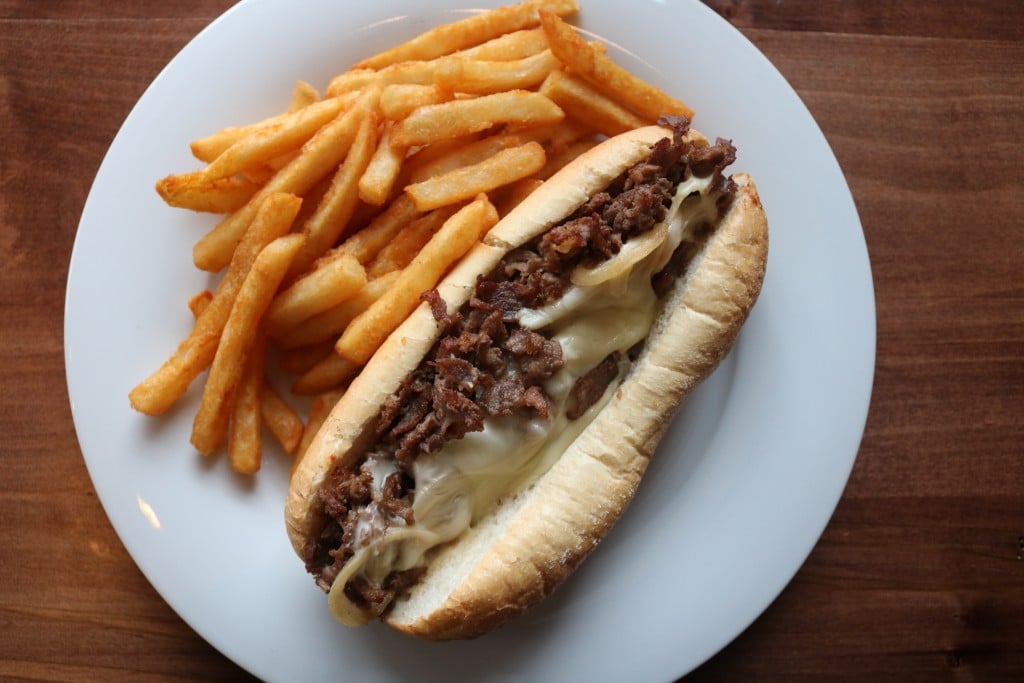 Updated: June 2022.
---
A true, Whiz-or-provolone, wit-or-widout Philly cheesesteak is difficult to find in Charlotte. Any native of the Philadelphia tri-state area, which includes parts of New Jersey and Delaware, can tell you that. But Charlotte is home to some fantastic variations. (As you'll see below, a few spots get it done the authentic Philly way.) This is not a comprehensive list, but it reflects some of the variety. If one of your favorites isn't here, let us know.
---
Clover Joe's Cheesesteak
124 Brevard Ct.
Even some skeptics point to this table-free shop at Latta Arcade in uptown as purveyor of one of the city's best cheesesteaks. A top pick from its "Famous Favorites" menu, this sandwich comes with or without peppers and onions on an 8-inch toasted Italian roll.
---

NoDa Market & Deli
1721 N Davidson St.
NoDa Market & Deli re-emerged in August after a three-year absence. Fans seemed most excited about the return of its fully loaded cheesesteak, with green and banana peppers, mushrooms, White American cheese, mayo, lettuce, tomato, caramelized onions, and jalapeños. The shop serves it on tinfoil inside a styrofoam container, both bellwethers of takeout authenticity.
---
Brewers at 4001 Yancey
4001-A, Yancey Road
Here's one for those open to the nontraditional: the Victory Cheesesteak. The secret to this one: the cheese sauce smothering the steak is infused with Prima Pils, the German-style pilsner produced by Victory Brewing Company.
---
The Steak'n Hoagie Shop
Multiple locations
The Steak'n Hoagie Shop has the advantage of longevity, having opened in 1979. You may recognize it from its frequent sharing of space with its sister eatery, Grecos Roasted Chicken. Steak'n Hoagie serves several cheesesteak varieties: Black & Blue (blackened seasoned steak, bell peppers, onions, lettuce, tomato, and blue cheese); South Street (steak, provolone and American cheese, onions, bell peppers, and steak sauce); New Jersey (steak, cheese, onions, lettuce, tomato, and oil and vinegar); Supreme (cheesesteak with onions, mushrooms, and pizza sauce); Steak Au Jus (self-explanatory); Philly (cheesesteak with onions); and Chicken, with cheese, onions, peppers, mushrooms, lettuce, tomato, and oil and vinegar.
---
House of Pizza
3640 Central Ave.
Here's a spot with a cult following. Solicit recommendations on social media, and this one brings a flood of co-signs. It lives up to the hype, and don't let the name deter you. This one comes with tender steak, mayo, provolone, mushrooms, onions, and peppers.
---

Midwood Smokehouse's 1930 Cheesesteak
Multiple locations
It says a lot that Midwood Smokehouse regulars love this barbecue sauce-free sandwich. The Midwood take is wholly the brand's own: thinly sliced brisket with Boar's Head White American cheese, mayo, and caramelized onions on a toasted roll shipped from JJ Cassone Bakery in Port Chester, New York.
---
Cheat's Cheesesteak Parlor
Pop-up (for now)
Like Verica, this pop-up uses Amoroso's roll, but this concept distinguishes itself with its use of Cheez Whiz (which is coveted by certain purists). Owners recently shared that a brick-and-mortar is coming to the Plaza Midwood area in the spring.
View this post on Instagram