6 Things to Know About the Southeastern Wildlife Exposition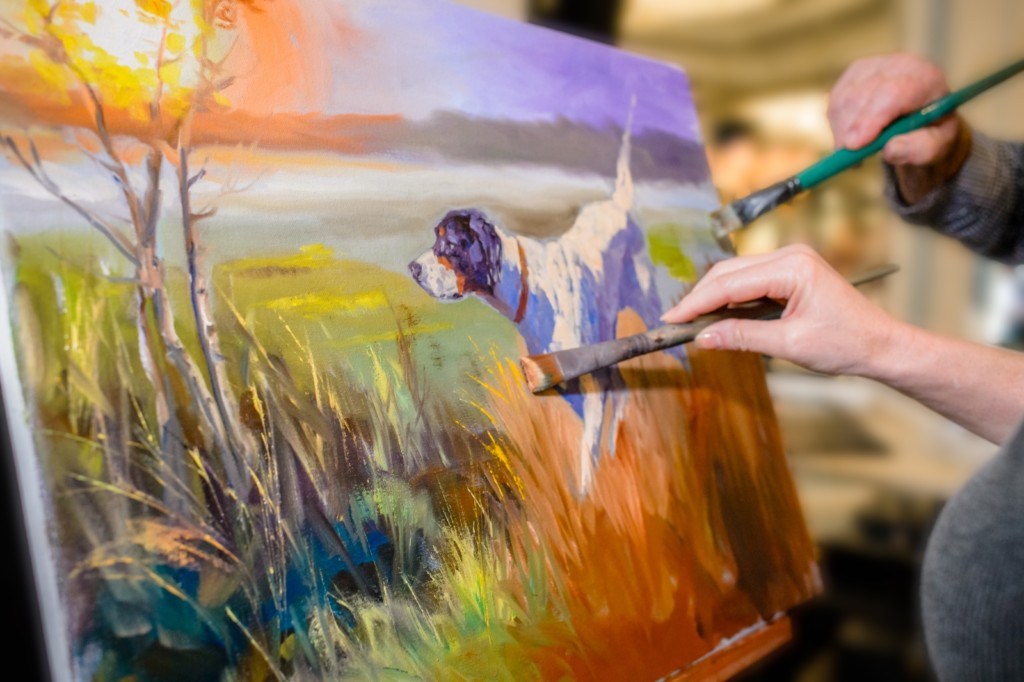 THERE ARE PEOPLE who appreciate wildlife, and then there are people who should. For the former, the Southeastern Wildlife Exposition (SEWE) in Charleston offers a three-day event for nature-loving folks to gather, enjoy beautiful art and demonstrations, and learn more about protecting our Earth's undeniable need for healthy, varied wildlife.
If you're wondering what exactly SEWE is, you've come to the right place.
1. The Vitals
The Southeastern Wildlife Exposition will be taking place February 16, 17, and 18 in 2018. The best part about this exhibition is that it's not confined to one, stuffy expo center. It's spread out across Charleston (everything is within walking distance), so you can enjoy the city while flitting to and from each event. The main locations to know are the Marriott Hotel, Charleston Place, Gaillard Center, Marion Square, and Brittlebank.
See the map here; if you don't want to or can't walk from place to place, your general admission ticket includes free shuttle rides. And if you've got a VIP badge, you get access to the express shuttles. Getting around is easy at SEWE, which makes it completely visitor-friendly. The bus routes scoop right through the Marriott Hotel, so no travel stress for you!
2. The Goods
So you might be curious what to specifically expect at this exhibition. For one, there's fine art. Since 1983, SEWE's been hosting incredible nature and wildlife artists, and this year's five newest artists are sure to make a splash. The fine art can be seen in the Fine Art Gallery at Charleston Place.
There's also a marketplace. At the Charleston Gaillard Center, there will be a beautiful, curated collection of goods from local, regional, and national artisans and makers. Handmade products for sale will include items such as ethically sourced jewelry, finely crafted wood items, and wall hangings. There will also be highly skilled knife-makers on-site, but their knives sell fast at SEWE, so get there quick.
In addition to all these fun details, there will be a plethora of live presentations from beloved wildlife companies and ambassadors as well as interesting educational events. One of the highlights of the 2018 exhibition is Jack Hanna, who you might know as America's favorite zookeeper. Animal activist, TV personality, author, and conservationist Hanna will be presenting all weekend long and is sure to put on a compelling show. (Seating is first come, first served.)
Oh, and let's not forget the scheduled soirees and special events.
3. The Exhibitors
We'd love to list all the exhibitors you'll see at SEWE, but it'd seem like a moot point since there are literally hundreds and they're already listed here. If you follow that link, you can also search exhibitors according to location, which is a very nice touch.
4. The Price
You can purchase one-day general admission tickets for $25 each, or you can opt for the full three-day GA ticket, which is a steal at just $50 total. (Head here for general admission tickets.)
Of course, if you consider yourself more than just a friend to nature and more of an active proponent, you may want to sport a VIP badge, which varies in price depending on the perks you wish to receive. There are VIP options ranging from $200 to $5,000, and all of these choices include more than one badge. The $5,000 option, for example, is titled Ambassador Benefactor and includes 10 badges, a table for 10 at the Award for Conservation Dinner, and an actual Award for Conservation, among many other special opportunities.
5. The Schedule
Once you've purchased your ticket(s)—GA or VIP, no judging here—it's advised you keep a good eye on the event schedule so you don't miss any must-see happenings. Check out the SEWE 2018 schedule here. Even though the exhibition technically runs from Feb. 16-18, you may notice that there are private viewings available beforehand on the couple days prior—extra reasons to purchase the VIP badge.
6. The Accommodations
Plenty of Charlotteans know their way around Charleston, being that the coastal city is just over three hours from Center City. But it never hurts to tweak your travel itinerary based on your destination. Consider staying at one of SEWE's hotel partners for a comfortable stay.
The upcoming SEWE will be a must for 2018, but don't sleep on securing your tickets. Whether you're simply looking to connect with like-minded individuals or want to step up as a conservation and animal activist, there's something for everyone at SEWE.