6 Things You Didn't Know About Phillips Collection President Mark Phillips
His "most important meal of the day" isn't your typical eggs and bacon. It's not fruit or oatmeal, either.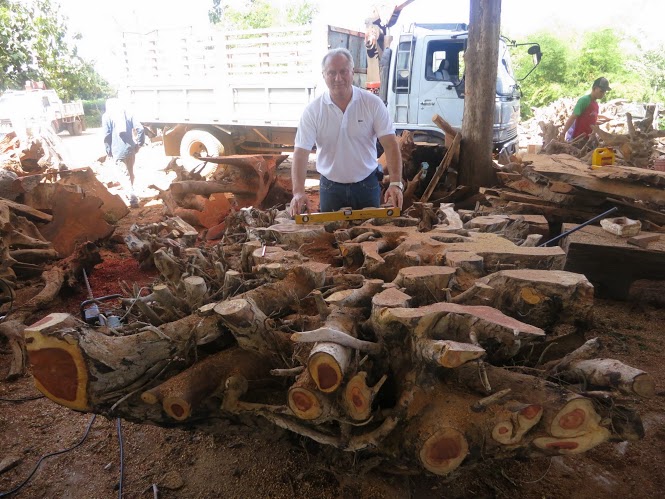 Ever wondered what goes through a collection curator's mind when selecting new pieces? What about the day-in, day-out mantra that the same curator lives by? We wanted to get inside the mind of Phillips Collection Company President, Mark Phillips, to see what exactly makes the man tick.
Phillips Collection is a North Carolina-based interior design vendor (a favorite of Designbar owner, Monika Nessbach) with showrooms in High Point, NC, its headquarters, as well as New York City, Las Vegas, Atlanta, Dallas, Los Angeles, and Laguna. Larry and Sherry Phillips, their son Mark, and Mark's wife Julie created Phillips Collection to satiate a thirst to travel the world and bring conversation-starting antiques, artifacts, and hand-crafted objects to the interior design world. Son Jason later joined the team, creating award-winning contemporary pieces, and last was daughter Jessica, who brought her marketing background to the family business.
Phillips Collection was born and thrives on unique discoveries, and now Mark, the president, travels all around the world to pick the perfect pieces to add to the collection. Here are five things we wanted to know about Mark Phillips, so we asked via email because he has been traveling in Indonesia, of course…
Alyssa Ruane, for H+G: Traveling all over the world, you've got to have some interesting adventures. What's your craziest story of discovery?
Mark Phillips: You have stumped me with this question… Literally. While surveying the remnants of a long ago felled tree in the forests of Indonesia, I actually tripped on a protruding root system and fell flat on my face. "Staring" right at me was a beautifully modeled and sinuous root. I asked my crew to carefully dig this up following the natural curves and twists. I looked at it in place and realized this hidden gem is stunningly beautiful. We kept it intact, sanded the curves and crevices and mounted it on an iron base. The result is our wildly popular Mahoni (Indonesian for Mahogany) Root Sculpture. Each one is different, each one created by nature.
AR: What thoughts go through your mind when selecting new pieces?
MP: Is it beautiful? Is it unique? Is it organic? Does is look like a hand has touched it? Does it delight? Does it provoke conversation?
AR: Do you have any hidden interests or hobbies besides what you do for a living?
MP: I am an electronics junkie. I am proud to be an early adopter. I often buy things for the concept more than the need. I am a happy crowd-funder for Internet concepts. I need this oxymoronic logic-driven outlet to balance out the creative demands of our daily artistry.
AR: What was the first thing you ever wanted to become "when you grew up?"
MP: I wanted to be a short order cook. I have no aptitude for cooking and no concept on how things come together in the kitchen, but I loved the pace, the language, and the 'many balls in the air' the magicians of New York delis exhibited. I think I secretly recognized them as the first multi-taskers and appreciated the concentration and effortless output.
AR: Do you have a mantra or life motto you live by?
MP: Winners answer. Losers explain.
AR: What's your favorite breakfast meal?
MP: Thai soup. I love the spice, fragrance, and kick I get out of chili-laden broth.
AR: Is there anything else people might not know about you?
MP: I have a secret crush on Beyoncé. My wife already knows.