7 Charlotte Love Stories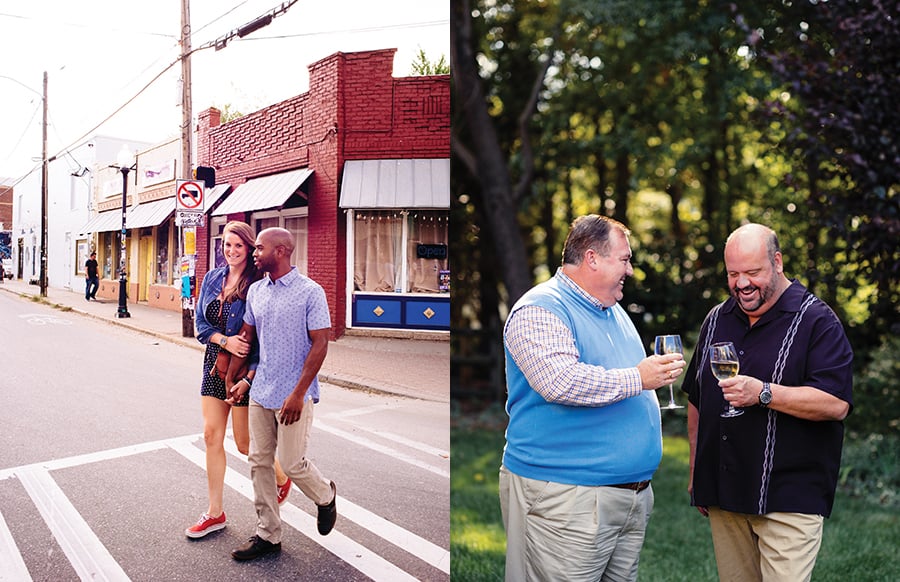 DR. DAVID CHADWICK has performed hundreds of marriages, counseled countless couples, and has been married to his wife, Marilynn, for almost 40 years—and even he has a hard time defining love.
"We only have one word, and it's woefully inadequate," says Chadwick, the senior pastor at Forest Hill Church. "In the Greek language, there are four words for love."
Storge is the Greek word that describes family love, love toward kids, parents, grandkids, aunts, and uncles. Eros, from which we get the word erotic, is the Greek word for emotional love (this includes sexual attraction, and is what we feel when we fall in love). Philea is the word for love in friendships (what we experience with our closest friends). Finally, agape is the Greek word for unconditional acceptance of another person just the way he or she is, and it's the willingness to lay down your life for another. Agape is the highest form of love.
"Every healthy marriage should have all these four kinds of love," Chadwick says. "When they do, they last forever."
Love has endless definitions and is not limited to couples. Below, we'll bring you seven Charlotte love stories. They are stories that connect couples, parents and children, and people and places.
---
THE RIGHT MATCH
Paula Bartlett // 29
partner/co-owner of #thesavageway
Marcus Willie // 35
project manager with Trinity Partners Construction
Together since August 2012, engaged on March 14, 2016
FOUR YEARS AGO, Marcus Willie saw a beautiful woman sitting alone drinking a dirty martini at Jack Beagles in NoDa.
This was Memorial Day 2012, a recovery day for Willie. He had just gotten back into town from a beach trip, and he and his roommate decided to have a few holiday-weekend-closing drinks at Jack Beagles, a bar in their neighborhood. The place was mostly empty.
"My first thought was, 'Some lucky person has got to be meeting her,'" Willie says now.
But minutes passed, and Bartlett remained alone. Tim Burton's Alice in Wonderland was playing on the television at the bar. Willie walked up to Bartlett and casually told her that he liked the movie and she might, too, if she watched it.
Willie didn't want to come on strong, though, so he walked away. He went outside and got his bicycle, but instead of leaving, he decided to go back inside to see Bartlett. "I told myself that if (when I got back in) she's still watching Alice in Wonderland … my chances may be pretty good with this one."
Willie had learned a few things about love in his life. His parents have been together for almost 45 years. The keys, he says, are putting the other person before yourself and kissing when you get home from work and before going to bed.
Bartlett, meanwhile, was jaded. She'd been in difficult relationships in her past and watched her parents' marriage dissolve into divorce when she was young. "I never thought I'd be married," she says. "I was content with the idea of it always being just me navigating the world."
But in those few moments when Willie went out to get his bike, Bartlett stayed at the bar. When he came back inside, he turned his eyes directly toward her to see if she was still watching the movie.
"Lucky for me," he says with a smile, "she was."
---
FOR LOVE OF COMMUNITY
Shannon Vandiver // 41
Charlotte area motorsports and litigation attorney and current president of the Junior League of Charlotte, Inc.
For five straight days in April 2016, Shannon Vandiver wore the same dress, part of the Little Black Dress Initiative. Those in poverty don't have the luxury of a well-filled closet, and when asked why she was wearing the same dress each day, Vandiver used the question to educate Charlotteans on poverty. Even as an experienced community volunteer, she was troubled by the statistics.
"Over 4,000 children in the Charlotte-Mecklenburg school system are homeless," Vandiver says. "That's unacceptable to me."
In June 2016, Vandiver became president of the Junior League of Charlotte, a 90-year old women's organization that focuses on developing women as leaders and on serving and improving the community. Through the league's Healthy Family Initiative, volunteers focus on the physical, dental, and mental health needs of families and children, from infancy until adulthood, in Charlotte.
"We should all be more intentional," Vandiver says. "Loving this community and all of those who call it home, to me, means that everyone should have someone that is pouring into them and someone they are pouring into."
---
WHEN YOUR HIGH SCHOOL SWEETHEART IS YOUR BACON
Charlitta Hatch // 32
technology consulting manager
Mark Hatch, Jr. // 32
disability case manager
In each other's lives since 1999, married since 2015
In 1999, two sophomores at Vance High School met through friends and ate at the same lunch table. The boy had just moved from Kentucky and was calm and confident. The girl was outgoing and funny.
"He was immediately my crush," Charlitta Hatch says. "I even dedicated a page in my senior book and yearbook just for him."
Despite granting Mark Hatch all that print space, Charlitta says she had an off-and-on relationship with him for most of the next 14 years. At one point, they went five years without speaking. But in November 2013, Charlitta finally said something.
"I told Mark that the ebbing and flowing was not working," Charlitta says.
The ultimatum worked. They decided they needed to give their relationship a real chance. A year later, in 2014, Mark proposed, and Charlitta said yes.
"That time apart allowed us to grow as people and to appreciate each other more," Mark says. "I don't think we take each other for granted at all, and that's mainly because we know what it's like not to have the other person."
"He makes everything better," Charlitta says. "He is like bacon. That's it. Mark is like bacon."
---
A BABY COMES EARLY, AND WITH A LITTLE BIT OF LUCK.
Kseniya Martin // 32
digital marketing consultant
Brandon Martin // 31
product manager at Positec
Together for eight years, married for five years
SHE SHOWED UP TO GOLF CLASS wearing red heels, and a boy with red hair couldn't stop staring. Kseniya and Brandon Martin were marketing majors at UNC Charlotte, but hadn't met until they both took golf as an elective. They were both already in relationships, but one day, she hit him in the leg with a ball from across the driving range. Brandon looked for the culprit with a scowl on his face, but smiled once he saw who hit him. Luckily, the strike didn't hurt and a playful friendship formed.
"On graduation day, I sought him out to take a photo," Kseniya says. "I wanted to remember the cute, red-headed kid."
Months after their 2007 graduation, a friend reached out to Brandon on Facebook to let him know Kseniya was now single. He quickly asked her to hang out.
"I found myself with a shattered heart, but not a shattered spirit, and thought, 'What do I have to lose?'"
They went on a few dates, and Brandon knew he wanted her to be his girlfriend. He pushed aside his nerves and tried to be smooth, asking her, "Will you be my girl?"
"She didn't understand what I was asking her, and so she didn't answer me," he says. "Needless to say, I changed the subject pretty quickly. It was a week later that she asked me why we weren't an official couple! I had to laugh and tell her I tried. This time, she said yes."
The girl with the red shoes and the boy with the red hair continued to date, and eventually married in October 2011. A few years later, Kseniya became pregnant, and they learned they were expecting a girl. As the pregnancy progressed and got closer to delivery time, Kseniya knew something was off.
Here is their delivery story, in Kseniya's words:
"MY DAUGHTER'S BIRTH was both the most terrifying and the most calm moment of my life.
"I KNEW A FEW WEEKS before her birth something was going to happen. We were in the process of house-hunting, and one night I freaked out and said we need to put our search on hold, in case something was to happen with the baby. Call it mother's premonition. I was 30 weeks pregnant at the time.
"AT 33 WEEKS, I had my weekly checkup at the OB/GYN. They checked the baby's heartbeat, and it was harder to find than at previous appointments. I'd been experiencing swelling of the limbs, back pain, rib pain, and a slew of other things I thought were normal pregnancy symptoms. The baby also wasn't as active, but I thought it was because she was just running out of space. I felt like a whale with seven more weeks to go.
"ON FRIDAY, May 1st, we drove down to St. James (Plantation, near Southport) to spend the weekend at the beach with friends. The little voices in my head were telling me to not go, but this was going to be our last 'vacation' for a long time, so I ignored them.
"HAVING TO GET UP in the middle of the night to pee is an annoying symptom of being pregnant, especially in the third trimester. Saturday night wasn't any different other than the number of times I had to get up. On the fourth or fifth time, I felt 'the gush.' The infamous gush everyone talks about, but you won't know until you experience it.
"I RUSHED to the bathroom and I felt like gallons of water exited my body. When I felt like it subsided, I walked back to the bedroom to let Brandon know what had happened. I was scared, but surprisingly calm. Him, on the other hand … not so much.
"IT WAS BARELY six in the morning. and we were 45 minutes away from the nearest hospital. My biggest fear was the type of hospital we would find in Wilmington. Luckily, once we got to the hospital, I realized we were in the best possible place.
"THE BABY continued to show distress. Just when you thought she was stable, she would crash again. She kept cutting herself off from the blood and oxygen supplies by grabbing the umbilical cord.
"FINALLY, SHE stabilized. This time for a decent amount of time, so Brandon left the hospital room to get his bearings. The nurse assigned to me left to go care for another patient. I was alone.
"THEN IT HAPPENED AGAIN. The monitor showed the baby in major distress. I tried everything that the nurses had me do. Turn my body on the right side. Turn my body to the left side. Nothing changed. I pressed the call button for help, and no less than a minute later, a SWAT team of medical professionals were in my room. They wheeled me off to surgery.
"CHARLOTTE WAS BORN via cesarean section 12 hours after my water broke on May 3, 2015. I got to hold her with one arm and say hello before she was wheeled off to the NICU.
"DURING POST-OP RECOVERY, the nurses informed me that we were lucky to be alive, both the baby and me. The whole week leading up to her birth, Charlotte tried to tell me something was wrong. I was uninformed and thought that all of the symptoms I had were symptoms of being pregnant, not a placental abruption. I later learned that a placental abruption is where the placenta separates from the uterus, causing oxygen deprivation for the baby and serious bleeding for the mother and child.
"HER EARLY ARRIVAL saved both of our lives."
---
IN LOVE AND IN BUSINESS
Armin Desch // 53
owner and president of Armin's Catering and Events
Gary Myerscough // 51
operations manager and social media manager of Armin's Catering and Events
Together for almost 19 years
A MAN PREPARES A BREAKFAST sandwich behind the counter of his concessions stand and hands it to you. You immediately notice his smile. With the first bite, you think that this man could be someone special.
This is how Armin Desch and Gary Myerscough met. In 1997, at the Mecklenburg County Aquatic Center, Desch ran a concessions stand and Myerscough worked for the county out of an office at the center.
"I thought Armin was so handsome," Myerscough says about his first impression of Desch. "He also made me a great breakfast sandwich every morning when I got to work."
"I thought Gary was nosy," Desch says with a laugh. "He asked me a lot of questions!"
Their first date set the fun tone for their relationship.
"We like to joke about how I oversold myself," Myerscough says. "On our first date, I picked Armin up in my father's Jaguar. Armin thought he had snagged a rich one, which at the time was far from the truth."
In January 1999, they purchased their first house together. In 2005, they moved to the MacAulay subdivision in Huntersville. They now share that house with Phoenix, a blind rescued beagle; Paris, a shih tzu they have had since she was a puppy; and Pia, a rescue cat from a feral colony in Lake Norman.
Desch and Myerscough are also business partners. Desch has been in the food and restaurant industry in the Charlotte area since 1989, when he opened the Country Boardwalk Deli on Kings Drive near Carolinas Medical Center. They now operate Armin's Catering and Events in the Lake Norman area and own The Pearl Wedding and Events Center in Cornelius.
So how's it work, owning a business and staying together?
"We are in love," Desch says, "but we are also best friends and don't do many things apart from each other."
---
FOR LOVE OF SELF
Lauren McAbee // 35
holistic lifestyle and movement coach
ON SEPTEMBER 23, 2014, Lauren McAbee and her two children left her marital home for the last time. She was ending an almost 14-year marriage and changing everything. She found comfort in her yoga mat.
"Countless nights, after putting my kids to sleep, I would find healing in the movement, the breath, the solitude and meditation on my mat," McAbee says. "All my life, I looked to others for happiness. I thought the events or plans of my day determined my joy. I have finally found freedom in madly loving myself."
McAbee soon formed her own business, Essential Thrive, to share the power of love. Through Essential Thrive, McAbee teaches Chakti yoga (traditional yoga asana mixed with movements that some would call hip-hop dance), advises on a holistic approach to living, including education on the benefits of essential oils, and advises on healthy eating habits.
"I want to empower as many people as possible, to understand this simple concept: You are made to feel amazing," she says. "You are made to thrive and in your natural state, despite what life has given you."
McAbee has established a following of women and men interested in what she has to teach them about self-love.
"It would make me eternally ecstatic for people to understand that self-love is never selfish," McAbee reflects. "Taking time for you, to better you, to love on you, is exactly what we all need. Our ability to love others depends on our capacity to love ourselves. Your body wants love from you. … It's hungry for it. You have the power to choose how you see every situation. Choose love."
---
IN SICKNESS AND IN HEALTH … AND AN RV
Callan Bryan // 44
attorney and entrepreneur
Nicole Bryan // 42
attorney, student, part-time homeschooler, and a two-time stage-four cancer survivor
Together for 19 years, married for 16 years
WITH ONE FINAL SIGNATURE, the recreational vehicle belonged to Callan Bryan and his family. Although it was a significant financial investment, the greater investment was what it would mean to Nicole, to them, to their family. The memories they would make in it, Callan believed, would far outweigh anything cancer could throw at them.
Let's go back, though, to before the RV. They'd met at Campbell Law School, but they didn't meet there.
"I had my nose in the books the entire year," Callan says with a laugh. "On the day of exams, the rest of the class was bleary-eyed and in sweats, and in walks this very tan and beautiful girl wearing a long dress. Everyone was looking at her. I couldn't understand how she was so tan and relaxed. … I remember thinking, 'She's not going to do well on the exam.' Well, she got the highest grade on the test and barely studied."
Callan officially met Nicole the summer after their first year of law school, during an internship at the New Hanover County district attorney's office.
"His first question to me was, 'And where do you go to law school?' He was surprised when I said, 'Campbell, with you.' One of the many reasons I love Campbell is that it was the place I met my sweetheart."
They talked about everything, and they talked a lot on the phone. Nicole's phone bill from their nightly conversations, which sometimes lasted four hours, cost more than $400. Nicole's father paid it.
"My daddy held onto the first month's phone bill for two years," Nicole says. "And, then, when we graduated, Daddy gave that phone bill to me in a Bible he gave me as a graduation gift. He knew Callan was the one for me."
As their time at Campbell came to a close, Callan and Nicole interviewed at different firms, but quickly grew disenchanted with their prospects. One day they had lunch at The Soda Shop on Main Street in Davidson and discussed opening their own firm. Within 10 months of graduating from law school, they took and passed their bar exams, opened their own practice, bought a home, and got married.
After numerous miscarriages, Nicole and Callan had a son, Cal, who's now 11. Lily (nine) and brother Will (seven) soon made a family of five.
In 2012, at the age of 38, Nicole found a sore on her tongue that wouldn't heal. Nicole was diagnosed with oral cancer. She soon had a third of her tongue removed.
"She woke up on a Sunday, and she told me that she knew she had cancer," Callan says. "She knew before the diagnosis came in."
Seven months after the surgery on her tongue, the family was in Washington, D.C., for July Fourth when Nicole began to feel as though something was wrong again.
The cancer had spread to her lymph nodes and beyond. She had stage-four cancer, and was immediately scheduled for a radical neck dissection.
"I've had (nine cancer-related) surgeries, eight weeks of radiation to my face and neck, three regimens of chemo, participated in a clinical trial, lived in Chapel Hill away from my family for three months, survived a few stays in the ICU, relied solely on a feeding tube for hydration and nutrition for nine months, and my doctors gave me a 30 percent chance to be alive in five years," she says.
Before the surgery in 2013, Callan called a photographer friend to take family portraits in case the worst happened.
"She was having a neck dissection, and there was a chance she could be disfigured, or …" Callan trails off as his voice catches. "My friend said that was the hardest photo assignment he had ever had, but we got some great photos."
Nicole spent three months in Chapel Hill in 2013. During that time, Callan found an apartment for them near the hospital. He even moved their bed and all of her pillows into the apartment.
"My job was clear," Callan says. "It was to give her body and her health every advantage that I could, to get her to heal. I created spreadsheets for her feeding, since she was using a feeding tube. We had 50 years of plans together; I wasn't going to let her go that easily. I don't know if it helped, but I hope it did."
Even if it didn't, Nicole's given thought to the future anyway.
"If it is my time to go home while our kids are still young, there is no better father I would rather leave my children with," she says.
And about that RV.
In February 2014, Nicole was scrolling and clicking online when she came across an RV she liked. It was in Pennsylvania, but the distance mattered little to Callan. He got on a plane the next day, bought it, and drove it home. Since then, they've traveled to 46 states, been to 53 national parks, visited such sights as Graceland and the Gibson Guitar Factory, and gone dog-sledding in Park City, Utah.
"We might be working until we are 90, because we won't be able to retire," Nicole says. "But we will never regret traveling all over this beautiful country of ours, the five of us, in about 250 square feet, for weeks at a time, sometimes even months."
The RV also seems to have brought good news about the cancer. Doctors declared Nicole had "no evidence of disease (NED)" nearly three years ago. In November 2015, she had her last surgery, to remove benign tumors. There is a high likelihood of recurrence, so Nicole goes to see her oncologists for a checkup every six to eight weeks.
"I'm convinced the way to beat cancer is to get an RV," Callan says. "My goal with that was we may only have three years left and I wanted to make as many memories as possible for the kids. It was a horrible financial decision, but if she only lives three more years and we don't do this, we'll regret it. If she lives 50 more years, then we won't regret it. It was an easy decision."
Erin Maddrey is a freelance writer based in Charlotte who believes in all forms of love. Contact her at emaddrey@gmail.com or on Twitter: @ErinMaddrey.
---
This article appears in the November 2016 issue of Charlotte Magazine
Did you like what you read here? Subscribe to Charlotte Magazine »
---