7 Historic Charlotte Wedding Venues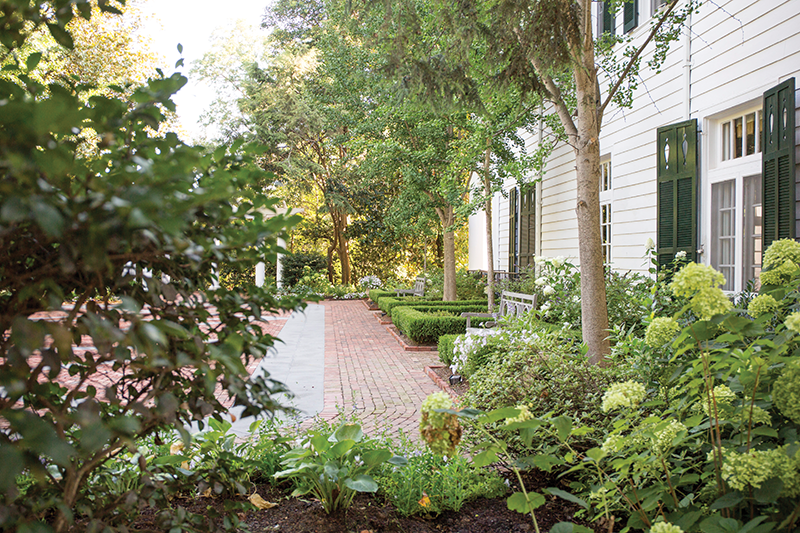 From restored 19th-century mansions to renovated schoolhouses and everything in between, Charlotte boasts several venues catering to those looking for something that captures our city's storied history and romantic past. Write your own page in the history book at one of these venues that serve as some of the city's most beloved and idyllic landmarks.
---
1. VanLandingham Estate
One hundred years ago, Ralph and Susie Hardwood-VanLandingham strolled the grounds of their gorgeous home after accruing wealth in the textile industry. Now, brides from across the state are drawn to the historic romance of what was once the home of one of Charlotte's most renowned families. 2010 The Plaza, Charlotte, NC, (704) 334-8909, vanlandinghamestate.com
Of note: Springtime weddings provide flawless photo ops, as azaleas, dogwoods, tulips, and rhododendrons are in full bloom.
---
2. The Palmer Building
The stunning, rubble stone façade of the iconic Palmer Building is hard to miss. Built during the 1930s as part of President Franklin Roosevelt's Works Progress Administration during the Great Depression, now its castle-esque qualities make it the perfect venue for couples looking for Old World style. 2601 E 7th St, Charlotte, NC, (704) 331-4737, thepalmerbuilding.com
Of note: The interior stone fireplace makes Palmer Building weddings especially cozy in fall and winter.
---
3. The Duke Mansion
If you're looking for romance, stunning traditional architecture, and timeless Southern elegance, The Duke Mansion is for you. The black and white marble floors in the Grand Foyer provide the perfect entryway, while guests will love mingling through the courtyard, garden, and solarium in the former home of James Buchanan Duke. 400 Hermitage Rd, Charlotte, NC, (704) 714-4400, dukemansion.com
Of note: For additional space and ensured privacy, brides may rent the entire main floor of the house, which can accommodate 150.
---
4. The Laboratory Mill
The Lincoln Cotton Factory dates back to 1819. Nearly 200 years later, it's transformed into a one-of-a-kind venue with breathtaking views of the nearby Southfork of the Catawba River. 848 Southfork Rd, Lincolnton, NC, (704) 240-4718, thelaboratorymill.com
---
5. Historic Rosedale Plantation
Say your vows and dance the night away at Charlotte's 200-year-old plantation – the ideal venue for brides looking for antebellum romance. 3427 N Tryon St, Charlotte, NC, (704) 335-0325, historicrosedale.org
Jonathan Volk
---
6. Ritchie Hill
The recently renovated 1906 Victorian home and grounds span four acres of gardens and entertaining space. 391 Union St S, Concord, NC, (704) 975-5517, ritchiehill.com
Lauren Rosenau Photography
---
7. Rural Hill
Nestled on 265 acres of farmland that dates back to 1780, Rural Hill boasts unique touches like horse drawn carriages, fire pits, and hay rides. 4431 Neck Rd, Huntersville, NC, (704) 875-3113, ruralhill.net
---
---