7 People, 4 Dogs, & a Broken Couch: A Florida Native Hosts His Evacuating Family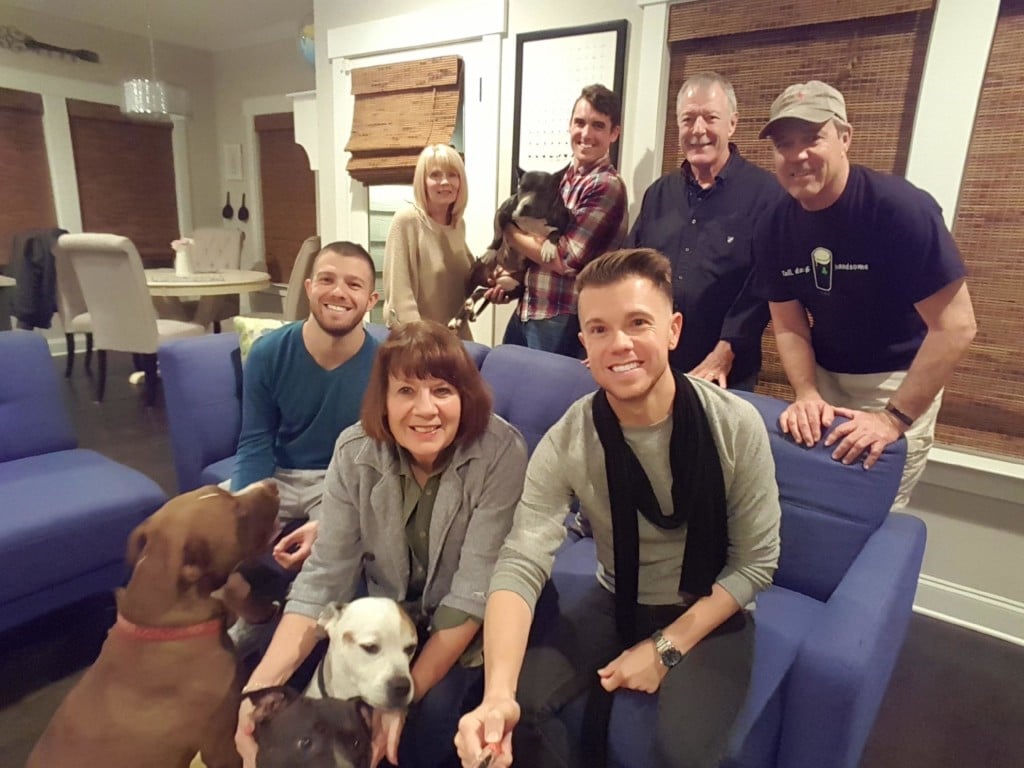 YOU LEARN A LOT about a person from what she throws in a suitcase before she evacuates her home of three decades, thinking she might never return.
For my mom, it was my brother's University of North Florida diploma, 20 family photo albums, and the 2001 videotape of us on Family Feud.
For her, it was the irreplaceable things. The things that, even after an insurance claim, she could never hope to recover. The home movies that, even though she could never possibly watch anymore because she hasn't had a VCR in a more than a decade, wouldn't survive a 15-foot storm surge toppling their fence and crashing into their home.
The flat-screen TVs or the thousands of dollars worth of furniture and flooring she bought just months ago didn't make it in my brother's car in the last-minute decision to flee Hurricane Irma. They're still in Clearwater, Fla., in the only home I had ever known for the first 22 years of my life.
Like many longtime Floridians, my family didn't originally plan to leave for Hurricane Irma. Early reports had the storm's outer bands' speed topping 105 miles per hour when it swarmed past the west coast of Florida, grazing past Tampa Bay as it swallowed Miami.
We'd lived through hurricane season year after year and had always been fine. There was the triple wallop of Hurricanes Charley, Frances and Jeanne in 2004. There was Tropical Storm Fay in 2008 that flooded Gainesville so badly in August that the University of Florida canceled my college orientation. And there was Hurricane Elena in 1985 before I was born that my parents still talk about. It teased and taunted Tampa Bay, standing still out in the Gulf of Mexico, drenching my parents' home for days. My family's first dog, Frazier, a pit bull-boxer mix, refused to go out in the rain for three days while Elena raged, so the family legend goes.
We're Floridians by heart, and we'd never evacuated. We threw hurricane parties, we laughed at Northerners who stampeded our Publix for water and batteries much like they laugh at the Charlotteans like me who rush for bread and booze before a snowfall.
But on Saturday morning, we woke up to reports that, instead of Miami and Florida's east coast, Hurricane Irma had drifted to the west and was poised to devour my childhood home as a cataclysmic category four storm.
This was different. Even for us.
My mom, Shirley, told my brother, Austin, and dad, Dave, to quickly pack a bag for the weekend. Somebody, she said frantically, get Sasha and Max, their two pit bulls, and get in the car.
They were evacuating to Charlotte.
***
I GRADUATED from the University of Florida five years ago and moved to Charlotte to work with Teach For America. I taught first grade for two years, and then moved to Washington, D.C. to follow my dreams as a reporter.
I started repacking my boxes two months after getting there.
It was too busy, too noisy, too completely un-Charlotte to make a life there and to call it home. I had already fallen irrevocably in love with Charlotte, and so my life had really already been decided. There was no use trying to call somewhere else home now.
So in early 2015, I moved back and started writing for this magazine in the city that had taken me under its beautiful Southern wing.
Five months later, I met Nate, the man I live with now, the man who on Saturday morning was the one who texted my mom and not so much asked my parents if they were evacuating to Charlotte but rather, politely, told them.
Twelve hours later, Austin, my parents and their two bulky pit bulls tumbled out of their car and up our steps, boxes of photo albums in the trunk, dog food in the back seat, looking for a place to call home for the weekend.
And they certainly weren't the only family doing this, leaving most everything behind to race to Charlotte for safety. The roads coming north were crowded with Florida license plates, my parents said. The next morning when we went to Joe's Doughs in NoDa, the cashier asked my mom where her ZIP code was from. Florida, she said.
"Oh, are you visiting or are you a refugee?" she asked.
Even the Tampa Bay Buccaneers, my hometown football team, evacuated to Charlotte after the Panthers offered them refuge in the most respectable form of Southern hospitality. The football team, reportedly, chartered five planes to Charlotte to flee Irma.
It might have been more luxurious than a 12-hour car ride with a 12-year-old pit bull breathing in your face all the while, but, like my family, these players were leaving their homes for Charlotte too.
The Queen City had opened her arms to all.
For perhaps the first time in our lives, in a complete role reversal, my parents were seeking shelter with me. I had fled to Charlotte to start my life five years ago, and here they were, on my doorstep, hoping Charlotte could help continue theirs.
It was loud. It was crowded. And with our two pit bulls, Sawyer and Stella, there were just so many dogs.
It was messy and inconvenient and stressful and all those terrible things.
But it was home. And I was happy.
***
LIKE A BAD CARICATURE of tried-and-true Floridians fleeing a hurricane, my family brought only flip-flops and shorts, so we went to Target early Sunday morning to buy sweaters.
We made sandwiches for a picnic later, and the dogs – all four of them – played in the yard all morning. They didn't care about hurricanes or insurance policies or did they remember to get their birth certificates before they left. They were with people who loved them, and they were happy. Soon after, they were sleeping, curled up on two beds, Stella and Sawyer sharing their beds with their evacuee brethren who hadn't room in their car to bring their own beds.
My aunt Trish and uncle Murray, who live 10 minutes away from my parents and, in low tide, about 500 feet from the shore, left after my parents. They stopped in Columbia at 1 in the morning Sunday, and finished their evacuation to Charlotte Sunday afternoon.
When they got here and unloaded their belongings, we went to Pinky's and ate pimiento cheese and a few tables down, my parents talked to fellow evacuees from Hilton Head who had fled their homes for Charlotte, too. Everywhere we went, they weren't alone. Charlotte, at least for now, was home for many.
We played cards around Nate and my dining room table while my mom squinted her eyes and tracked Hurricane Irma on her phone, hoping Mother Nature might once again spare us. We laughed, we drank, we were together.
My aunt and uncle had never been to Charlotte before evacuating, but now, they said, they finally understood. They live, quite literally, on the beach, but they said now we understand why you like this place so much.
It's home.
***
I HAD A DIFFERENT ENDING here originally, but then my family broke my couch.
After we had a proper Charlotte dinner of fried chicken, okra, and macaroni and cheese at Haberdish Sunday night, we gathered around my living room couch — all seven of us and the four dogs — to take the photograph for this story, and my couch collapsed under us.
Nate and I barely had enough money to scrape together to buy this couch only six months ago when we moved. We just bought our first home on Charlotte's west side, and this was our first grown-up piece of furniture.
And then we literally watched it crumble beneath us.
We laughed. I cried a bit. The dogs jumped back on the couch.
After we propped the couch up on a stack of books for now, we went out into the cold Charlotte night, made a fire in our backyard and laughed some more – mostly about the couch.
By now, the storm was preparing its worst for Tampa Bay, but it looked as if at the last minute, it had veered a bit back east and would spare my family's homes the brunt of it.
I looked around the fire, my family covering their eyes from the smoke as they sat in the backyard furniture that Nate built for our home, and I realized all my irreplaceables were right here.
These were the things that mattered.