7 Urban Charlotte Wedding Venues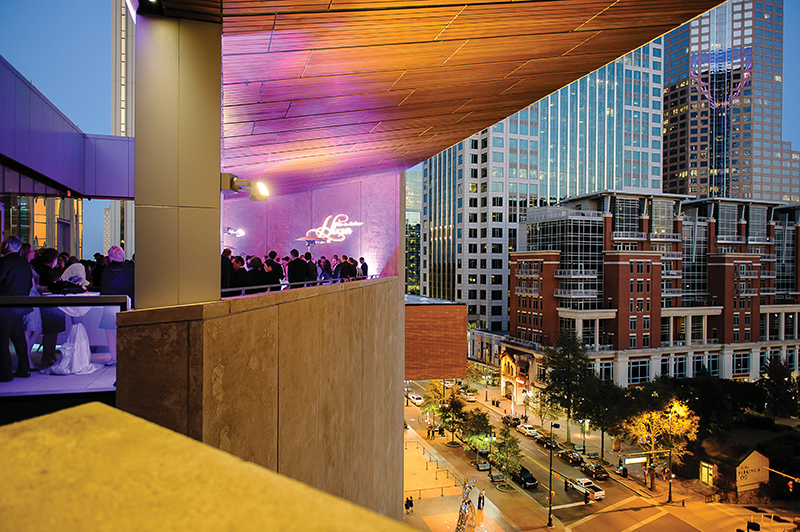 If you spend your weekends exploring Center City's latest restaurants, bars, and shows at Blumenthal while enjoying everything our buzzing metropolis has to offer, a wedding that fits your urban spirit is a must. A well-manicured concrete jungle like Charlotte provides endless photo opportunities – and wedding venues – if a country club or traditional garden isn't your thing. Take advantage of the city's streetscapes and skyline at one of these coveted city-chic venues.
---
1. Charlotte City Club
Want guests to experience panoramic views of everything from Bank of America Stadium to Crowder's Mountain? Set 31 floors above the city, Charlotte City Club offers reception and ceremony sites for 10 guests to 600, two ballrooms, crystal chandeliers and one stunning spiral staircase. 116 W. 4th Street, Charlotte, NC (704) 334-3200, charlottecityclub.com
Of note: The Club's chef helps couples create a customized wedding menu, so there's no need to worry about finding a caterer.
---
2. Urban Garden
Meeting facility by day, urban oasis by night. Ritz-Carlton's Urban Garden is perfect for mod city dwellers looking for a minimalist venue complete with a view. The interior trees are the most unique aspect of the space, and the glass ceiling provides unbeatable sights of the skyline. 150 N College St, Charlotte, NC
Of note: Line the staircase leading up to the Garden with votive candles for a glowing, romantic entrance.
---
3. The Mint Museum Uptown
There's something oh-so-chic and stylish about Uptown's Mint Museum, which houses internationally renowned art collections in its five-story, 145,000-square-foot space. Combine culture with class while taking in the views from the Museum's floor-to-ceiling glass windows. 500 S Tryon Street, Charlotte, NC, (704) 337-2000, mintmuseum.org
Of note: The Mattye and Marc Silverman Grand Room on floor five seats 225 guests for a formal dinner, and the adjoining semi-covered terrace provides additional outdoor space with crisp city breezes.
---
4. The Fillmore Charlotte
Housed in a historic textile mill, The Fillmore concert hall is now a favorite of iconic musicians as well as brides looking for a venue that makes a statement with state-of-the-art light and sound. 820 Hamilton St, Charlotte, NC, (704) 916-8970, fillmorecharlottenc.com
Rivkah | Fine Art Photography
---
5. Foundation for the Carolinas
The contemporary Uptown art gallery is clean and crisp, with high white walls, dark hardwood floors, and chic glass windows with a killer view of the city. 220 N Tryon St, Charlotte, NC, (704) 973-4500, fftc.org
Caroline Ro
---
6. Holiday Inn Charlotte Center City
Weddings at the popular Uptown hotel include all the details from dinner, to drinks, and even a complimentary wedding cake and honeymoon suite. 230 N College St, Charlotte, NC, (704) 335-5400, hicharlotte.com
---
7. Byron's South End Design Center Atrium
The Design Center Atrium at SouthEnd accommodates up to 400 people, but its biggest appeal is the stunning two-story open architecture with towering ceilings and exposed brick. 101 W Worthington Ave, #180 Charlotte, NC, (704) 333-9779, byronssouthend.com
---
---