8 Best Places in Charlotte to Grab a Pint on St. Patrick's Day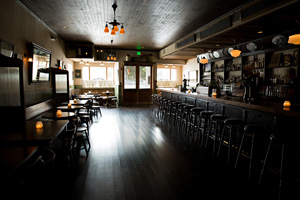 IN IRELAND, they'll tell you green beer is a bunch of, well, trust us. They'll have words for that. Any true celebration of St. Patrick's Day features a hearty Guinness, Harp or Killian's (sans green dye). Lucky for you, a trip to Killarney isn't necessary to celebrate this day of Irish merriment.
Head over to one of these fine Irish pubs right here in the Queen City to celebrate your St. Patrick's Day.
The Belfast Mill
This is hidden gem. And we really mean gem. The Belfast Mill is a cozy, upstairs pub, tucked away in Brevard Court. You've really got to know about this place to get to it. Trust us, once you find it, you'll fall in love with its charm. Open today until 2 a.m. at 144 Brevard Court.
Ri Ra
The bar in the middle of this pub is the real Irish deal. The wood is from Dublin in the 1800s, and the owner of the Uptown locale brought it from the Irish capital to its current spot at 208 N. Tryon St. Try the Whiskey Room here with a fine Irish Jameson for bonus points. Open today until 2 a.m.
The Workman's Friend
This is one of the newer Irish pubs of the group, but it's a very welcome addition to the crew. The phrase "workman's friend" actually comes from a Flann O'Brien poem and refers to a pint. Really, aside from being educational, drinking tonight makes you incredibly literary and cultured. The Workman's Friend is at 1531 Central Ave, and it's open until 2 a.m.
Fitzgerald's
Calling itself an "American sports bar with an Irish twist," this Uptown bar is an enormous pub that always seems to be partying. Tonight will just be the extra foam on the Guinness. Specials today include: $5 baby Guinness shots, $5 Irish car bombs and specials on select Irish beers. Grab yourself a Guinness and enjoy the D.J. and giveaways tonight. Fitzgerald's is open until 2 a.m. at 501 E. Fifth St.
Kennedy's
​Failte! That's "cheers" in Irish, by the way. Hold up a 20-ounce Guinness draft tonight for $6 or a $4 Killians tonight and say "Failte!" Say it with us, "Fal-chuh." Kennedy's is at 366 N. Caswell St. in Elizabeth, and it's open until 2 a.m.
Tyber Creek Pub
You already know about the shamrock's significance to Irish culture, but take a better look at your Guinness glass tonight. You'll see a harp. You'll see the harp featured prominently in Tyber Creek Pub's logo, too. That's because, the harp is part of the Irish coat of arms. Drinking a pint of Guinness tonight, really, if you think about it, is pretty much just education. Tyber Creek is at 1933 South Blvd., and it's open until 2 a.m.
Connolly's on Fifth
Why not make a pub crawl all your own? Stop by Ri Ra, head to Fitzgerald's, head to Connolly's (and if you can stumble your way there, to The Belfast Mill). The doors here open at 9 a.m. with Irish music, dancing and food. Repeat: 9 a.m. Then, beginning at 8 p.m., the U2 cover band In the Name of Love will croon you away. This place stays open until 2 a.m. at 115 E. Fifth St.
Sir Edmond Halley's
Tucked away in the Park Road Shopping Center, this cozy little cranny of a restaurant is said to have some of the most authentic Irish food in the city. Today, the restaurant and bar is featuring $4 20-ounce pints. Make it a Guinness. This spot is at 4151 Park Road, and it's open until 2 a.m.