9 Charlotteans You'll See in Levine Museum's NUEVOlution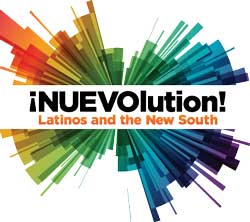 ON SEPT. 27, Levine Museum of the New South kicks off its newest exhibition, ¡NUEVOlution! Latinos and the New South. The program was created over a span of three years, and the relationship between Latinos and the South is explored through multimedia, traditional art, dialogue, and personal stations.
"This is our most ambitious project to date," said Emily Zimmern, the museum's president, during a sneak peek last week. "It tells a regional story of national significance. And it explores what many historians say is the biggest story in Southern history since the Civil Rights movement."
The entire exhibit is trans-adapted, going beyond the typical, literal translations between Spanish and English for a careful recreation of the same material. Below, check out nine Charlotteans featured in section of the exhibit that identifies some of the region's most esteemed Latinos.
Ron Rivera
You can hear directly from the coach of the Carolina Panthers in this exhibit: "I see myself as Latino … as a Rivera," he's quoted as saying. "My roots go back to Spain. Growing up, it was instilled in me about family values and hard work."
Chef Juliana Luna
Luna was raised in Bogota, Colombia. A daughter of a nutritionist and an early cook herself, the path to the self-described "organic, mostly raw restaurant" Luna's Living Kitchen seems natural. The spot has been a Charlotte fixture since 2010.
Felix Sabates
A Cuban refugee, Sabates became one of the area's most prominent entrepreneurs and philanthropists. Over the years, he's owned multiple car dealerships and NASCAR teams, and he had an ownership stake in both the original and current Charlotte Hornets.
Grace Sotomayor
Sotomayor is vice president and chief nursing executive at Carolinas Health Care System. She's originally from Guyana, a country on the coast of South America.
Manuel Zapata
Zapata is a recipient of the Latin American Chamber of Commerce at Charlotte Legacy award. The engineer and president of architecture-engineering firm ZAPATA Incorporated created the predecessor of the LACCC, Las Americas Business Council.
Luis Carlos Machicao
Machicao is a fashion designer with international fame, with his work seen on runways across the world. (He gained even more of a following at Paris Fashion Week in 2013.) He's originally from Peru, but he now bases his operations in Charlotte.
Dean Nancy Gutierrez
Guiterrez is currently dean at UNC-Charlotte's College of Liberal Arts & Sciences. Before that, she was vice provost for academic affairs for Arizona State University. Her family moved to the U.S. from Mexico in the 1920s.
Judge Albert Diaz
Appointed by President Barack Obama, Diaz is a judge on the U.S. Court of Appeals for the Fourth Circuit. He is the first Latino judge to serve for the Fourth Circuit.
Dan Ramirez
Ramirez moved here in 1974, starting a geographical information systems company called Nova Digital Systems. Later, Ramirez became the county's first Latino elected official. He died in 2014. Read a 2014 piece about him, written by Greg Lacour, here.
Get a preview of the exhibit with Night of ¡NUEVOlution!, a party at the Levine tonight. Ticket info here.