9 Holiday Hosting Tips From a Charlotte Party Expert
"I recently threw a party for Ralph Lauren and served cheeseburgers."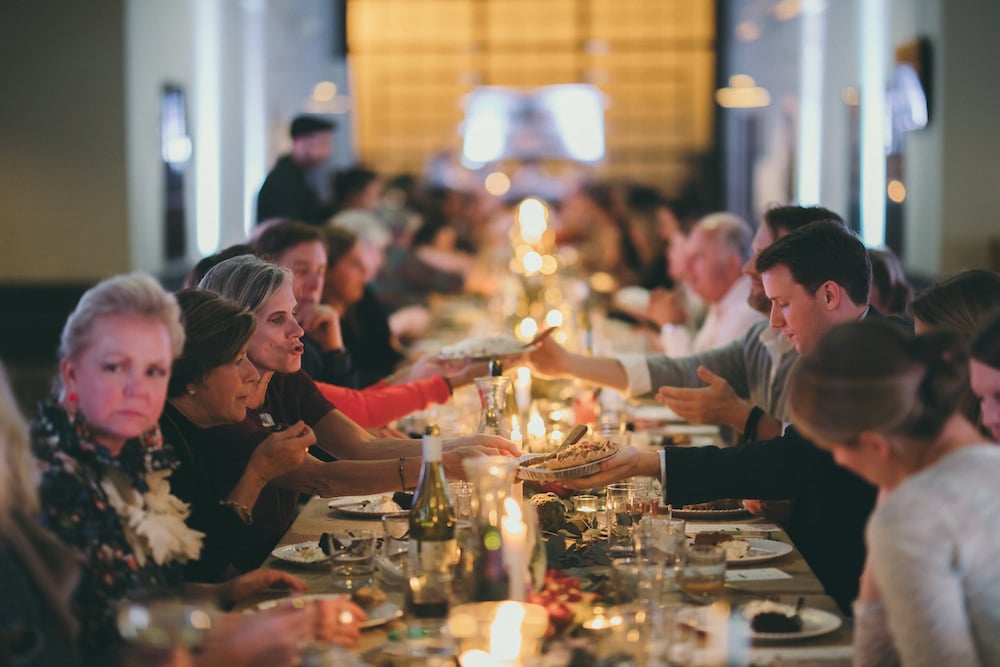 Hosting the holidays doesn't have to be stressful. Yet, somehow, it usually becomes a stressful event—whether it's as soon as your politically-charged aunt arrives, or later when it's time to clean up and everyone conveniently vacates the kitchen.
In an effort to make hosting your family and friends the joyful affair it should be, we asked entertaining expert Sarah Wrenn of Copain Gatherings for her best tips on a low-stress seasonal celebration. Here's what she had to say.
9 Tips for a Stress-Free Holiday Gathering
1. Plan a delicious menu that can be made ahead of time.
"I love a mix of high and low foods, such as oysters and grilled cheese, or flatbreads and champagne," the party expert says. "I recently threw a party for Ralph Lauren and served cheeseburgers. The food doesn't have to be fussy; it just has to be good. And it's even better if the food is a reflection of your tastes or your favorite recipes."
2. Don't think you need to do it all yourself.
"Outsourcing some or all of the food will certainly take some stress off your plate," Wrenn says.
3. Set up a self-serve bar.
"Don't be afraid to step away from the cocktail shaker," she encourages. You can make a batched cocktail before your guests arrive so you don't have to worry about fulfilling needs in the moment. "I love Julia Reed's Frozen Whiskey sours—they never disappoint. Also, renting glassware can be a huge help with clean-up." Read mixologist Bob Peters' tips on stocking your home bar for holiday parties for more guidance.
4. Create a thoughtful and festive setting for your guests.
"Use your own pretty things—silver, china, or antiques if you have them, cut some greenery or flowers from the yard, throw in some seasonal fruits and vegetables, and set out plenty of votives and tall, tapered candles," Wrenn suggests. The entertaining expert was the creative mind behind the tablescape at the recent Relish Carolina Friendsgiving feast on November 8, 2018, pictured above. Here are more detailed tips on finessing a great first impression. "And don't forget a good playlist," she says.
5. Don't lose perspective.
In the moments you feel most overwhelmed, take a second to slow down and remember why you're hosting the holiday in the first place. At the end of the day, the party is about loved ones gathering and getting to see one another. It is not about the crispiness of your pie crust. Let go of the little worries that are stressing you out—perspective should help you stay grounded.
6. Greet your guests with warmth, cheer, and hospitality.
Wrenn says, "This goes a long way to making sure everyone is comfortable and enjoys their stay. Welcomed guests make for a better time all around."
7. Use linen cocktail and dinner napkins.
Wrenn says these little details can "really elevate a holiday party." "If you are not going to use them during the holidays, then when are you?"
8. Don't stress over clean-up.
"It is perfectly fine to fill your sink with soapy water, put the dishes in there, and close the door until the next morning," she says. Thank God.
9. Don't wear something you are not comfortable in.
An uncomfortable outfit can get in the way of your productivity, and, let's be honest—you should feel your best! A comfortable ensemble will make you feel ready for anything the day throws at you, and you won't have to fidget as much. Wrenn also suggests wearing a pattern to guard yourself against spills—nobody wants to change mid-way through the party.
How to accommodate picky and allergic eaters
"Most people with severe allergies manage them very well on their own. Regardless, it's always good to have something to eat without nuts or shellfish," Wrenn says. "I find that the only time you need to take extra care with those with allergies or restricted diets is during a sit-down dinner, but during a buffet, everyone can usually find something to eat."
"Don't be embarrassed if you were not aware of their allergy," she says. "It's usually more embarrassing to your guests when loads of attention is brought to their allergy."
Wrenn also says it is kind to be conscious of others' dietary restrictions, but don't let these restrictions change the meal you planned on serving. She says, "Of course we don't want anyone becoming gravely ill, but if you have your heart set on lamb, and one guest doesn't eat lamb, that is OK. Hopefully, they will eat around whatever it is they do not care for and enjoy the party for what it is: a gathering of guests in the spirit of having a good time."