A 2022 Fall Family Fun Guide for Charlotteans
Concerts, Halloween events, fruits on trees, and other ways to welcome a less restricted autumn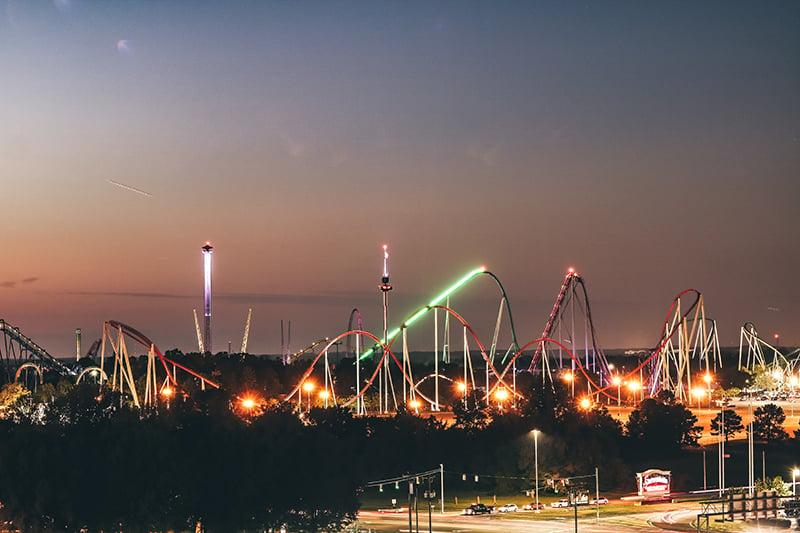 From the vantage point of early July, this autumn offered the promise that it would resemble something like Life Before COVID: maskless hayrides; concerts with social distancing by choice rather than governor's mandate; and haunted houses where the scariest apparitions, aside from the most skilled of witches, were not transmissible by air.
So here's a guide to fall activities for parents and children—heck, grandparents and grandchildren, too—that comes close to what you might have encountered in 2019, the last time we could bob for apples without the embarrassment of having failed to take off the mask. We know we're not including everything. We just want to provide a trick-or-treat bag of activities suitable for cooler weather and shorter days, whether you're indoors or outside.
---
But first, an appetizer while it's still steamy. Last year, a trio of women with experience in the restaurant industry and love for Haitian cuisine kicked off the first edition of this food truck festival. It returns this year, on Saturday, Sept. 3, at Midwood International and Cultural Center, 1817 Central Ave. Tickets at carolinahaitianfoodfestival.com.
---
Let's treat fall 2022 as a reset, a time to revisit the traditional horrors. What better way than a trip to SCarowinds? Carowinds, the Carolinas' largest amusement park, has hosted the annual Halloween-themed fright-fest since 2000. This year, it'll be held on select nights from Sept. 17 through Oct. 30. "Every corner," Carowinds' website proclaims, "is freshly cursed with horrifying haunted mazes, spine-tingling scare zones, and live entertainment." We all could use some fresh curses.
For something less horrifying, the amusement park plans another autumn mainstay: The Great Pumpkin Fest, a Peanuts-themed, "all fun and no fear" festival for young children held on weekends over the same time as SCarowinds, Sept. 17 through Oct. 30. Kids can enjoy fall games at Franklin's Game Corner, play in Pigpen-cleansing suds at Lucy's Mummy Pit, and get lost in the twists and turns of Peppermint Patty's Hay Bale Maze. Live acts include The Candy Horns, a ragtime brass band; Bluegrass JamBOOree!, a group of costumed corny joke-tellers who can pick and grin with the best of 'em; and, of course, life-sized versions of your favorite Peanuts characters. "Hooray for fall, y'all!" say the folks at Carowinds. It doesn't have to scare the wits out of you.
---
Pick Your Pumpkins
It's harvest season, and you can help. Here's a list of pick-your-own farms where you can select pumpkins, apples, and other fruits and vegetables, and have a grand old time doing it:
Hodges Family Farm
3900 Rocky River Road E
Reedy Creek Park is a five-minute drive from the farm. Both farm and park are delightful on crisp, sunny fall days.
Millstone Creek Orchards
506 Parks Crossroads Church Road, Ramseur
Millstone is known for its apple orchards, which produce its beloved cider.
Bush-n-Vine Farm
1650 Filbert Highway, York, S.C.
Originally a peach farm, it's expanded to blueberries, strawberries, blackberries, and, of course, pumpkins.
Hunter Farm
13624 Providence Road, Weddington
Fall picking season starts in September. After mid-November, Hunter swaps out its pumpkins for Christmas trees.
Wise Acres Organic Farm
4701 Hartis Road, Indian Trail
Try the Wise Pie wood-fired pizza between rounds of pumpkin-picking. The season runs from mid-September through early November.
---
It's one of Charlotte's longest-standing traditions, a fixture since 1964: three days in early fall when Freedom Park, the city's largest, swarms with food booths, art exhibits and workshops, live music, and other amusements. This year's schedule:
4-9 p.m., Friday, Sept. 16
10 a.m.-9 p.m., Saturday, Sept. 17
10 a.m.-5 p.m., Sunday, Sept. 18
Be forewarned: No skateboards, skates, or dogs, and bikes and scooters must be walked.
---
Disney on Display
A pair of separate Disney shows come to Charlotte on either side of October.
First, at Bojangles Coliseum from Sept. 29 through Oct. 2
Disney On Ice presents Frozen and Encanto, a whirl of skaters accompanied by songs from both musicals, along with Mickey and Minnie. Purchase tickets through Ticketmaster.
On Nov. 6 at Belk Theater:
Disney Junior Live on Tour: Costume Palooza, an "immersive, interactive concert experience" with singing, dancing, acrobatics, 3D effects, and favorite Disney Junior songs. Tickets on sale via Blumenthal Performing Arts' CarolinaTix service.
---
Part of the Symphony's ongoing Family Series—fun one-hour concerts that introduce kids under 10 to orchestral music—the first-ever Symphony Spooktacular will include pieces you'll surely recognize, though not necessarily by name. They're the touchstones of the creepy classics playlist: pieces like Camille Saint-Saëns' "Danse macabre"; Edvard Grieg's "In the Hall of the Mountain King"; and Modest Mussorgsky's "Night on Bald Mountain," made famous by Disney's Fantasia.
One notable omission, another hit from the Fantasia soundtrack: Bach's "Toccata and Fugue in D Minor," the classical composition that practically shouts, "Halloween!" But it's a piece for pipe organ. "Procuring a pipe organ and soloist can be a bit of a challenge for just one piece," says spokesperson Deirdre Roddin, and "it doesn't include the orchestra." Curses!
The concert is at 11 a.m. on Saturday, Oct. 22, at the Knight Theater, 430 S. Tryon St. Resident conductor Christopher James Lees wields the baton. Kids are encouraged to wear their Halloween costumes to take part in an onstage costume contest.
---
We'll leave you with something thoroughly wholesome: BooFest. (Boo.) A half-hour's drive west on Interstate 85 from Charlotte, Stowe Park in downtown Belmont is the traditional hub of what locals charmingly refer to as "A Nightmare on Main Street." As nightmares go, it's pretty gentle: music, arts and food vendors, costume contests, games, carnival rides, a "spooky photo booth," and plenty of candy for trick-or-treaters.
Belmont (the town in Gaston County, not to be confused with the neighborhood in Charlotte) maintains its small-town character even as Charlotte, like The Blob, creeps toward it. BooFest is a slice of old-time innocence you may want to savor while you can. It runs from 2-7 p.m. on Saturday, Oct. 29.
And a happy and healthy All Hallows Eve, and harvest season, to you.