A Belmont Backyard Garden Grows Fruits, Vegetables, Community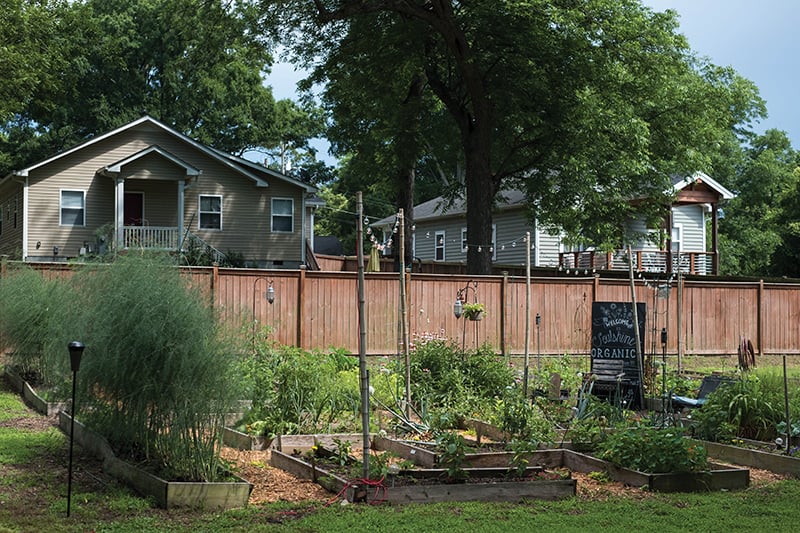 THERE'S A BIG SMILE across four-year-old Hudson Argento's face as he pops a strawberry into his mouth and tosses the leafy top 10 feet into the chicken coop. I try one, too; it's juicy and sweet, and leaves a red stain on my fingertips, an invitation to lick my fingers.
Not many kids can say they know exactly where their food comes from. But Hudson can: his backyard.
When Kirsten Barner and Jesse Leadbetter moved to the Belmont neighborhood in 2009, they couldn't ignore the lot two doors down. The one-story duplex was abandoned, and its huge yard was overgrown with kudzu; it had become a dumping ground for unwanted goods like tires and a tattered mattress.
Even with the eyesore next door, they loved where they lived, and became close friends with Nicole and Michael Argento, a couple two doors down Kennon Street. The four had a lot in common—all had gardens as kids and loved the idea of growing their own food, and they hated to see that lot rot away.
So they bought it.
In spring of 2012, the paperwork was signed, and they officially owned the land. That summer, they tore down the house and completely transformed the yard; they leveled the long-neglected lawn and began building a maze of garden beds, creating a few out of wood planks each weekend with any free time they had. The lot had new life and a new name: Soulshine Organics.
They planted tomatoes and peppers, harvested hops, and built a chicken coop. Birdsong Brewing Co. came to them for the jalapeños that went into a batch of Jalapeño Pale Ale, a local favorite beer.
Since then, they've added two beehives, which yielded 51 pounds of honey last harvest. Some of the honey still lingers on an old hive, the sap clinging to the clusters of hexagons. I dip my finger in and take a taste. It's minty and citrusy—a reflection of the pollinating holly trees nearby, Jesse explains—and smooth. The herbal honey is not for sale, at least not yet. For now, all 51 pounds stays with them, and I can't blame them.
Just a few weeks before their annual community potluck, hosted on the farm in June, the four sit amid the garden bed maze in a circle of lawn chairs on a patio designed for conversation, and look back on the past six years of Soulshine.
At first, Jesse, who also co-founded Freshlist, an organization which helps restaurants source ingredients from local farmers in the Carolinas, considered expanding Soulshine into a CSA, a community-supported agriculture farm, where neighbors could purchase co-ops. But the strawberries were too sweet and the peppers too fresh to share. They decided to keep their peaceful garden to themselves—and their neighbors.
While Soulshine Organics is not a community garden, it is a garden for the community. They don't have a business model to monetize the lot; they just want to create a space to welcome neighbors, a space that reminds locals how beautiful the city can be. Our city.
"Food is the ultimate equalizer," Jesse says. "It's the one thing you have in common with everyone in the world."
They trade produce with their neighbors and recommend gardening techniques. One neighbor, Junior, has his own small garden bed out in front of his home, and Jesse has bonded with him over the space. Junior is in a wheelchair, but his garden is always well cared for.
Even as the Belmont area continues to change, with soaring housing costs and shifting demographics, Soulshine Organics is staying put. "We get letters from developers almost every day asking to purchase the land," Jesse says. But they won't do it. "Just listen," he says, as bluebirds chirp nearby. "It doesn't feel like you're a mile and a half from uptown."
From the garden, you can see Bank of America Tower uptown, yet the city feels so far away in the Soulshine oasis.
Creating this garden takes more than a green thumb; the four had experience with gardening before, but not to this extent. "It takes up 98 percent of our free time," Michael says, and Nicole chimes in, "It's a hobby to the extreme."
It's also bonded the original four in a unique way, neighbors turned friends and friends turned family. Hudson and his one-year-old brother Samuel are pretty lucky kids. Aside from the strawberries, they live on a street where neighbors believe in taking care of one another with all the love and attention that's also needed to cultivate a thriving garden.
It's a cycle: You give plants love, they give you nourishment right back. You share those yields with neighbors, and the community blooms. Everyone smiles.