A Better Gyro: The Story of Gréco Fresh Grille
When Vasili Pahountis couldn't find a good gyro in his new home, he began selling his own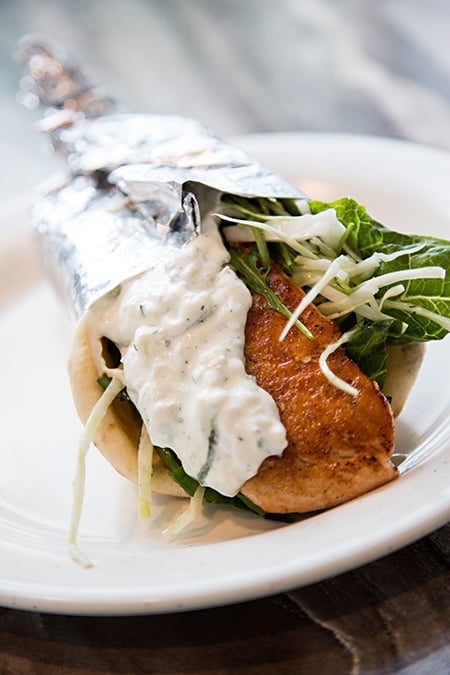 FOR 40 MINUTES, Vasili Pahountis and his family waited in line for a chicken gyro at the Yiasou Greek Festival. They were new to Charlotte and excited to see such a vibrant Greek community, a comforting piece of their heritage in a new city. But after one bite, they decided to stick with the festival's entertainment.
Vasili turned to his wife, Irene, and said, "I'm going to open my own Greek restaurant."
That was in 2010. Now, Gréco Fresh Grille has three locations in the Charlotte area: in Blakeney, Wesley Chapel, and Colony Place. Vasili, who most customers know simply as Bill, splits his time among the three, zipping around town in his Porsche Boxster convertible, royal blue like the Aegean Sea that surrounds his family's home island of Karpathos, Greece.
Vasili's father was 17 when he came to the United States after World War II, after agreeing to work as a coal miner in West Virginia. Not long after arriving in the States, Vasili's father left the mines and took a job as a grill cook.
"I grew up in the restaurant business. And much to my parents' chagrin, I stayed in the restaurant business," Vasili jokes.
His parents wanted him and his brothers, one of whom now owns a franchise location of Gréco Fresh Grille in Tega Cay, South Carolina, to go to college. But at 16, Vasili took his first job as a busboy and never left the industry. He loved the camaraderie among staff members and the bounty of people to talk to.
***
GYROS HAVE A HABIT of cracking at the seam, tzatziki seeping out and onto your hands, onions hanging out both ends, until you accept defeat and grab a trusty fork. That's something I've always accepted: Gyros are just messy.
When I ordered a salmon pita gyro—Gréco's neo-Greek response to the fish taco—I was prepared, with a purse full of napkins and a to-go tube of hand sanitizer. But when I peeled back the tinfoil of Vasili's gyro and took a bite, my hands were clean and the pita intact.
Vasili says the reason is actually quite simple: He makes the filling fresh, in house. The pita comes from New York City. Its freshness helps the pita retain moisture and the flexibility needed to withstand being folded and devoured. Bite after bite, the pita stays tightly wrapped around my flaky, lemony salmon, onions, cabbage slaw, and a thin layer of tzatziki.
The menu here includes mostly traditional dishes. With some, Vasili has to assure customers, "Yeah, they're Greek. You just have to be Greek to know about it."
Hummus, lahano, dolmades, mezze—the harder to pronounce, the better.
My plate is empty and my hands are clean, but still I lick my fingers, savoring any remnants of seasoning, a trio of oregano, cumin, and lots of garlic.
"Sometimes people ask me to tone down the garlic, but I won't do it," Vasili says, shaking his head with a smile. "I won't compromise on that."
***
THERE'S A WORD in Greek, philoxenia, that means the act of making a stranger feel like a friend. Philoxenia is more than just Southern hospitality; it's more than please and thank you and our insistent commitment to door-holding. Philoxenia is like holding the door open for a stranger, inviting him over for dinner with your family, and sending him home with a week's worth of leftovers.
For Greeks, philoxenia is just a basic tenet of life, and for Vasili, it's also the foundation of Gréco Fresh Grille.
Vasili wants to expand even more in the next five years. He's looking for spaces closer to the center city—in South End and Latta Arcade—and beyond, with the possibility of franchising the restaurant regionally, beyond the family.
As Gréco Fresh Grille grows, Vasili refuses to change. "Maybe I'm a little stubborn," he says with a laugh, after listing a few condiments he refuses to add at the counter: mustard, ranch dressing, pickles. "Maybe."
Regardless of their success, his wife will still make the baklava, and he'll still talk to every person who comes through the door while his sporty, blue convertible is parked out front—at least until he and Irene retire and return to the island life on Karpathos.
Vasili and his family still go to the Greek Festival every year. They love the community, the laughing and dancing, the hugs, the philoxenia—but now, they eat Vasili's gyros before they go.
Emma Way is a regular contributor to this magazine. Reach her at emmaway94@gmail.com or on Twitter @emmaway5.