A Blind UNC Charlotte Student Finds Freedom in Dance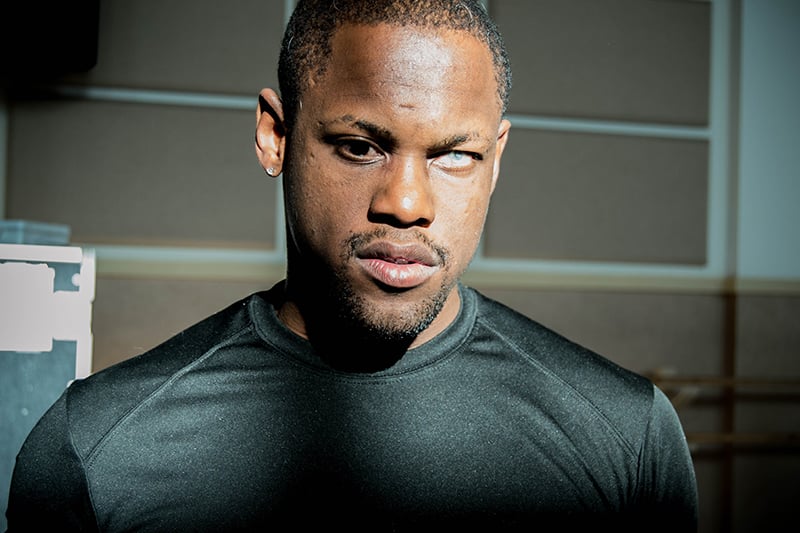 DAVIAN "DJ" ROBINSON has been legally blind since birth, due to a condition called retinopathy of prematurity. By age 11, he lost what little vision he had. One year later, he took his first dance class and hasn't stopped moving since—he is now a cyclist, too. As the first blind dance major at UNC Charlotte, Robinson, now 26, is creating a better understanding of how the dance community can be more accessible.
I spent some time with Robinson, learning about his past and his drive to keep moving forward. Here are his words, edited for clarity and space.
---
WHEN I WAS 12, I started at the Governor Morehead School for the Blind in Raleigh and took my first dance class. I didn't dance much at first, until my flute teacher, Rebecca Ramen, got a group of my classmates scholarships to a local dance studio.
BALLET AND TAP were my first experiences with dance instruction. But tap, hip-hop, and contemporary jazz tend to fit my body more and give me a broader sense of freedom. Since the age of 16, these have been my main focuses.
I ALWAYS GREW UP MOVING and being really active. I've always had the tendency to try new things. Even at my mother's wedding, when I was two or three years old, I was dancing—moving and moving and moving.
A CANE IS an object finder, and a dog is an object avoider. When I first had a guide dog, I didn't understand how a dog could be so smart to take me around things, stop at corners, and do what I didn't think possible. I've had Charlie for two years as of June 6.
I CALL IT my blind freedom, cycling. In 2012, I got invited to race camp at the Colorado Springs Olympic Training Center. They taught me how to ride a tandem bike. It's a two-person bike with two sets of pedals and handlebars. I have a 'pilot,' as they call it. They do the steering and braking. The 'stoker' in the back is basically the power. One experience led to another, and last December I won my first National Championship after paracycling for five years. (He's on track to compete in the 2020 Paralympics in Tokyo.)
MY FIRST THOUGHT in pursuing dance at UNC Charlotte was, 'Man, how am I going to do this?' But they ended up making it accessible and accommodating to me, and that's how I found that freedom again. I have a movement mentor, Lillian Willis, but I call her Lilly. This allowed me to have the same experience as my sighted peers in the studio and on the stage.
LILLY IS REALLY ADVANCED. She understands the classes and the formats, because she was a graduate of this program. Movement mentorship includes experience, involvement, and communication. They give me tape to put down to help me understand where I am in space, and Lilly provides me with information through auditory cues. I plan to graduate in spring of 2020 with a double major in exercise science and dance.
IN THE LONG HAUL, I want to continue to provide resources and build inclusiveness throughout the art form of dance, by bringing a better awareness about blindness.
THIS SUMMER, I am going abroad to Italy to study at two international dance studios with Lilly. It's going to be a roller coaster, because the farthest I've ever been is California. We live in such a bubble in America, and I'm excited to see another culture.
I HAVE NO EXCUSE; I can do anything. There's no amount of rejection or hurt I can go through that will stop me from pursuing the things that I want to pursue.
THERE'S A FREEDOM in that, because I'm propelled to do things that most people won't.
I ALWAYS LIVE by this motto: Never quit, never give up, never give in, never give out, and never say no to life's challenges. Always be willing to say yes, and life will become easy. Not easy in the way that you won't experience trials and tribulations, but through those hardships, you will grow in character.
CHARLOTTE RIRIE is a junior at the University of North Carolina at Chapel Hill studying photojournalism and Spanish.