A Brief Survey of Charlotte Dive Bars: 2021
Updated for this summer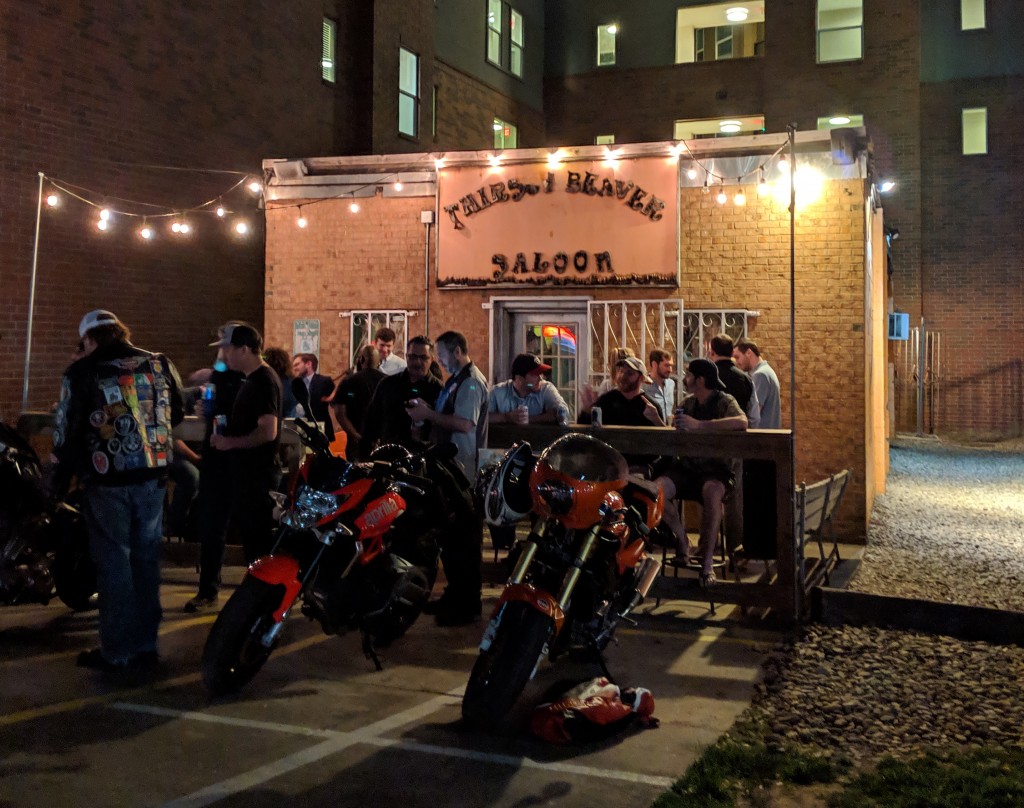 THERE'S SOMETHING unmistakably wonderful, a certain je ne sais quoi about the antithesis to the swanky new exclusive cocktail bar. Paired with its propensity for new nightclubs and lounges, Charlotte offers a host of comfortable, familiar dive bars where bargoers don't need a dictionary to decipher the artisanal ingredients.
Here's a brief education (and celebration) of some of our favorites.
---
Thirsty Beaver
1225 Central Ave.
It's the Bar That Stayed Put. Surrounded and dwarfed by apartment towers, this Plaza Midwood neighborhood staple has held out for its loyal and passionate clientele.
Must do: Order a glass of wine served in a plastic cup
---
Jeff's Bucket Shop
1601 Montford Dr.
"Don't Stop Believing" in this below-ground Montford bar. The karaoke is legendary here and a classic among those in the know.
Must do: Serenade the crowd to the Weather Girls' "It's Raining Men"
---
Comet Grill
2224 Park Rd.
If you can find this spot, you've won half the battle. Hidden in part by the Dilworth Food Lion's grandiosity, this Park Road jewel offers a surprisingly nice patio when the weather cooperates.
Must do: Actually find the bar and introduce a new soon-to-be regular
---
Smokey Joe's
510 Briar Creek Rd.
You'll recognize a few faces here if you pop in here more than once; the crowd here is particularly loyal. The staff of Charlotte magazine regularly imbibes here as well.
Must do: Buy a regular a Pabst Blue Ribbon, which will set you back a whopping $1.
---
Hattie's Tap and Tavern
2918 The Plaza
Bring your dogs along to this dog-friendly dive bar. Dogs are welcome both inside and outside on the patio, where the latter usually has an assortment of yard games.
Must do: Make a new dog friend as you try a new local beer​
---
Thomas Street Tavern
1218 Thomas Ave.
​This Plaza Midwood spot serves potent and cheap well drinks, and what more can you ask from a bar? Outside, there's table tennis, cornhole and a fire pits in the colder weather.
Must do: Win a round of table tennis at one of the two tables outside
---
When asked about some of their favorites, other Charlotte magazine writers also threw out the new location of Tommy's in East Charlotte, Keg N Cue (now Small Bar) on South Tryon Street, and The Union on Bland Street. Which ones are your favorite? Tag us on Instagram next time you're enjoying a drink there.
Misner is a writer for this magazine. His work has also appeared in The Chronicle of Higher Education, Logo and The Knot.