A Case That Shouldn't Have To Be Made
Plus: Jeff Jackson wins the Internet, and Oklahoma foolishness heading this way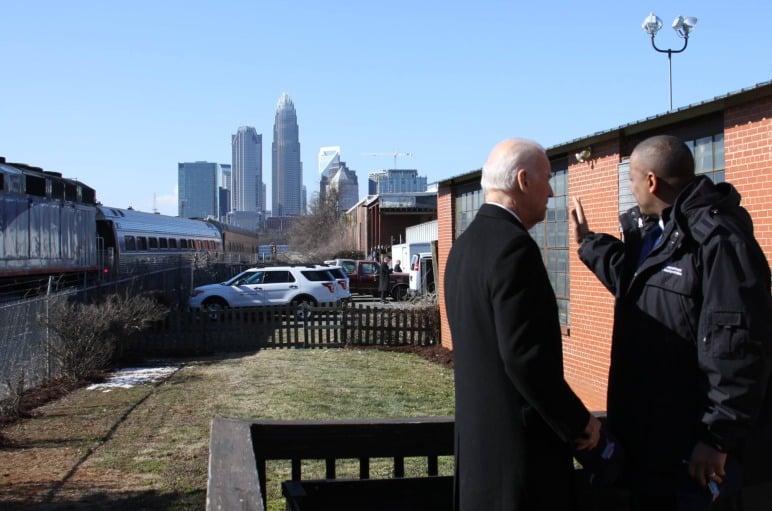 A triple-decker:
The vice president and transportation secretary were in Charlotte, the secretary's hometown, this morning to stump for an upgrade of the nation's transportation system.
Their basic argument is that the nation's population is growing; the transportation system is aging and inadequate; improving it would create a lot of jobs; and would boost the long-term economic future of the country by making sure people and goods get around efficiently and quickly for decades to come.
Does anyone else find it a bit disconcerting that they even have to make the case?
No state legislator in North Carolina—or maybe the United States—wrung more juice from a stone this week than Charlotte's own Sen. Jeff Jackson.
Finding himself alone in the Legislative Building in Raleigh on Tuesday, young Jackson went on an efficient (and funny) public policy rampage, as detailed below:
"I think humor is a form of advocacy," Jackson told The Daily Tar Heel. "Ideas travel farther when they're tempered with a little levity."
It was one of the best-executed uses of social media by a public official I've seen in quite a while.
Well done, Senator. You actually did win the Internet.
Sadly, Jackson left a gap in his series of legislative accomplishments. He failed to launch a preemptive campaign against a piece of deep silliness that might be visiting the Tar Heel State before long.
Remember the foofaraw over N.C. public schools teaching AP History? About how AP History insufficiently stresses how awesome America is, in its awesome awesomeness?
Cast your eyes westward, to Oklahoma City (from the Tulsa World):
The legality of teaching Advanced Placement courses in Oklahoma public schools was raised Monday during a House Common Education Committee hearing on a bill aimed at the AP U.S. history guidelines.
That measure, House Bill 1380, by Rep. Dan Fisher, R-Yukon, would direct the state Board of Education to review those guidelines and bar the use of state funds for AP U.S. history courses …
Advanced Placement is a nationally recognized series of courses and tests developed by the College Board, a private entity, with the assistance of high school and college faculty, that allows high school students to earn college credit. It is not required for high school graduation, and public schools do not have to offer it.
Fisher, who has been active in a church-and-state organization called the Black Robe Regiment, said the AP U.S. history course framework emphasizes "what is bad about America."
Larry Krieger, a teacher who spoke to the committee via conference call, implied that the AP framework was created by some of the same people responsible for Common Core.
Both said the framework omits the concept of "American exceptionalism."
The bill passed the Oklahoma committee 11-4, all Republicans for, all Democrats against. Krieger's the North Carolina native—he holds degrees from UNC and Wake Forest and began his teaching career in Charlotte—who's been jousting the monster of AP History for a while now.
AP History gives teachers some latitude in determining course materials. The Oklahoma bill is a bit more strict. It lists 51 specific texts that U.S. History teachers must include in the state course, including three speeches by President Reagan. (And, to be fair, two each by Presidents Kennedy and Johnson, and two by Dr. Martin Luther King Jr.)
The texts the bill lists aren't as worrisome as the paranoia behind their listing—the implication that high school students can't make up their own minds about their country and its legacy. I trust a similar bill will find its way into the N.C. House K-12 Education Committee before long, as these things have a way of spreading.
It's supposed to snow Saturday morning. Maybe Sen. Jackson could clean this up then if he's willing to pull a weekend shift.