A Catered Thanksgiving
Don't feel like cooking? Charlotte has you covered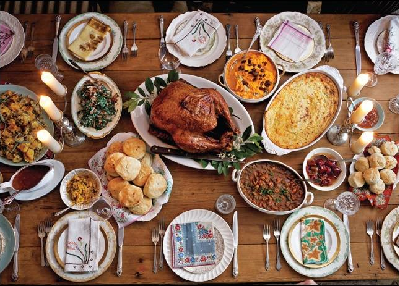 If cooking for turkey day isn't your forte – yet the crowds of relatives are already planning the journey to your humble abode – letting one of Charlotte's restaurants do the dirty work for you may be a great option.
It isn't cheating, really, and you can even claim you made it all yourself; the eateries won't tell. We've rounded up a few places around the Queen City that can cater a full Thanksgiving dinner ready to be picked up for the big day on Thursday, November 26.
New South Kitchen & Bar: Run by the restaurant in the Arboretum on Thanksgiving morning to pick up your full turkey day dinner. You can choose from deep-fried turkey breast filet or a whole deep-fried turkey breast. Sides include sausage and cornbread dressing, mashed potatoes, and much more. View the entire menu here. Any orders for turkey must be made by November 19, and any other sides, extras, or desserts should be ordered by November 23.
Big View Diner: Call the Big View Diner and order your Thanksgiving dinner before this Saturday, October 31, to receive a $25 Xenia gift card. The made-ahead dinner, which can serve up to 12 people, will be hot and ready for you to pick up on Thanksgiving morning. Dishes include (of course) turkey and gravy, whipped potatoes, corn bread, sausage and sage stuffing, sweet potato casserole, and more.
Mimosa Grill: If you prefer to have Thanksgiving dinner around your own table, let Mimosa Grill help with the meal preparation. The Turkeys on the Run package offers a full dinner with all the traditional sides, desserts and more. Everything arrives in heat and serve packaging with instructions. Orders can be placed until November 20 – four person minimum – all orders available for pick up Wednesday, November 25 between 2 and 8 p.m. or Thursday, November 26, between 8 and 10 a.m. Check out the full details here.
Harper's: Harper's is also getting in on the Turkey on the Run package. Everything you need for a traditional holiday meal is included, such as a roasted or Cajun fried turkey, traditional sides, and dessert. All orders must be placed by Tuesday, November 24, with pick up on Thanksgiving Day, November 26. Check out the details here then call 704-366-6688 to reserve your turkey dinner.
Get a head start on your Thanksgiving plans!