A Chair Is Still a Chair: Understanding Key Leadership Roles Within the DNC, with L.A. Mayor's Nomination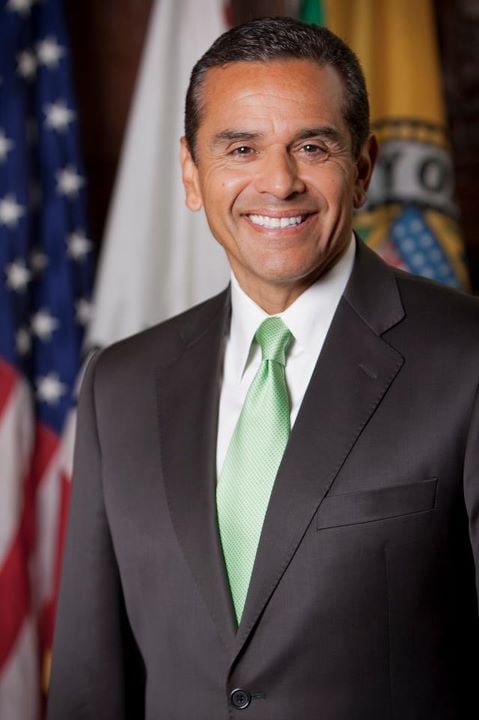 I don't often participate in scheduled conference calls for reporters. As a journalist—and I think many of my colleagues would agree—I'm not fond of 1) waiting in line to ask a question or 2) asking questions that other reporters would be able to use the responses to in their stories. But I understand that conference calls are often necessary to give media access in a feasible way, especially when the participants have extremely busy schedules and are spread across the country.
So, I joined in on the 12:20 p.m. conference call that corresponded with today's announcement by the Democratic National Convention Committee (DNCC) that Los Angeles Mayor Antonio Villaraigosa has been nominated as permanent chair of the 2012 Democratic National Convention by Democratic National Committee (DNC) Chair Debbie Wasserman Schultz. Okay, those titles might be a little confusing for you to distinguish, especially once you factor in that joining those two officials on the call was DNCC CEO Steve Kerrigan. (See my primer below.)
The conference call lasted about 18 minutes, and by my count a total of eight questions were asked by reporters, representing: The Huffington Post, Que Pasa/Mi Gente, La Noticia, The Charlotte Observer, Hispanic Link News, Charlotte magazine (me), WSOC-TV, and Hispanic Link News again. There likely were other reporters and media outlets represented on the call (Chicago Sun-Times was mentioned), but those were the only ones who spoke before Kerrigan wrapped up the call.
One thing I found interesting was how the majority of the questions the reporters asked weren't specifically about the convention planning, but more so about social and political hot topics.
The Huffington Post reporter led off by asking: "Mayor Villaraigosa, I wanted to ask you if you agreed with Nancy Pelosi that same-sex marriage should be included in the Democratic Party's platform at the convention." "I support marriage equality and I have since 1994," Villaraigosa said. "That's an issue a broad cross-section of our delegates will have to address. It's not for me to dictate that, but I can tell you where I am and I do support marriage equality." Wasserman Schultz added: "We have a platform committee that I'll be appointing as part of the convention. And the platform committee will be the drafters of the convention platform, so we have a deliberative process that we'll go through."
At least three of the questions were reporters asking Villaraigosa about appealing to the Hispanic/Latino community's vote and issues, and the kind of support the Democratic Party expected to receive from them. Villaraigosa, among other things, talked about his support for the Dream Act as well as comprehensive immigration reform.
But it was the second to last question of the afternoon that was the attention-grabber. The WSOC-TV reporter asked: "How will the DNC respond to questions about allegations on the mayor's extramarital affairs and accusations of nepotism in the mayor's office?" "We won't," replied Kerrigan. He then went on to say that "Mayor Villaraigosa has a lifelong career of commitment to civil engagement, empowering people across California and, really, he's done it across the country. And we're excited that Chair Wasserman Schultz nominated him, and we're thrilled that he's accepted. And we're going to work with him over the next 200-plus days, and, then hopefully, the two months after that to make sure we have a successful convention and a successful election. "
Democratic National Convention Leadership Primer
Since the letters "DNC" get tossed around a lot in Charlotte, most commonly used to refer to the actual convention that's taking place here in September (but can also represent the national committee), I figured I'd offer a quick primer on who the key officials are behind the convention in light of a new position having been announced today. Here's how I understand it:
Debbie Wasserman Schultz is chair of the Democratic National Committee, which oversees many plans and speaks for the Democratic Party as a whole (you see her on national cable news shows a lot), from laying the groundwork for the presidential nominating convention to helping party members get elected on the national, state, and local levels. Wasserman Schultz is an elected official herself, representing Florida as a member of the United States House of Representatives. The Democratic National Committee's website: democrats.org.
Steve Kerrigan is CEO of the 2012 Democratic National Convention Committee, so he oversees convention planning operations and is the head guy who moved to Charlotte last year to lead those efforts. He's mentioned or quoted often on this blog (The DNC In The CLT) and is who you see most often speaking at press conferences. He also leads a full-time DNCC staff that works in uptown ("Inside the DNCC's Uptown Office"). The Democratic National Convention Committee's website: demconvention.com.
Antonio Villaraigosa is mayor of Los Angeles and in his new role as permanent chair of the 2012 Democratic National Convention he'll "preside over the convention proceedings, ensuring order, decorum and efficiency as the party nominates its presidential and vice presidential candidates, adopts the national platform and conducts other important business. The permanent chair also acts as another national spokesperson for the convention." His nomination will be presented to the Convention Rules Committee and then voted on by the delegates during the opening session in September, but that, essentially, is a ceremonial thing because he'll be acting in that role in the months leading up to the convention (kind of like how Barack Obama is the Democrats' candidate for presidential re-election, but he won't be "formally" re-nominated until he speaks at Bank of America Stadium during the final day of the Democratic National Convention).
And, for good measure, one more leader you've been hearing about regarding the convention—not involved in today's announcement—is Dan Murrey. He's executive director of Charlotte in 2012, which is the Democratic National Convention Host Committee. He leads a full-time host committee staff (also working in that uptown building), but they also work with an appointed host and steering committee of elected officials, prominent businessmen, and community leaders from around Charlotte and the state, who are working in a volunteer capacity. The Charlotte in 2012 Host Committee is in charge of raising the $37 million needed to put on the convention. Charlotte in 2012's website: charlottein2012.com.
Below is a minute-long video, released today, of Los Angeles Mayor Antonio Villaraigosa telling how he wants you to help make this convention different.