A Charlotte Spring Arts Preview: 2020
Anastasia, Sturgill Simpson, and more than 40 other ways to celebrate the arts this spring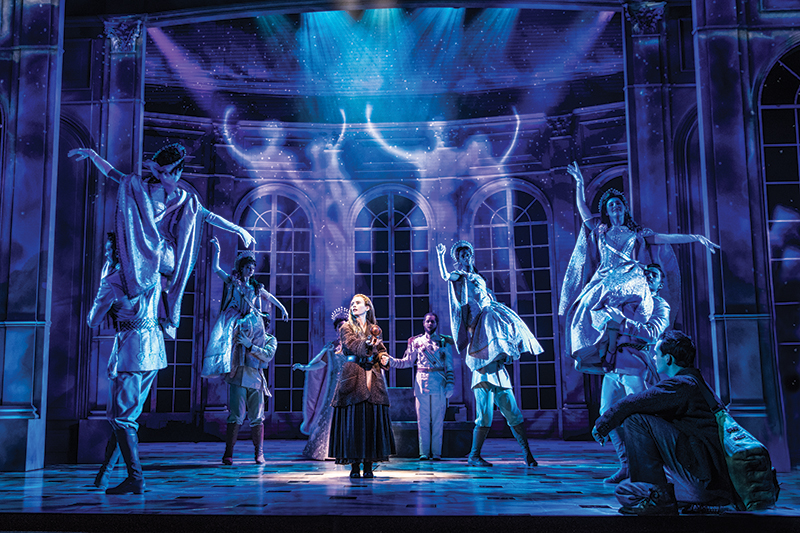 THEATRE & DANCE
Supplemental Material: Where to Find an Anastasia Primer
The legend of Grand Duchess Anastasia Nikolaevna of Russia has been portrayed across a range of media since the 1920s. Before the Broadway musical version of her life comes to Ovens Auditorium (April 28-May 3), get to know the purported lost princess through one of these outlets:
The Last Czars

, a Netflix docudrama about the Romanov family. This is one of the most in-depth and fact-based programs of the bunch.

The 1997 animated film

Anastasia is as much of a historical film as Jurassic Park is an accurate representation of biotechnology. But that's why we look to animated features for fairy tales, not Ken Burns-esque accuracy. The film is on Amazon Prime.

Ariel Lawhon's 2018 novel

I Was Anastasia tracks Anna Anderson's decades-long battle for recognition as the true Anastasia. The New York Times bestseller is a work of fiction, but it's beloved for those who have closely followed the history.
Also coming to Charlotte via Blumenthal Performing Arts:
The Color Purple
March 23-26, Ovens Auditorium
Riverdance
April 7-12, Belk Theater
Blue Man Group
April 24-26, Ovens Auditorium
The theater company brings two big shows to the spring mix: Cat on a Hot Tin Roof (March 20-April 5) and Dreamgirls (May 22-
June 7). Here are the figures you need to know:
92: Years since the first show (a production of Outward Bound) was performed by the company, originally named the "Charlotte Drama League."
13: Number of Tony nominations Dreamgirls garnered during its original Broadway run in 1982. It won six, including Leading Actor in a Musical and Leading Actress in a Musical. (The film version was nominated for eight Academy Awards and won two.)
1970: The year Theatre Charlotte first performed Cat on a Hot Tin Roof. This will be the fourth incarnation of the show at the theater.
500: Number of volunteers it takes each year to make the group's programs happen.
2: Number of youth programs operated by Theatre Charlotte. The Student Theatre Guild, a program for high school and college students, serves as Charlotte's own "summer stock." TCjr is a summer program for ages 9-14 that produces its own shows.
One-Liners from Comics Coming to Charlotte This Spring
Here's a taste of humor from a few of the stand-ups rolling through town:
Jim Breuer
March 5, The Fillmore
"You can stump any stoner with one question: What were we just talking about?"
Martin Lawrence
March 14, Spectrum Center
"You used to be looking good from afar. Now you just far from looking good!"
T.J. Miller
April 30-May 2, The Comedy Zone
"I laugh at absurdity hardest, then stories, then observations, then bearded men on roller skates."
The Second City Comes to the Queen City
Chicago's famed Second City troupe returns to Charlotte with She the People (May 6-9) at McGlohon Theater. The show is constructed and performed entirely by women from the group. "We'll bet you 72 cents on the dollar (or much, much less!) you'll cheer for this sketch show," the troupe promises.
March 13-22, Knight Theater
Called a "fairy-tailored" production, Charlotte Ballet's new take on Sleeping Beauty condenses the original three-hour-plus running time to a brisker two. For parents, this means you can squeeze both dinner and a show out of your sitter. The company has also brought a narrator into the mix to help guide visitors.
---
LIVE MUSIC
Sturgill Simpson Hits the Road With Tyler Childers
March 6, Spectrum Center
For his newest LP, Simpson made an uncommon move within his genre: He asked an anime director to collaborate on a film to accompany it. It could be the most left-field move in country music since Garth Brooks cosplayed as the moody Chris Gaines. The result, Sound & Fury (released in September), showed why Simpson's "outlaw" label isn't due only to his similarities to Waylon Jennings. He's willing to take risks outside traditional concepts.
Also on the bill is Tyler Childers, a magnetic singer-songwriter and current darling of country-bluegrass who has released two Simpson-produced albums. Even if Childers didn't have a Japanese animator create a film for his acclaimed 2019 record Country Squire, the pair has plenty in common.
The Return of Chenoweth
March 10, Belk Theater
Fresh off the release of her 2019 Hallmark Christmas movie filmed in the Charlotte area (A Christmas Love Story), Kristin Chenoweth is back for an uptown concert. The Broadway star's tour is centered on her recent record For the Girls, in which Chenoweth covers songs by—and collaborates with—female artists who have inspired her, like Dolly Parton, Jennifer Hudson, and Reba McEntire.
The album includes Parton's "I Will Always Love You," "Will You Love Me Tomorrow" by Gerry Goffin and Carole King, and Willie Nelson's "Crazy," famously covered by Patsy Cline.
Snug Harbor: A Monthly Sampler Platter Of Genres
This Plaza Midwood venue hosts touring and local acts, but its regular monthly programming is what sets it apart from other venues. The punk-themed night "No Future" (March 10), "Player Made: An Ode to Southern Rap of All Eras" (March 13), and Carolina Country Revue (the last Tuesday of each month) are a few of those ongoing efforts.
And I Quote: Brittany Howard
April 18, The Fillmore
Brittany Howard's soul-shaking voice broke into the mainstream via her rock outfit Alabama Shakes. Her 2019 debut solo album, Jaime, wasn't just a hit with fans; she received two Grammy nominations for the track "History Repeats."
The album was named for Howard's sister, who died of cancer when both were children. Her sister was the one who taught Howard how to play the piano and write poetry. "She was a creative person all around," Howard told NPR last year. "And when I came into the world, my sister kind of took me by my hand and was like, 'OK, you know, our family doesn't have a lot of money, but this is how you have fun,' and just showed me how to use my imagination, how to be creative."
Spring Mixtape
The tunes to check
out from the season's performers:
➀ Marc Broussard, "Baton Rouge" (March 7, McGlohon Theater)
➁ Mandy Moore, "When I Wasn't Watching" (April 1, Knight Theater)
➂ Shovels & Rope, "St. Anne's Parade" (April 2, Neighborhood Theatre)
➃ The Trouble Notes, "Grand Masquerade" (April 4, The Evening Muse)
➄ Andrew Bird, "Sisyphus" (April 19, Knight Theater)
➅ Jacob Collier, "Time Alone With You" (May 7, The Underground)
➆ Astrid S, "The First One" (May 19, The Underground)
➇ The Lumineers, "Ophelia" (May 29, PNC Music Pavilion)
The Empire Strikes Back, Back Again
March 13-14, Belk Theater
There isn't a bigger name in film scoring than John Williams. Celebrate one of his most iconic efforts and see The Empire Strikes Back—a Star Wars fan favorite—on a big screen at Belk.
Also from the Charlotte Symphony Orchestra:
Beethoven's Missa Solemnis
March 6-7, Belk Theater
007: The Best of James Bond
March 27-28, Knight Theater
Bach Brandenburg Concerto
April 17-18, Knight Theater
Broadway Favorites
May 8-9, Knight Theater
Wonder Women: Heroes and Villains
May 9, Knight Theater
---
VISUAL ARTS
Meet the Residents: McColl Center's Spring Lineup
From Charlotte to Barcelona, McColl sourced this slew of artists-in-residence from around the globe. Below, find out where some of the artists' work has appeared across the city. Remember: On Open Studio Saturdays, you can view these artists' studios and see them at work. The first one of the spring season arrives March 21, and this round of residencies runs through April 28.
Franco Fasoli
Hometown: Barcelona, Spain
Specialty: Collage, sculpture
Where you've seen his work: He has a major mural on an exterior wall at LaCa Projects/The Batch House. The cascading tigers are part of a motif in the work of Fasoli, who examines converging cultures through forms such as wild beasts, Mexican wrestlers, and soccer hooligans.
Holly Keogh
Hometown: Charlotte
Specialty: Painting, drawing
Where you've seen her work: Keogh is a Goodyear Arts Collective member and in the stable of artists represented at SOCO Gallery in Myers Park. You may be surprised to learn that she's also the architect of one of Charlotte's biggest murals: the massive, multi-hued scene on the parking garage beside Novel NoDa and the 36th Street light rail station.
Liz Nielsen
Hometown: Brooklyn, New York
Specialty: Photography, printmaking
Where you've seen her work: Charlotte art collectors know Nielsen because of her high-profile shows at SOCO. She has built an international following for her "photograms," in which no cameras are used. She works with objects, colored gels, and light directly on photographic paper, with riveting forms emerging. Her work has been described as "photographic chemistry."
ALSO AT McCOLL:
Maya Gurantz
Hometown: Los Angeles
Specialty: Video, performance, installation, writing, social practice
Azita Moradkhani
Hometowns: New York City and Boston
Specialty: Colored pencil, paper clay
Andrew Wilson
Hometown: Oakland, California
Specialty: Textiles, photography, jewelry, installation, performance art
How Do They Do That?
Kim Keever
Kim Keever's work is back at Jerald Melberg Gallery (March 14-April 25), and first-time viewers often ask the question: What is this? Keever's photographs come from the unusual process of capturing chemicals entering a tank of water. "Painting in water" is what Keever calls it. The result is a riveting body of work that embodies the phrase "controlled chaos."
MORE EXHIBITIONS IN CHARLOTTE:
Classic Black: The Basalt Sculpture of Wedgwood and His Contemporaries at Mint Museum Randolph through Aug. 30
Ten at the Bechtler Museum of Modern Art through May 3
Painting Is Its Own Country at Harvey B. Gantt Center for African-American Arts + Culture through April 12
Seeing New Art Around Town?
Here's Why.
New murals are popping up in Charlotte every month, and each fall, the festival Talking Walls adds a heap of new ones in one week. Seventeen artists participated in the last batch. You've likely seen the obvious ones, but a few painters have tucked theirs into overlooked corners. Caitlin McDonagh's contribution, located inside a 7th Street alleyway, shows you can be surprised even in uptown.
---
FESTIVALS
Time for a micro-guide: Summer and fall are typically known as the primary festival seasons, but spring also offers quite a portfolio. To help you fill out your to-do list, here are four to know:
Moo & Brew Festival
This burger, beer, and music festival packs the AvidXchange Music Factory festival grounds on April 4. Sample the brews and chews, and check out tunes from Blues Traveler, Matt Maeson, and Yo Mama's Big Fat Booty Band.
Boom Festival
Each April, Plaza Midwood transforms into a performing and visual arts hot spot. Participating venues include Snug Harbor, Rabbit Hole, Open Door Studios, Petra's Bar, Coaltrane's, and the festival's own "Intersection" outdoor stage on Commonwealth Avenue. Boom's back April 17-19.
Charlotte Black Film Festival
The 10th annual edition of this film fest will include more than 40 films, workshops, master classes, panel discussions, and celebrity guests. The April 23-26 event happens at Studio Movie Grill, UNCC Center City, the Fairfield Inn in uptown, and other locations to be announced closer to the event.
Tuck Fest
The U.S. National Whitewater Center festival offers a blend of outdoor competitions and clinics across its property, plus notable music acts. The center has several spring festivals, but Tuck Fest usually has the biggest musical lineup. Lake Street Dive, Lukas Nelson & Promise of the Real, and ZZ Ward are among the acts on the bill for the April 24-26 event.