A Chat with Zebra's New Owners
The couple recently bought and renovated the SouthPark spot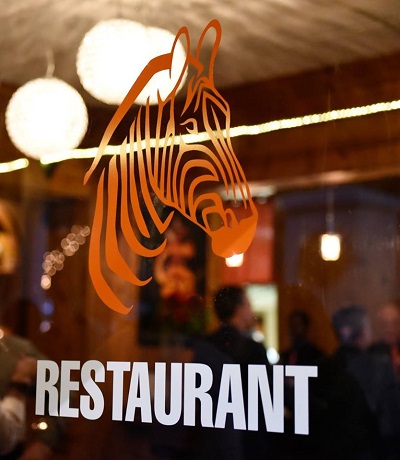 Kim and Pascale Salahie recently bought and renovated Zebra, the acclaimed restaurant in SouthPark previously owned by Jim and Lisa Alexander. Pascale comes from the Loire Valley in France and Kim from Ann Arbor, Michigan. The couple crossed paths at The Hermitage – a French restaurant in London. After years of working in restaurants from London to France to Hampstead, and a 20 year stint in coroporate food service, Kim and Pascale were drawn back to their culinary roots when they saw Zebra on the market. We asked them some questions about their recent venture.
Q: How did you find out that the Alexanders were selling Zebra?
A: We actually found a listing in a broker's posting; it did not specifically mention Zebra. However, some of the verbiage used clearly struck us a being familiar and after a little homework it was clear, that, indeed, it did relate to Zebra. We had eaten at Zebra not long after it first opened early in 2002 for Pascale's birthday and had warm memories; certainly back then Zebra was one of the few fine dining options Charlotte had to offer.
Q: Kim, based on your background, will you be based primarily in the kitchen?
A: I am not returning to the kitchen. I did chef and manage several restaurants back in London before coming to the states many years ago. I spent the last 20 years in corporate food service with Guckenheimer on the west coast and then Compass Group. I am very involved in the kitchen andmenu development, given my background; but we have Christopher Dupont heading our kitchen, whose history includes La Bibliotheque.
Q: Where will Pascale's primary focus be?
A: Pascale is actually a Feng Shui consultant, so was very much the driving force behind much of the renovation. She continues to be very involved in the business, with the administrative and bookkeeping responsibilities …
Q: What was the inspiration for the new space? What do you feel the old space lacked?
A: I think anytime you have a change of ownership, with new energy and ideas, a fresh approach is inevitable. We sought to lighten up the dining space with off-white, new, contemporary window treatments, new artwork, and new lighting fixtures. We renovated the restrooms, added little touches like hand towels, new furniture in the bar areas and put a lot of energy into the fireplace patio. It was already a great space but we tweaked it with new flowers, furniture and lighting to make it an inviting, relaxing space to chill out in. We have tried to inject some fun and sly humor using the Zebra motif in a few surprising areas. In all, our attempt was to create an inviting environment, whether for a fine dining experience or a lighter brunch – which we recently started to offer on Sundays – or relaxing bar or patio evening.
Q: What's your favorite part of the new space?
A: It tends to change as we tweak our renovations. Certainly the patio has become a focal point – particularly at night – with the fairy lights, fireplace, and frequent live music. It has undoubtedly brought an energy and magic to the restaurant, particularly on Friday and Wednesday nights when we have bar specials and live music. We recently had our Grand Opening and it was interesting how couples migrated to the patio to listen to the music after dinner and didn't seem inclined to leave!
Zebra offers brunch on Sundays from 11 a.m. to 2 p.m. and has plans to launch afternoon tea in the fall. Breakfast is available from 7 to 9:30 a.m. Monday through Friday; lunch from 11:30 a.m. to 2 p.m. Monday through Friday; and dinner from 5 to 9 p.m. Monday through Thursday and 5 to 10 p.m. Friday and Saturday.