A CMS Bus Driver Reflects on Three Decades of Service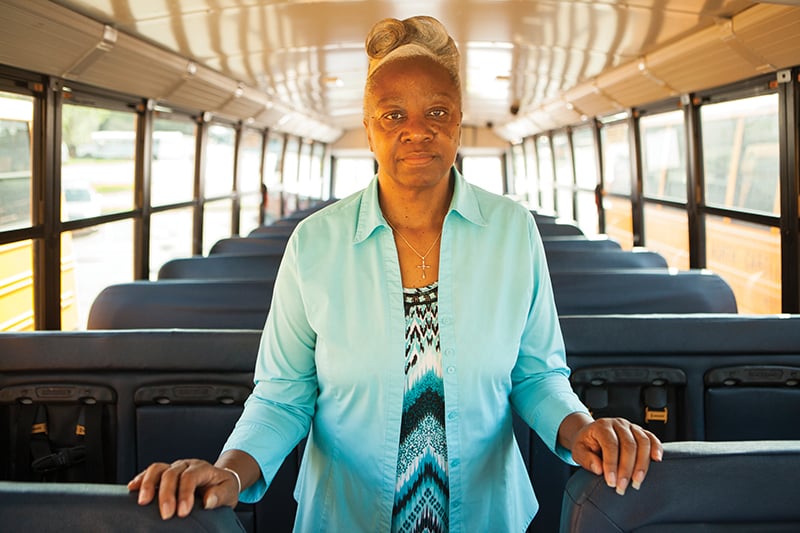 ON A SCORCHING SATURDAY on the west side in June, Linda Reid wraps her hands around a Styrofoam cup of sweet tea, her silver-gray bun stacked neatly atop her head, bold crucifix dangling on her blue blouse. This week, she's been cranking up bus 1753 and carting kids to a summer reading program at Tuckaseegee Road Elementary. Now 60, and a couple of years away from retirement, Linda has driven a bus for Charlotte-Mecklenburg Schools for nearly 30 years.
"I remember that day like it was today," she says of her first day, her speech slow and deliberate. It was August 1988 and the mother of four, including a newborn baby with disabilities, was splitting up with her husband. She needed work. "I was willing and determined to get a job," she says. "I always loved children and loved working with children," so a close friend suggested she look into driving a school bus. The long break between the morning and afternoon routes was ideal for her to take her son to his doctor's appointments and run the household errands necessary for her to care for her other children.
Driving hasn't always been easy, she says. Each bus she's driven has been different, some finicky. A distracted driver once ran his car under her bus while she was on her route near the University area. Strict school security rules preclude drivers from accessing facilities—even to use the restroom—without checking in as a visitor, and that has been frustrating. Recognition is rare. And she's seen her share of disheartening on-bus behavior: gang violence, drug use, students deliberately throwing things at the back of her head. "But I am not scared of these kids," she says. "Some children crave discipline. They don't have it at home. And they need to know this is my bus and I'm in charge of getting them safely to school."
School bus drivers can be the most approachable adult figures in a student's life, transporting youths between their two often weighty worlds. They're not parents. And they aren't teachers. They exist in the in-between and can sometimes sense if something seems off with a student. They can become confidants, even friends.
For one student, Kenny, Linda was that friend. The high school student lived with his aunt and received little attention at home. One day a few years back, Linda took notice of him. "I asked him what was going on," she says. "Some children just want someone to be interested in them," she says. Kenny went on to tell her that there was a test he was scared to take—that he didn't think he could pass it, and if he didn't pass it, he wouldn't graduate. He figured, "Why bother?"
"I told him, 'You're taking that test,'" she says, her motherly instincts kicking in. "'You can handle it. You can do this.'" Kenny stuck with it. He took the test, and he passed.
Slight pools of pride fill her eyes as she plays it back today, recalling that she recently ran into him. He immediately recognized her, and she asked him how he was doing. "He told me he was doing well, that he had a good job, and then he said, 'Thank you; I appreciate you,'" she says. "It gives me joy to know I helped someone else get where they need to be."