A Collaborative Spirit at The Asbury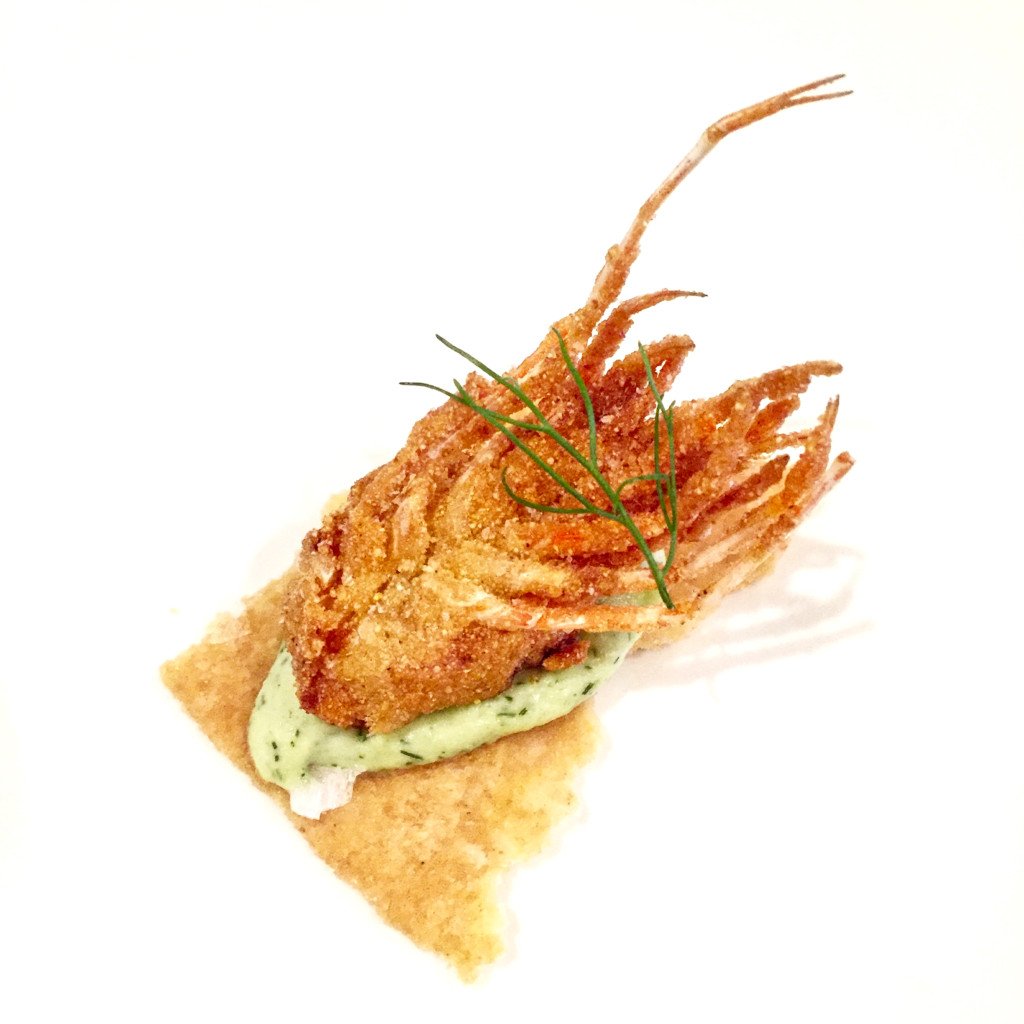 This past Monday marked the latest installment of The Asbury's Collaborative Dinner Series, the first with Matthew Krenz as Executive Chef. Just a week into his new role at the uptown restaurant, Krenz partnered with Chef Jay Pierce to prepare a five-course meal in celebration of one of NC's most important foods: shrimp. Both chefs have ties to New Orleans and the Gulf area, and the region's culinary influences were evident throughout the night.
Pierce, formerly of Rock Salt and now at the Marshall Free House in Greensboro, set the tone with an amuse bouche that entertained the mouth and the eyes. He made good use of shrimp heads—something most of us would just discard—by breading and frying them for a Cajun-inspired treat called shrimp spiders. "It's an old thing that people don't really do anymore," says Pierce, author of the cookbook Shrimp from UNC Press. "Most shrimp are sold without heads, which makes it difficult to pull off."
The spiders came on top of a cracker covered with what Pierce described as a "schmear" of caramelized fennel, leeks, Sambuca, cream cheese, and sour cream. Next came a salad topped with Texas Pete popcorn shrimp, also made by Pierce, followed by a brandied shrimp bisque from Chef Krenz.
A shrimp ceviche from Chef Krenz helped cleansed the palate before we moved on to heavier courses. This colorful dish involved fresh shrimp from local fisherman Tim Griner, orange cherry tomatoes, English peas, flecks of country ham, and a ramp-infused green goddess dressing. The splashes of Texas Pete on the plate and the deep purple microgreens added even more color to the deconstructed ceviche, which ripped with bright acidity.
The final course before dessert offered guests a tender pork chop with a savory cream sauce, wilted chard, and shrimp. Underneath lay a pool of creamy rice grits, a little reminder of just how well Pierce handles that Southern staple. While technically called "Shrimp Stuffed Pork" on the menu, the shrimp actually sat on top of the pork because, as Pierce quipped, "We got better things to do in New Orleans."
Pastry Chef Josselyn Perlmutter took inspiration from a dessert called Crêpes Mimi, made by the mom of Krenz's girlfriend when she was a chef in New Orleans. Her delicate chocolate crêpes came lined with a silky ganache and dressed with banana anglaise, salted caramel sauce, and a dollop of chantilly cream.
As fancy as this menu may sound, the entire evening had a comfortable, casual feel to it, in part because of the community table seating and friendly service, and in part because of the chefs themselves. Krenz and Pierce have different styles, but maintain a similar philosophy about their chosen profession. As dinner wound down, the chefs took time to recognize the line cooks who worked alongside them and to thank the guests for attending. "Cooking doesn't mean anything until someone eats it," said Pierce.
If you missed this month's dinner, the next two collaborative dinners offer a chance at redemption. June's Beer + Spice collaboration sees the return of Bill Smith, popular chef and food writer, from Crook's Corner in Chapel Hill. This dinner sold out quickly last year. Miriam Rubin, author of the cookbook Tomatoes, also part of the Savor the South series, will join Krenz and his team for the dinner in July. That dinner, as you might expect, will be a celebration of tomatoes. Previous collaborations have included Chef Ben Harris of Poogan's Porch in Charleston, Chef Ed Price of local charity Project 658, and Sean Lilly Wilson, founder of Fullsteam Brewery in Durham.
Seats for these dinners are typically $65 a person, not including tax and tip. Call or go online to reserve.
The Asbury
235 N. Tryon Street
Charlotte, NC
theasbury.com
704-342-1193