A Concord Garden Full of Spring Color
Tulips, jonquils, and hyacinths fill Memorial Garden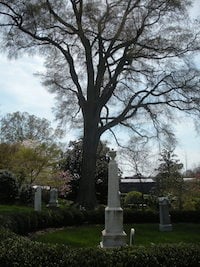 Sometimes you just need to take a walk. Whether early in the morning or on your lunch break or when you hit that wall about 3 o'clock in the afternoon. This time of year, Memorial Garden in Concord provides an ideal respite.
Located on about three acres in downtown Concord, Memorial Garden began as the site of First Presbyterian Church in 1804. Today the church is located up the street, but old graves and tombstones remain. It may sound eerie, but the garden is peaceful and elegant. Many of the headstones are elaborately carved, and the garden landscape incorporates the graves into its design.
This time of year, the garden bursts with tulips. Staff members plant about 14,000 bulbs every fall. Right now, they're in full bloom in different shades of pink, purple, and yellow. As soon as you step inside the garden gate, hyacinths fill your nose with a sweet smell. Garden paths curve and create little nooks where people sit on benches and read. Brochures by the garden's entrance list plant names and significant grave sites.
Later in the spring and summer, azaleas, dogwoods, and magnolias will bloom. So plan to visit a couple of times throughout the season. Or if you happen to work close by, make it a daily diversion.
Below are a few scenes from Memorial Garden (36 Spring St. SW, Concord, NC 28026).
Pansies make their final showing.
Tulips line the curving, stone pathways.
This portion of the garden is more formal, with symmetrical beds and a fountain in the center.
Whimsical waterfalls are located throughout the garden, surrounded by free-flowing beds.