A Contentious Council Shuffle
GOP cries foul over mayor's committee assignments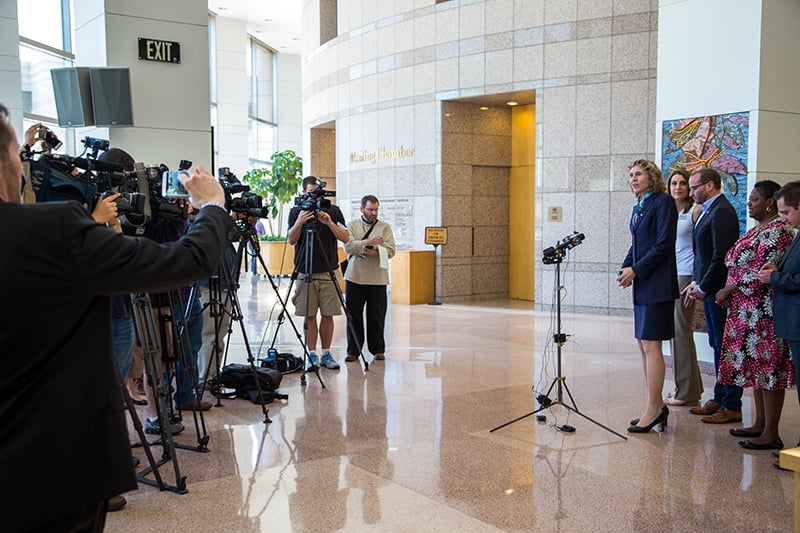 The 11 members of the Charlotte City Council received an email Friday evening from the mayor's office, informing them about new council committee assignments now that Carlenia Ivory has replaced Al Austin as the District 2 representative. Mayor Jennifer Roberts has the exclusive authority to make the assignments and name officers, and one particular change made the council's two Republicans—and the Mecklenburg County GOP—see red.
"Mayor Roberts has just replaced me on the City Council Economic Development Committee with Carlenia Ivory, who was recently chosen to serve the remaining term of Al Austin and has yet to attend a full meeting of Council," Ed Driggs, who represents south Charlotte's District 7, wrote on his Facebook page from Stockholm, where he's vacationing with his wife. "Two of the the five members of that important committee are now unelected council members with a combined total of less than one year of experience in city government. Regardless of your views on the major issues of the day, it is hard to see how this is good management and not to conclude that the Mayor has placed political expedience ahead of the interests of the City of Charlotte."
What's more, Driggs was the only Republican on the committee, and his replacement is a Democrat. On Saturday, the county Republicans followed up with a news release that accused Roberts of "a Charlotte Democrat back room political move that shows no respect for political decorum or the citizens of Charlotte." Driggs, a Republican and former bank executive in his second term on the council and first on the committee, has ideal experience for that assignment, said Chairman Chris Turner: "(T)he Mayor's move simply shows that politics is more important to Democrats that (sic) policy. No surprise though because this has been the case for the last 2 years." The council's other Republican, mayoral candidate Kenny Smith, weighed in on Twitter with his own take.
To people unfamiliar with how Charlotte's city government works, this may seem like petty, election-year backbiting over who's on first. It's a little more than that. The City Council has five committees devoted to strategic "focus areas": Community Safety; Economic Development; Environment; Housing and Neighborhood Development; and Transportation and Planning. Of the five, Economic Development is considered the most powerful and influential. The committee is the gateway for any major development project that requires council approval, and its chairmanship—currently held by Democrat James Mitchell—is considered the coveted committee assignment.
With Roberts' change, the committee consists of five people: Mitchell, Ivory, Dimple Ajmera, LaWana Mayfield, and Vice Chair Julie Eiselt. Ajmera was appointed in January to fill the vacancy left by John Autry, who won a legislative seat last year. Ivory was appointed to fill Austin's vacancy on July 24. Roberts moved Driggs from Economic Development to Environment and made him vice chair of Housing and Neighborhood Development, a seat Austin held before he resigned.
Roberts' only explanation for the changes Friday came via Twitter. On Saturday, she told me over the phone that she'd been thinking about adjusting the committee assignments for some time, and that her primary motivation was to make sure that "the districts that most need development help" were represented on the Economic Development committee. That means east Charlotte, largely contained within Ajmera's District 5; and west Charlotte, divided between Mayfield's District 3 and Ivory's District 2.
The council publicly committed to improvements in housing, job opportunities, and public safety after the Keith Scott demonstrations in the fall, and the work of the Charlotte-Mecklenburg Opportunity Task Force made plain that the city needs to work on the concerns of low-income neighborhoods, Roberts said. She added that Driggs has at times opposed or voiced skepticism about redevelopment efforts in those areas, including a proposed study of uses for the vacant Eastland Mall site. "It's nothing to do with being partisan," Roberts told me. "It's about council priorities."
When I related the mayor's explanation to Driggs on Saturday, he asked rhetorically, "Do you buy that?"
"Typically, appointments to the Economic Development committee are people with some experience," he told me. "Regardless of my own feelings, the fact that my seat was given over to someone who hasn't even taken part in a council meeting yet reflects some poor judgment on the part of the mayor."
At least some of the impetus for the changes emerged from a contentious discussion at the council's July 24 meeting. It was a long, convoluted matter—details here if you want them—but it concerned Driggs' idea of paying for a new building to link Bojangles' Coliseum and Ovens Auditorium with tourism tax money instead of capital program funds that could pay for affordable housing and other, more immediate needs.
Council members, including Mitchell, questioned why Driggs was bringing up the idea during a regular meeting without going through Economic Development first. (Driggs told me Saturday that he had mentioned it during a committee meeting on July 20, but "nobody felt like it was something they wanted to pursue.") The council, by a 5-4 vote (two members were absent), voted down Driggs' idea to explore the alternate funding source. Afterwards, Mayor Pro Tem Vi Lyles—a Democrat and mayoral candidate—accused Driggs of "political tricks," saying he'd never shown much inclination to support affordable housing in his district.
Roberts told me Saturday that Driggs' proposal during the July 24 meeting informed her decision to make Driggs vice chair of Housing and Neighborhood Development: "If he's interested in some creative ideas about housing, great." Mayfield, that committee's chair, was one of two Democrats who voted for Driggs' proposal that night. (It's worth noting, too, that Roberts' decisions on committee assignments have grated on council members before, including members of her own party.)
I asked Driggs on Saturday whether he thought Roberts' removal of him from Economic Development was meant as a kind of punishment for July 24. He wouldn't go that far, he said, but "I think the timing is very peculiar." The council's next meeting is scheduled for August 28, and he said he doesn't intend to register his displeasure over the reassignment. "I'm just going to keep doing my job," he told me. "I've made my point."