A Contentious Year Reflected at 2017 Vision Awards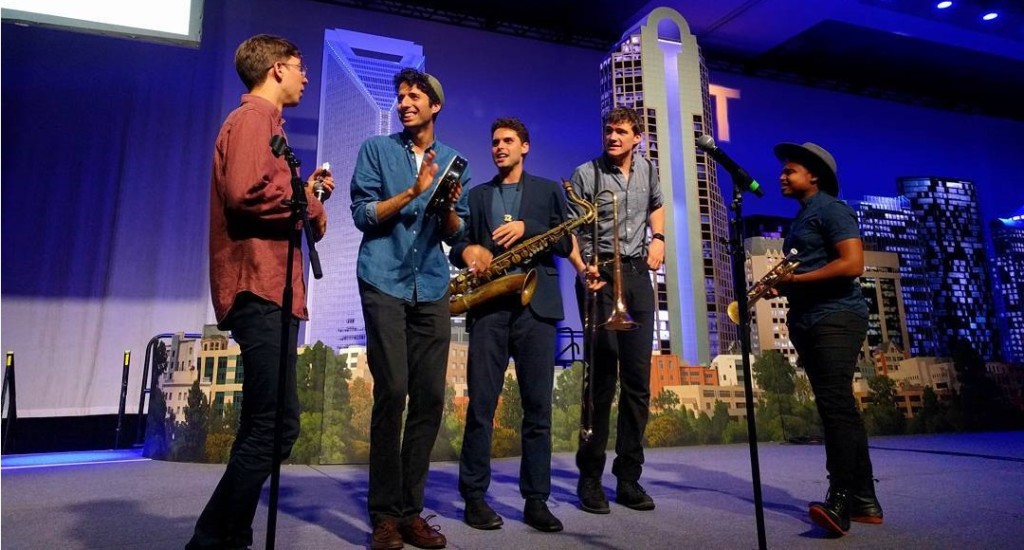 THE QUESTION of how Charlotte Center City Partners' Vision Awards would address the turmoil of the past year was answered quickly on Thursday night. The annual event recognizes local leaders who "catalyze communities within our center city." At the beginning of the ceremony, a procession of choral "protesters" with signs sauntered through the audience and stopped onstage against a skyline set, adorned with messages like "VISION WITHOUT ACTION IS MERELY A DREAM." (The backdrop was created out of the old, dismantled scoreboard at Spectrum Center.) A song and video presentation expressed the unrest during September's police shooting of Keith Scott and accompanying protests. And with that, the 2017 Vision Awards began.
Up until the start of the ceremony, everything about Thurday night's event seemed so Charlotte: the suits, the open-bar reception, and second-line entertainment from Sammy Miller & The Congregation, in town to perform at the Charlotte Jazz Festival.
That shift in positive and sobering vibes continued through the evening. A speech from Michael Smith, president and CEO of CCCP, contained some impressive numbers: 27,200 people currently living in in center city, $2.78 billion of private development happening in the Stonewall Street Corridor alone, and 22.6 miles of streetcar/light rail planned. But through all of that, Charlotte is still trying to figure out how to address its inequalities, including the study that ranked the city last among 50 metro areas for economic mobility. An influx of panhandlers is one way in which that's expressed, Smith recognizes, but the city is doing more than just relocating them: He announced that outreach counselors are being sent out to help them.
A few of the award recipients carried similar bittersweet messages. Charlotte Clergy Coalition for Justice, an interfaith band of leaders created as a reaction to last year's event, were recognized. An impassioned speech from pastor Amantha Barbee included this statement: "We're honored to receive this award, but we'd be more honored if you stood with us. We do this for you, Charlotte."
Other award recipients were The Charlotte Marriott City Center, Not Just Coffee, and The Charlotte Post, which received the "Settlers Award" for its 139-year tenure as a local news source for Charlotte's African-American community.
There was much talk of moving forward and hope during the ceremony, but the ceremony found its greatest example of perseverance in the 2017 Vision Award winner, Ron Kimble. Kimble spent the past 16 years serving the city as assistant city manager, deputy city manager, and interim city manager. His ability as a "dealmaker" is known throughout Charlotte, as he helped to broker projects like BB&T Ballpark, NC Music Factory, Levine Center for the Arts, Bank of America Stadium, and others.
However, it's in comments on Kimble's personal life that the night's theme of reacting to tragedy with optimism found its strongest root. Kimble's daughter, Jamie Kimble, was killed by an ex-boyfriend on Labor Day 2012. Ron and his wife, Jan, then started the Jamie Kimble Foundation for Courage, a national effort in fighting against domestic abuse. During his speech, Kimble referenced this efforts. And in attempt to bring his comments full circle, Kimble spoke on why being recognized for his endurance by CCCP brought him pride.
"The award means a lot because it's from Center City Partners," Kimble said, from the stage. "They have been at the forefront of so many initiatives, so many projects, so many successes for our city over the past 40, 50, 60 years. … We will get better. We will get stronger, as a result of that care and that concern and creating opportunity for all."