A Day Following Mecklenburg County's Only State Wildlife Enforcement Officer
Sampson Parker Jr. watches a growing population on the water and in the woods to make sure it's following the rules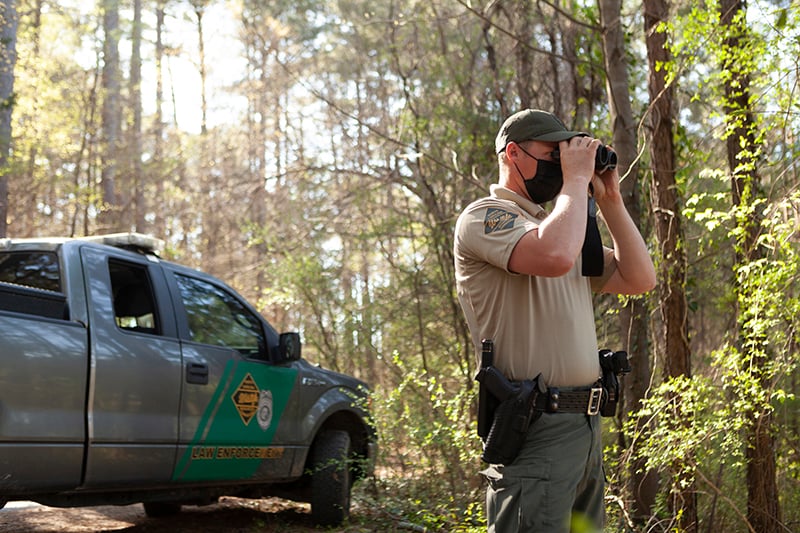 Sampson Parker Jr. drives slowly down the access road toward Nance Cove and a group with fishing rods and lines in the water. This is a lakeside spot where Parker likes to park his N.C. Wildlife Resources Commission F-150, behind high grass just before the bend that leads to the parking area. Folks eye the murky, greenish-brown water for catfish or spotted bass, or they try to conceal the beer they shouldn't have out here. They're too tied up in what they're doing to notice the truck or the young man in the khaki shirt and olive drab pants who peers at them through binoculars from the cab.
We get out and walk around the bend toward the lot, filled with cars and trucks on a gorgeous, made-for-fishin' Easter Sunday afternoon on Mountain Island Lake at Latta Nature Preserve. The 10 or so people at the water's edge still don't notice us, and Parker spots one of them, a man at the far end of the access area who holds a cast net. That's not a violation, but it's often a sign of one. "If you're using a cast net, you can't keep anything but nongame fish," he mutters. "And a lot of times, if they're using the cast net, and they catch a crappie or a bass, something that's a game fish, they'll keep it."
Parker doesn't catch the man using the net, but he does catch him with an expired license. Parker writes him up. He explains that the commission, the state agency that regulates North Carolina's fishing and hunting areas, isn't out to punish anybody. They just want compliance. The ticket would cost the man $35, plus another $180 in court costs. But Parker explains that if he obtains a valid license and shows up with it in court on Aug. 18, the district attorney will drop the case.
The man, who lives just down Beatties Ford Road, feels sheepish. "Well, we had one but, you know, we just didn't get it renewed," he says. "We just didn't pay any attention to getting it. We come out here because it's a nice day to do some fishin'." Parker tells him to have a good day, and we start walking back toward the truck.
"If you noticed," he says, keeping his voice low, "as soon as I got here, they started packing up—and that is a telltale sign that they knew they didn't have their license." He chuckles. "That's exactly why we sit back here."
The Wildlife Resources Commission employs about 200 enforcement officers, who roam North Carolina's shorelines, water, and woods to make sure people observe the law when they hunt, fish, and boat. They ensure, for example, that adults understand they need licenses to fish creeks and rivers, which the state regulates, even if their backyards bump up against them. In fall, they inform deer hunters that they can't use spotlights to flush their quarry from a forest at night. These are primarily rural concerns. In Mecklenburg County, with its 1.1 million people and the largest city in the Carolinas, the commission employs one enforcement officer: Sampson Parker Jr.
Parker, 32, grew up hunting and fishing in Camden, South Carolina, and Cabarrus County, then graduated from UNC Charlotte in 2011 with a degree in geography and a minor in criminal justice. He went to work for Blythe Construction, where his father was a project supervisor. "We were working six, seven days a week," he says, "and I said, 'This is not for me.'" Parker wanted to be back near the water and woods. He applied for a wildlife enforcement officer's job and was rejected in 2012, then accepted in 2013. Stints in Northampton, Robeson, and Lincoln counties followed until his assignment to Mecklenburg in 2017.
When you work as a wildlife enforcement officer in an urban county as opposed to a rural one, you adjust to a few prominent differences. One is the sheer volume of people you encounter, the vast majority of whom you don't know. A second is variety. In forested rural counties, deer hunting season in fall is usually the busy time of year.
In Mecklenburg, it's in summer, when boaters take to Lakes Norman, Wylie, and Mountain Island. If there's a bad boating accident, the Wildlife Commission is the lead agency, which means Parker. If people are motorboating while drunk—not that anyone in Mecklenburg County would do such a thing—Parker stops and cites them. Springtime brings out the fisherfolk and turkey hunters. Fall means deer hunters, even in Mecklenburg—mainly in the undeveloped Dixie-Berryhill area between the Catawba River and Charlotte Douglas International Airport. "That's what's cool about the job," Parker says. "It changes."
Since March 2020, so have the people he comes across. When COVID settled over the nation, and outdoor activities presented themselves as solutions to boredom and saviors of sanity, more people began to seek refuge at Mecklenburg County's nature preserves and waterways, Parker says. Last summer, he says, families piled into boats and used the water as their social distance from others. Before COVID, he'd usually find men hunting or fishing alone. Now, he says, they often bring their wives or children or both—and solo hunters head into the woods more frequently.
"I'll give you one instance," he says. "One gentleman told me he was a trade show worker, and his trade shows got shut down in summer and fall. He told me he hunted almost every single day last year." (Too much, apparently. Parker had to cite the man for going over his six-deer limit for the season.) Data supports Parker's observations: In 2020, records show, the commission sold 10% more fishing licenses and 7.5% more hunting licenses statewide than in 2019—and 26% more of both in Mecklenburg County.
Although, predictably, not everyone bothers to buy them. We've moved on from Nance Cove to another, larger lake access point down the road, this one with a long pier and a rack with nine aluminum canoes. An asphalt path leads to the water's edge, and Parker approaches slowly, fixing his gaze on a family gathered around a picnic table. A woman prepares steak and sausages on a charcoal grill—and three men with rods stand by the water. They look ready to cast. Parker suspects they're not licensed. Before he can catch them with lines in the water, they see him. He walks up, says hi, checks, and—yep. No licenses.
Parker instructs two of the men on how to get them—through the commission website and at most Walmarts and Bass Pro Shops—then turns to the third man, who has quietly relocated behind the picnic table. "Hey, partner," Parker says. "If you're gonna fish, make sure you have a valid license, OK?"
The man nods. "Y'all have a good one," Parker says, then moves on down the shoreline.