A Day for Democrats, a Day for Barbecue, a Day for Charlotte
What Obama and Clinton's visit meant for Charlotte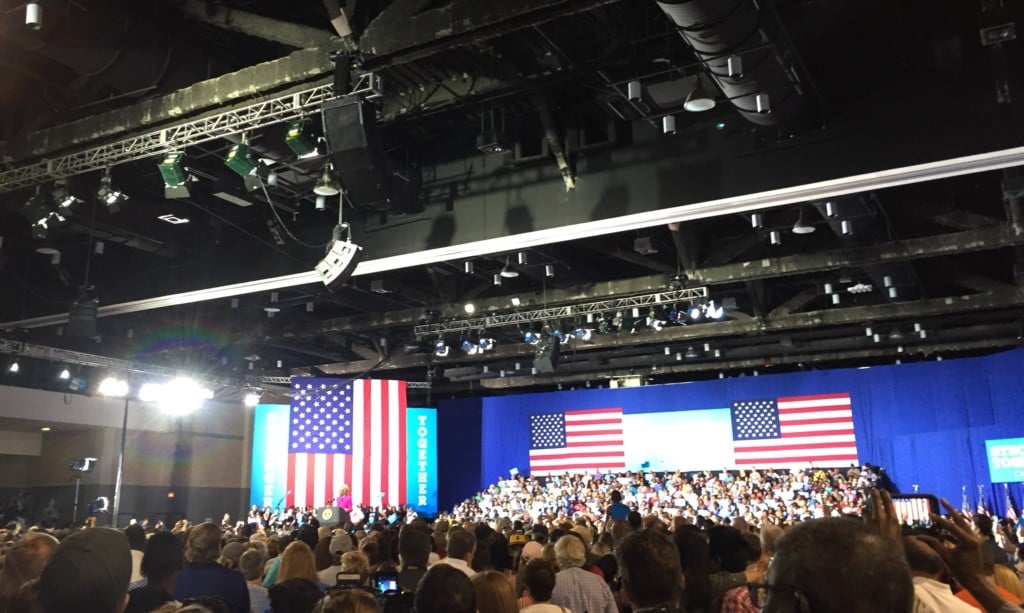 At about 12:30 Tuesday afternoon, David Rousmaniere considered his investment in buttons. "Three for ten! One for five!" the salesman shouted. Rousmaniere, a man with an MBA, bit on the better value before even examining his options. It was hardly a giant leap of faith. All of the buttons in the salesman's stock expressed affection for either Hillary Clinton or Barack Obama, who came to our suddenly testy Southern city in an especially testy country to hold each other's hands and pledge unity.
Inside the Charlotte Convention Center later, the Democratic president and the Democratic candidate made it clear what they think of the decisions the people in the room will face this fall: In the race for U.S. Senate, pick the Democrat; in the race for governor, pick the Democrat; and in the race for president, here's Obama:
"The other side's got nothing to offer you. … I'm going a little off script here but I just want to repeat this: If your concern is working people, then this is not a choice. I don't care whether you're white, black, Hispanic, Native American, polka dot."
It's a hell of a time to buy into politicians. In Charlotte, one former mayor, Patrick Cannon, is in jail; and another former mayor, Pat McCrory, became the governor who went to battle with his home city over bathrooms. For her part, Clinton's visit came just hours after the FBI director announced she wouldn't face charges for her use of a private email server. We're all sick of politics. At least that's what we say. Until something like Tuesday happens. The Clinton campaign decked out the bottom floor of the convention center, an echoing place with exposed beams and air ducts, with 28 American flags and six "Stronger Together" signs, and people stretched their cell phones as high as they could to tell their friends, "I was there."
For sure, this was a moment unlike much else we've seen in the past century—a sitting president making his first public appearance with the presidential candidate he was endorsing, a candidate he'd beaten in a primary eight years earlier. It was an especially big day for Charlotte, our city of incredible growth but disturbing poverty statistics, our city that passed an ordinance banning discrimination only to watch the state overturn it and set off a national controversy that's led to millions in lost revenue here. The president didn't pile on about our troubles; he talked about our college basketball and ate our barbecue at Midwood Smokehouse. This was a big, feel-good day. And Charlotte likes to be part of big, feel-good things. It helps our ego.
Hours before the doors were scheduled to open at 1 p.m., thousands of people started forming a line that made an L shape around the convention center then jumped across Martin Luther King Boulevard and down the light-rail line to the transportation center. By the time Obama's speech would end around 4:30 p.m., several had fallen over because of heat exhaustion. "Too many to count," one paramedic told me.
They stood on legs that cramped, and they kneeled and sat cross-legged on a hard convention center floor. They were, as the president said, black and white and Hispanic and Native American. One woman played Words with Friends. The man beside me in the crowd, a grandfather named Dave, passed the time by reading the latest issue of Time magazine, with the cover story, "240 Reasons to Celebrate America Right Now." One young man in a ponytail wore a shirt with a sketch of North Carolina in rainbow colors. Alma Adams, the congresswoman who's famous for wearing hats, wore a hat.
The local television folks were buttoned up in suits and ties and stood straighter than usual. The Charlotte Observer reporters took to social media to tell about what they saw just before the event: Air Force One flying over the Charlotte skyline, in clear view of the paper's new offices on the 12th floor of the NASCAR building.
Rousmaniere felt it, too, the pull of big things and big speeches. He lives in Fourth Ward with his wife and 17-year-old daughter. He's the director of the health center at UNC Charlotte. He volunteered at the convention four years ago, but mostly spent his time walking around and taking in the scene. He was here Tuesday for the same reason he was here then: "This is history. This is huge."
Standing in front of the salesman with the buttons, Rousmaniere had several options, all different versions of the same thing—a belief that one person, in this case the Democrat, is a better choice for president than the "other guy," as Obama repeatedly referred to Republican Donald Trump. One button read "Madam President." Others were tributes to Obama and his wife, Michelle. Another had a picture of Bill Clinton with the words, "First Dude." And then there was the last one Rousmaniere picked. It read, "Suffragettes," a reference to the connection between Clinton, who may become the country's first woman president, and the movement that led to women securing the right to vote in 1920. That was 96 years ago.
Rousmaniere's mother died two weeks ago at 97.
"She was born before women could vote," he said. "I got that for her."
He rounded out the three-for-$10 deal with less significant buttons. He wound up trading one of them for another later in line. But he held the Suffragettes button close as he entered the convention center.
His wife of 38 years, however, stayed home.
"Oh," Rousmaniere said, breaking into a smile, "she's a Republican."
Michael Graff is the editor of Charlotte magazine.